FootHills Publishing
|
home


AWAY #5
Karla Linn Merrifield
Godwit
Poems of Canada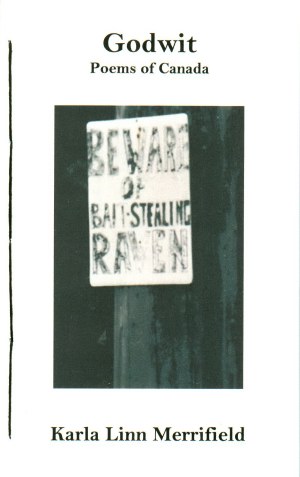 In love with Canada since developing a crush on a visiting Canadian Cub Scout years ago (we were both 7), it's no wonder to me that Karla Linn Merrifield's captivating Godwit snatched at my heart---I identified with her covetous attachment to things and places Canadian early in the introduction---and it wouldn't let go, the last empathetic beats of me continuing to resonate in the northern needles, cones, native elders, butterclams and roe inhabiting the final poems.
---Eve Anthony Hanninen, poet and editor,
The Centrifugal Eye
Karla Linn Merrifield may not be an ex-patriot, but her literary sense of Canada-its landscape, its people, its essential there-ness-is as acute as though she had spent her entire life above the 49th parallel. Or perhaps more acute, because, as with anything seen from the outside, her focus is sharpened by distance, honed by reverie, and described by detailed poetic sensibility. For Canadians and non-Canadians alike, this book is a treat to read-unrivalled by even the tastiest bite of cod cheeks . . . or Tim Horton's.
---Alisa Gordaneer, award-winning poet and editor of
Monday Magazine, Victoria, B.C.
From the book:
thereness:
only cold water, me naked in October at dusk
diving in, surfacing up, stroking out
toward the mauves and pinks of Canada,
to a horizon fresh and crisp, my bracing goal
to be more fish or loon, even a zebra mussel
clasping some small existence with this ubiquitous
sky and breeze, near silence, near sunset, nearer
the rising full moon and her wide Milky Way.
so my dark hair tangles like seaweed when I pause,
my nipples address the barest rippling waves
as my toes dip deeply, touch stone after stone, tipping
me into the horizontal, the floating, the resting
between shore & shore, this today & that tomorrow.
suddenly, willfully, I submerge
then spring into the cooling evening air-
there, all there, positively there.
Witnessing the Canadian Shield

I think it perhaps wise to travel
lightly in this weighted country,
if only in homage to its granite.
It is honorable to be a curl
of goose down, a curl of lichen,
in essence, easily carried away
on spirited winds & waters while
all that is mute, stern stone
abides, withholding every secret
of time as spruce needles blow
or float away with the dry curls
of birch skin, dry curls of fern.
It is a form of bowing down,
this bending over before that rock
of ages, born of Earth's ancient
core, cooled, compressed over eons,
& resurrected, come to light, become
the bared solid bone of North America.
Cable Cove Time Zones

Nature takes some time
to make her Pacific tide come in,
but a human can sit still long
enough to watch, albeit patiently,
less than half a bright day or half a clear night
& see kelp or rock or cove
covered, uncovered, in cold briny water.
Nature takes some time
to create soil from stone:
Lichen yield two centimeters
of sweet earth every century.
I can see the antediluvian gray-green
fastened to basalt or schist, but never
in a lifetime detect a particle of
anything friable to my fingers.
Nature takes some time
to get up speed for glaciers
or volcanoes or tectonic plates moving
into one or another mountain peak or range-
here the modest Mackenzies of Vancouver Island,
there deep snow & ice-bearing Rockies-
that may give me, if I am listening
to her seismic tumult & tumbling,
a scant tremble in my eardrums
of how her time passes
as it passes through, goes on
past my nascent senses into eons.
Karla Linn Merrifield has been widely published in journals and anthologies throughout the U.S. She is the author of Dawn of Migration and Other Audubon Dreams (RochesterInk Publications) and Midst (FootHills Publishing) as well as editor of the environmental anthology THE DIRE ELEGIES: 59 Poets on Endangered Species of North America, also from FootHills. She is poetry editor for Sea Stories, the literary-artistic journal of Blue Ocean Institute and teaches writing at SUNY Brockport.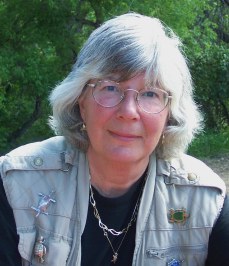 Godwit
is a 92 page hand-sewn book with spine
including color photos and notes on poems - $18.00
TO ORDER ON-LINE
To see Karla's FootHills chapbook Midst go to: