FootHills Publishing
|
home


Springfed #68
Kimberly Richardson
Rusty Typewriter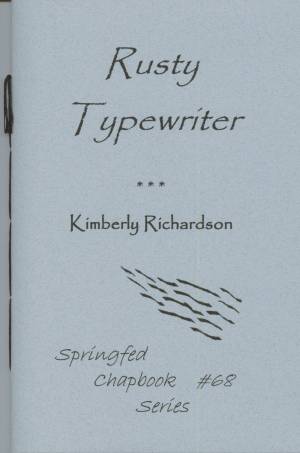 "I've been writing since I was six years old and I refuse to stop anytime soon. My poetry reflects my life: eclectic and bohemian with a touch of purple thrown in for colour. Poetry, to me, is language of the soul, a way for people to express themselves to others on a personal level. Every day of my waking life I experience something new, something that I think is worthy enough to be made into a poem, for the world still carries much good to behold. My love of poetry began in high school, when my English teacher knew I had something in me that needed to be cultivated, a Muse waiting be born. Since then, my Muse has become an active part of my life, constantly giving me new ways to use words and expressions while still maintaining the reality of Life itself."
From the Book:
i
While walking through a bookstore
I discovered a book about my life
That someone took great pains in trying to decipher my life.
Every action, every breath, recorded
For the sake of being recorded
My life, played out like a badly written drama
Of the Greeks, their dress and masks
Hiding my true nature to the masses.
I am feared, it appeared, hated and loved
Worshipped as a Goddess back at the oracle.
A book to take over my life
When I am dead and dust fills my mouth
When my breasts fall the ground, passing my desiccated body
Emaciated and broken.
My dreams gone, destroyed beyond repair
Given up like sweet water
To those who thirst for lack of living out a life.
I hold the book to my body
Keeping the secrets close and hidden beneath my flesh
To consume, allowing no one else to permeate
The skin pierced, needles in truth.
Hand-stitched chapbook.
Six Dollars.
TO ORDER Rusty Typewriter
ON-LINE