FootHills Publishing
|
home


Project: Butterflies
Nanette Rayman Rivera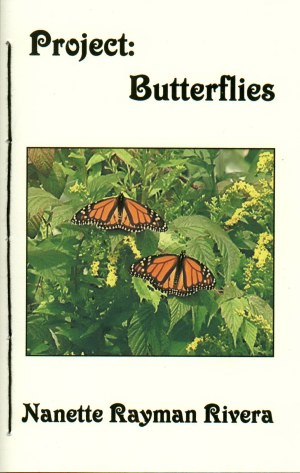 Nanette Rayman Rivera lives with her husband in New York City. She graduated from New School University with a degree in Writing and Philosophy. In addition to being a writer, she is a trained actress, having studied at Circle in the Square Theatre School, The Gene Frankel Studio and The New England Shakespeare Festival. She has performed in many plays off-off Broadway, in independent films, and played a waitress four times on All My Children. She has been published in The Berkeley Fiction Review, The Worcester Review, Dragonfire, MiPOesias, The Pittsburgh Quarterly, Pedestal, Carousel, Wicked Alice, The Pebble Lake Review, AntiMuse, Sein Und Werden, andwerve, Barnwood, The Centrifugal Eye, Words and Pictures, Her Circle, Poesia, Arsenic Lobster, Stirring, Flashquake, A Little Poetry, DMQ Review, Velvet Avalanche Anthology, Verse Libre, Erosha, Three Candles, Snow Monkey, Jack, Flutter, Small Spiral Notebook, Carve Magazine, 5 Trope, Mindfire Renewed, Grasslimb, Wanderings, Concrete Wolf, Rogue's Scholars, remark, eye-rhyme, Central Avenue, Red River Review, Mannequin Envy, and Underground Window among others. She was nominated for two Pushcart Prizes this year: Arsenic Lobster for poetry and Dragonfire for memoir. Upcoming: Gambara, Wheelhouse, The Externalist.
From the book:
Butterflies
The man, raising melons outside the green gate of the city,
was once the Prince of the East Hill. - Li Po
we begin as butterflies but when the State comes along, we ejaculate through truck driver mouth, gouge like x-actos ripping cross curtains.
i'm a woman with jisms of strength, but this is too much. fake social workers' bark in flash-lights of sun gone acerbic, `cause dogs always bark in shelters, acting like the wolves they were in past lives. we're sickles of flame chopping through lies, the take-away of beds & threats to undo our alchemy:
get your lips off him, girl. & you ain't got no beautiful mind,
you crazy - sounds that grab on gargoyled buildings designed
to hide our trumpet & the mute inside. seeds you all hinder,
& my man is crazy. that's why when he looks at me,
I blush like madrone berries. his spanish face shimmers, under-developed negative. there's ghosts in his skull hungry for meat. the lump in my throat explodes into a flock of blades cold in the shower & he cries it out-mi flor - tu eres la razón por la cual yo vivo.
the one-armed bandit woman says she'll cut me up; stacks metal chairs in front of the only sink. welfare sirens slip their holy box- cutters into holes in their t-shirts where flies fly & the sun now rots at the rim of the world. who's the real? the butterflies or us two
homeless lovers outside the west-headed night? after my Spring fall from Phaedra & Blanche to this non-actress whorl in numerical form, after he tilts to smash paintings that won't travel, he ropes me into marriage & we're out before the next state-funded camp. zig-zag street corners, flee
the reach of skull-capped boys. they're up in our faces - mosquitoes on perfumed arms. so, I say to my baby, try to sketch parabolas, hide & lace from the fontanelle of my skull to the fontanelle of yours.
this maenad, this man start to look like something living beneath something dead, so my baby & me we're going back to being butterflies returning to the second-hand stream.
Project: Butterflies
is a 64 page hand-sewn book with spine - $12.00
TO ORDER ON-LINE