FootHills Publishing
|
home


Springfed #65
Bird in the Overhang
Jennifer Gittings-Dalton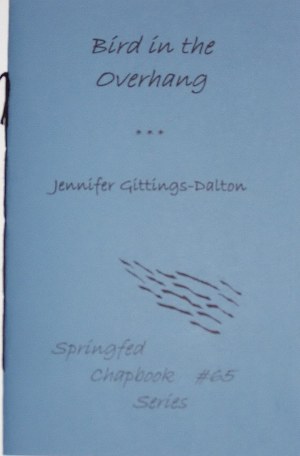 Descended from Welsh coal miners and Scots-Irish pioneers, Jen Gittings-Dalton's roots in Pennsylvania go deep. But a childhood spent in various Asian countries overlaid that heritage with an inescapable awareness of relativity that drives her love of cultures, words, and the natural world. Coming home to live "forever after" in small Pa. towns has convinced her that poetry is both a transcendent and a common art, one to reclaim in everyday American life.
A poet, writer, counselor, and speaker, she has produced three books of poetry: the self-published Pleiades Memoir (2000) and Sixteen Laments (2002), and this chapbook, Bird in the Overhang, published by FootHills Publishing (2007). Her poem, "Elegy for the Poet in August," placed 7th in the Mulberry Poets and Writers Competition in 2002 and was published in their annual journal, and other work has appeared in the textbook "No Barriers," by Indenbaum and Indenbaum. She teaches summer writing workshops for high school students, is a private writing coach, and is an adjunct professor for Reading Area Community College. Also a freelance writer, she specializes in covering the local arts and cultural scene for the Berks Arts Council and for various publications
She holds a master's degree in education (school counseling) from Kutztown University, and dual undergraduate degrees in psychology and religious studies from the University of Pittsburgh. For more than fifteen years she was privileged to counsel thousands of diverse students in colleges, public schools, and agencies. She is an advocate of the arts as a way to help people transform their lives, and to build community through shared creative work. She presents workshops and speaks in area churches on the arts, spirituality and nature. She lives in Exeter with her husband, Stan; and is proud of her adult children, Jessica and Ben.
From the Book:
Wickline Road
there we sat and hugged our knees
berry-pricked and stained
time collapsed and bees swung
through the thickets searching
for our fleeing souls
never, not even after we became
mothers, you mine and I in a sense
yours, did we ever return
even though we tried and tried
but that day we did not know it
bowered in the sacred gloom we imagined ourselves
alive in secret realms, brushing the dangling inchworm
away, rocking and singing alone
the only fairy for miles and miles around
and maybe ever, was us,
celebrant and undiscovered in the weeds
and what a good thing we never knew
ringed in with goldenrod
shins glowing green in apple leaf light
beside us on the bare ground wilted
daisies and Indian paintbrush, stems
released from our damp hands
while around us the room in the thicket withdrew,
with us inside forever, and we who now know,
circle as through a veil, reaching for those children,
who in that hour never needed us nor we them
Hand-stitched chapbook.
Six Dollars.
TO ORDER Bird in the Overhang ON-LINE