FootHills Publishing
|
home


Carol Graser
The Wild Twist of Their Stems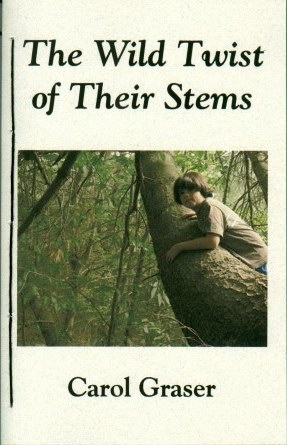 "As a longtime home schooling parent of three, this work is inspired and informed by the many mothers I've spent afternoons with, talking about and observing the incredible strength and creativity it takes to remain allies to our children. These are ecphrastic poems; attempts to describe the absolute artistry of raising children well. This collection is also a rough chronicle of the birth of my fourth child, from just before pregnancy, through birth and toddlerhood and, finally, to a young boy protesting the invasion of Iraq. "
Carol Graser is an alumnus of Binghamton University where she studied under Milton Kessler. Her poetry has appeared in many literary, parenting and locals arts publications. She organizes and hosts a monthly poetry reading series at Saratoga Springs' historic Caffe Lena. Begun in 2003, these popular readings have featured an exciting range of poets from across the country. She performs her work at many poetry venues around the state as well as at anti-war rallies and other community events. Originally from Plattsburgh, NY, she now lives with her family at the southern end of the Adirondacks in Galway.
These ecphrastic (explanatory) poems about motherhood & nursing are smartly lyrical & welcome to my consciousness. It's a great pleasure to have Carol Graser's poems.
Bernadette Mayer
Generations are woven together in these poems
of Carol Graser's with an ease as natural as the
wind twining grasses. Her reflections on motherhood
and relationships, and the small anxious dramas
of everyday life are as memorable and true as
any I've read, tempered by hope and humor,
self-aware, yet never self-centered. It's a journey
worth taking.
Joseph Bruchac
From the Book:
THE WILD TWIST OF THEIR STEMS
Like two fresh Buddhas they sit
on the top bunk, conspiring play
two Believers
two Thin Air Breathers
scalps closer to roof tops
than mine ever is
She bubbles in like a bent-leg dancer
a flesh splasher
I'm the never-let-you-go catcher
but I always let her go
He's the larger and climbs on his own
down to the rough rug, plant of our feet
He's the bold spirited leaper I apprenticed with
I live like a gardener
doggedly tending the wild twist of their stems
fending off what I can of disease
It is impossible work
rooted where they are
and though their beauty demands
more strength than I lately possess
still I persist
in refusing to abandon the effort
The Wild Twist of Their Stems
is a 68 page hand-sewn book with spine - $14.00
TO ORDER ON-LINE