FootHills Publishing
|
home
Michael Costanzo
OUT OF PARADISE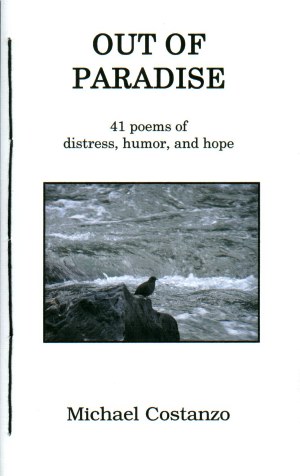 Foreword
"Castigans castigavit me Dominus,
et morti non tradidit me."
(Psalm 118,18)
It is a known fact that pain and suffering are constitutive elements of our human existence. The modes, intensity, and quality may vary from person to person, and affect individuals and families in more or less profound ways.
Pain shapes our physical reality in ways that affect our daily living by diminishing our dedication to work, our enjoyment of life, our very desire to exist. Suffering defines who we are, how we envision the present and the future world, what we believe and hope. It can make us strong or break us down. It's the very essence of life; either we sing, or we sink under.
For more than seven months during the unfolding of this year 2007 I have encountered both pain and suffering, like many other individuals in this world of ours. A trial no more nor less poignant than others have faced or endured. While both pain and suffering have paled in comparison to many tragic events that have befallen huge numbers of people all over the world, I have equally felt them in my body, soul, and spirit; and seen my life turned upside down and drastically changed.
These poems, written between March 25th and May 22nd 2007, are personal and intimate expressions of the transformation that has taken place in me, and still does. I offer them to anyone who wishes to read them - as if looking in a mirror and seeing one's own image both reflected and refracted.
October 2007
M.C.
The human frailty we experience during times of illness can strip us of our masks and bring us to the core of our authenticity if we are able to embrace our vulnerability and befriend it. In sharing his story, Rev. Costanzo, through his recent suffering, gives us a glimpse of how he was able to touch into the healing presence of Christ from the darkness of his physical plight. His heightened awareness of God's compassionate care for him in the people and situations he encountered along the way are testimonies to us of the all embracing love God has for us even when we may not feel it. His reflections will be a source of strength and hope for all those who contemplate his words.
Mary Fran Wegman, RSM, RN
"...Will this vegetable heart feel human emotions again?
What love will it be capable to give and receive?
`Tis but a perfect pump that works without rest
And sends the vital lymph to limbs near and far --
Ah! This mended heart has much work to do till the final beat."
From "CABG" in Out of Paradise
These forty-one poems -- deeply personal, painful, at times even humorous -- invite the reader along on a profound journey. Michael Costanzo's moving chronicle of the trauma and lengthy recovery from a life-threatening heart attack offers welcomed companionship and solace to anyone who has experienced sudden loss or injury and embarked on the long sojourn of healing. This journey, necessary and difficult, leads the poet to renewed health and a new understanding of the "work to do."
Each poem in this volume is rich with detail: the machinery of the hospital, the joy of holding an infant nephew, the sensory pleasures of a family meal. As Costanzo re-gains his physical strength, an abiding sense of spiritual strength suffuses the poems. Out of Paradise makes it plain that from suffering can also come lyricism, affection, and -- most importantly -- hope.
Anne Coon, PhD
Author of "Daedalus' Daughter" and "Via del Paradiso"
both published by FootHills Publishing
From the Book:
I Not Yet
May I please come in?
Said I with a broken voice.
A clear sound came through
The transparent white cloud.
Why? Who are you?
Surprised, I answered My time has come
And my name should be with you.
I hear the sounds of celebration
A mighty choir shaking the foundations
Of the blue planet below.
I have read all the names on the list
But found your name not.
You must be mistaken - Look below
And see someone by your bed waiting
In prayer and tears for your return.
Go back to your watery planet,
For you must continue your journey
`Til the path you thread on is worn out
And your heart is filled with longing.
Go on, let yourself gently through the air.
XXIV Blessings
Blessings come in bunches like grapes - I've no idea
If anyone ever said that; is it even true?
But mine have, during this time of forced rest.
They have come in groups or alone, family and friends,
Colleagues from work, from churches and homes,
Each with a gift of comfort, a card, or a word of hope.
Tony and Bruna came one day with a load of goods and care,
Picked me up to dine and watch soccer games
Renewed my faith that tomorrow will come once again.
Out of Paradise
is a 56 page hand-sewn paper book with spine - $13.00
TO ORDER ON-LINE
***************************************************
A Vision of Beauty
Michael Costanzo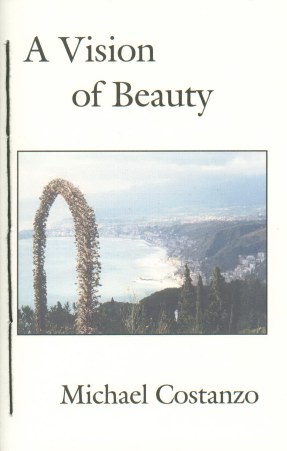 Michael Costanzo was born and educated in Sicily (Italy), where he taught from 1962-1970. At the end of 1970 he came to the USA to join his parents and family, already living in Rochester since 1962. After receiving a PhD in 1979 and a Doctorate in Biblical Theology in 1987 from the University of St. Thomas in Rome, he returned to Rochester and began teaching at St. John Fisher College, Nazareth College, MCC, and BOCES. He has been a full time teacher in the Department of Religious Studies at St. John Fisher since the Fall semester of 2001.
Table of Contents
The Matins of Saint Clare
(It was Spring)
(The Wind blows over)
In search of Thee
(The seagulls fly in the shady light)
(Que toma, usted?)
"Pour toi que J'aime"
Threnody
To Life
(Terse the sky dresses, with the azure)
(Suddenly, o Sylvia, evening falls)
Epigram for Sharilyn
Good Friday 1977
for Colleen
(These are the colors of youth)
(My eyes shed no tears)
To Mademoiselle La Vie
(The sun was scorching hot)
for Sue
(Your happy memories dance)
A moment of madness
Graduation
Life dreamt by colors in trinities of candles
A psalm
for K.B.
for Kathie
(A rainy day)
To an adolescent dancer
When Love returns to sing…
Spring Day
Stillness
(When your cup of joy is empty)
Adriana
Fragment of Memory
(The lulling melody of Torelli's Christmas)
(A desert street)
Juliet
Blessed are the poor
Kiss
Glendalough
Spring
From the book:
The Matins of Saint Clare
Saint Clare, the bells are singing
that sweetest herald the morning,
A-singing are the bells
that usher Dawn,
The bells that gently
break in the Day
freshly spun by the pure hands of God.
Matins!
You rise from your bed of straws
and on your cheeks, Saint Clare
splendid is the color of your joy,
in your love-shining eyes
you hide the secrets of your soul,
and God mysterious
walks your way
and leads your steps.
Matins!
You take your place with gracefulness
and chant sweetest melodies,
and your mellow voice weaves
with the somber harmony of the Choir
the pungent notes of your love.
He that gives you Dawn
heeds your praise and sighs for joy.
In the brisk air of early morn
sweet is the sound of your song;
the purest dreams of your love
ascend to the throne of God
with the springing waters
of the fountains in the garden.
And your vision, Saint Clare,
is of eternal glory.
{After Respighi's impression, The Matins of St. Clare,
from the musical frescoes "Church Windows"}
A Vision of Beauty
is a 52 page hand-sewn book with spine - $12.00
TO ORDER ON-LINE