FootHills Publishing
|
home
Leslie Miller
Boom Time
1946 - 1964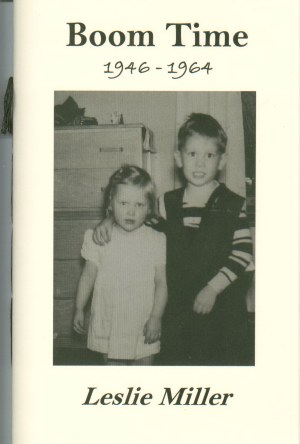 The startling poems of Leslie Miller's first book of poetry have the feel of having risen from a place of great depth, and of vivid understanding of what matters. Original in their forms and in their conceptions, and driven by a fiercely independent voice, these poems resonate, even after several readings, and they are a true joy to behold.
-Bruce Weigl
Leslie Miller is a visual artist and this is her first poetry venture. Her artwork has been shown in galleries throughout Ohio as well as in Boston, New Jersey, Atlanta, Miami, Jerusalem and Tel Aviv. She was born in Elyria and raised in Oberlin, Ohio. Miller received a B.A. in religion from Bates College, Maine and a four-year studio diploma from the School of the Museum of Fine Arts, Boston. After living for several years in the New England area, with a stint in Israel and one in Georgia, where her daughter Rebecca was born, she returned to Oberlin in 1989. She has worked at the Allen Memorial Art Museum at Oberlin College from 1990 to the present.
From the book:
1946
Welcome! little boomers.
You're announced on the moon.
Blue Angels escort you from heaven.
You were conceived on Route 66.
Dr. Spock revolutionizes your parenting.
Penicillin protects you from infection.
Come dance with Balanchine
Let La Belle et la Bête beguile,
And Angel Oddbody show you It's a Wonderful Life.
All the King's Men weave a triple history.
Ingrid is Notorious,
and The Iceman Cometh.
Frozen in time, Stieglitz made photography an art.
Gertrude plucks her last rose.
As Wells takes The Time Machine to eternity.
Ten hang for the murder of the six million.
The United Nations opens in optimism.
Vietnam starts down a 30-year warpath.
Truman signs the School Lunch Act to feed you,
The Employment Act for your working future,
To protect you from the military, the Atomic Energy Act.
Merry Christmas! The Soviets are nuclear.
A Superfortress drops a bomb on Bikini.
Listen for the bell, little boomers.
Boom Time
is a 28 page hand-sewn chapbook - $7.00
TO ORDER ON-LINE