FootHills Publishing
|
home
BLUE RUBY
Heather Thomas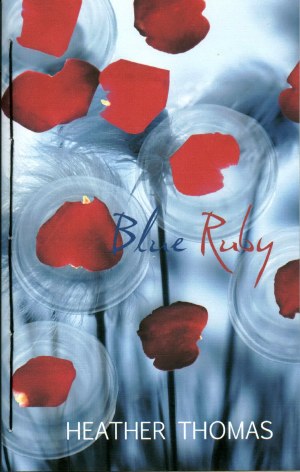 Heather Thomas's Blue Ruby is a beauty, composed by a fearlessly
compassionate intelligence: "everything exists because/ something else does." Primarily, it's poems in flexible, driving, sensuous two- and three- line stanzas (also a new kind of urgent pantoum). "I write with my eyes." But Thomas joins a growing band who can't help but unite the personal and political. She demonstrates that the "pearl-of-great-price" is anyone, anywhere, self or other one.The poems hurt but have a carved, litup surface, red and blue and many other colors.
Alice Notley
Two videos of Heather reading poems:
Heather Thomas is an award-winning poet who also writes under the name H.T. Harrison. She is the author of five previous collections, including Resurrection Papers (Chax Press, 2003) and Practicing Amnesia (Singing Horse Press, 2000). Her chapbooks include Voiceunders (Texture Press, 1993) and Circus Freex (Standing Stones Press and Pine Press, 1995). The Fray, an art and poetry collaboration, was created with artist Barbara Schulman. Papeles de Resurrección (Editorial Vinciguerra, 2004), a bilingual edition, was translated into Spanish by Patricia Diaz Bialet.
Her work has been published in numerous literary magazines and is anthologized in Common Wealth: Contemporary Poets on Pennsylvania (Penn State University Press, 2005); Listening to Water: the Susquehanna Watershed Anthology (FootHills Publishing, 2007); In the Arms of Words: Poems for Tsunami Relief (Sherman Asher and Foothills Publishing, 2005); Only the Sea Keeps: Poetry of the Tsunami (Bayeux, 2005), and other books. Thomas has awards from the Pennsylvania Council on the Arts, the Pennsylvania State System of Higher Education, and two Gertrude Stein Awards in Innovative American Poetry.
A professor of writing and literature at Kutztown University of Pennsylvania, she serves as associate poetry editor for the online magazine 5Trope. She has also published critical essays and journalism, and written a play produced by the Reading Theater Project. Heather grew up in Berks County, Pa., has degrees from the University of Pennsylvania and Temple University, and lives in Reading with the poet Craig Czury and their cat, Mina Loy.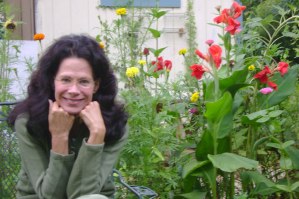 From the book:
THE BEING GROUND
Breaths gather firm the old pages
white spines, row of books in a foreign
language you try to love
the questions like locked rooms
windows framed blue
beyond irritable reaching
A letter is mind but you must
return bodily to the scarcity of love
tune to correction in the secret
hollows of fingers and toes
your mouth passing through
the wound the flower you know
On the being ground
unharnessed from memory we hold
each other, not collapsing
into the future, but careful
as an act of silence
allows itself to be read.
BLUE RUBY
is an 88 page hand-sewn book with spine - $16.00
TO ORDER ON-LINE
To order through mail click here.