FootHills Publishing
|
home
Eugene Stelzig
Fool's Gold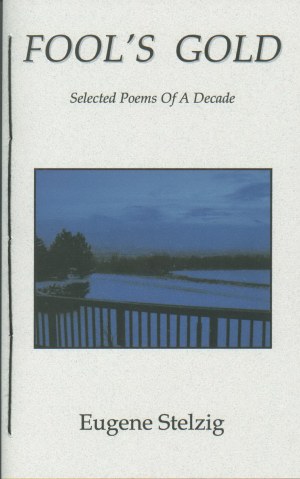 "There is some poetic license in the subtitle of this collection (Selected Poems of a Decade), because some of the poems in it reach further back than that-though most of them have in fact been written in the last decade or so. The opening one ("A Little Fire in a Wild Field") is the title poem of a much earlier collection. It echoes some of the lines of King Lear's Fool (in the storm sequence) because the figure of the fool has become my favorite image of the poet and artist. (Another would be Kafka's Hunger Artist, but he does not figure in this collection.) Great wheels-tragic heroes, Lear, Hamlet et al-go down in flames and die. The poet-fool sits on the sidelines and observes the inane, beautiful, poignant, and forever repeated human spectacle. The sound and the fury. He has no agency in this world, but he survives and comments on the greater stage of fools that is this world."
- Eugene Stelzig
From the book:
Fool's Gold: Turning Sixty
(for Dave Kelly)
Things begin to leave me.
Memories too.
It's o.k. though.
And time that gave
now seems so rich
so poignant and so cruel.
The language of leaves
is a barely audible
shout. And a strange
comfort. They say it's
not what you see
but where you look
that matters.
The residue of my days
could be bright nuggets
in my sieve, or
I could be merely
dreaming. Fool's gold
might be all there
is, but a fool and
his gold are not
easily parted
and I keep
an open mind.
EUGENE STELZIG was born in Austria in August 1943 and moved to France at the age of twelve, where he attended an American school for three years and then a French lycée for two more before coming to the U.S. in 1961. He is Distinguished Teaching Professor of English at SUNY Geneseo, where he has taught since 1972. He holds degrees in English from the University of Pennsylvania (B.A.), Cambridge University (King's College, B.A., M.A.) and Harvard University (A.M., Ph.D). He has published books on Wordsworth (1975), Hermann Hesse (1988), and Rousseau and Goethe (2000), as well as nearly forty articles of literary scholarship and criticism. His poetry has appeared in over a dozen literary and little magazines during the past four and a half decades, including an autobiographical long poem in The Literary Review, and he has also published translations of German poetry (most recently of Schiller's long poem "The Walk" and "The Glove" in European Romantic Poetry, Pearson/Longman, 2005).
Eugene, his wife Elsje van Munster and their best friend, Robbie the Weimaraner, live in the rural fields and rolling hills of Groveland, NY where they enjoy walking in all seasons and weathers.
Fool's Gold
is a 72 page hand-sewn paper book with spine - $15.00
TO ORDER ON-LINE