FootHills Publishing
|
home


Mistretta
Connections
Joan Mistretta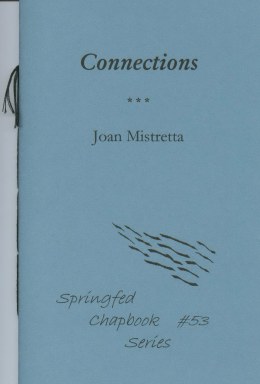 Joan Mistretta began writing poetry in high school in Brooklyn, NY and was published in the school's literary journal. She wrote very little all through the years until retirement.
In the summer of 2002 Joan attended a poetry workshop led by Professor Robert Darling of Keuka College. He was so encouraging that she began to spend a small portion of each day writing.
She is greatly encouraged in her work by the members of the Bath Writer's Group. Joan is a retired counselor and is active in several political and social action groups as well as her church.
Joan lives with her husband in Hammondsport NY. They have two children, three grandchildren and will celebrate their 50th anniversary in December of 2005.
From the book:

Trinity Bay
A siding salesman must have made his fortune
Protecting houses here from salty wind.
I think the brook is quieter,
I know the working boats have gone.
Yet here the bay still spreads itself
Where the road ( now concrete) widens
And darkly needled trees stand back
From jeweled water.
It is exactly as I've seen it
In all my unremembered dreams.
Its patience moves me.
I've changed much more than it.

Hand-stitched chapbook.
Six Dollars.
TO ORDER Connections ON-LINE
************************************************

Postscripts in Time
Pamela A. MacBean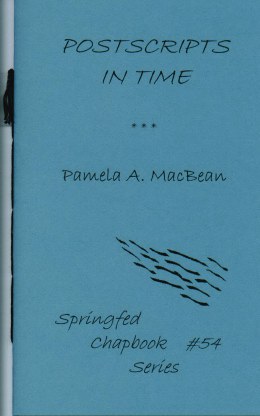 Pamela A. MacBean was born in Clarksburg, W.Va. and grew up in Connecticut. She now lives in The Great North Woods in beautiful northern New Hampshire on 48 acres of land affectionately called "Go-pher Wood Farm."
Pamela has had her work published in numerous literary publications and online sites including The Midwest Poetry Review; The Aurorean; The Pine Island Journal of New England Poetry; Simply Words; Quill/Shadow Poetry; Hodge Podge; Poetry Depth Quarterly; The Pink Chameleon.com; Skyline Magazine; Poet's Touchstone; Time of Singing; Interpoetry.com.
Her work has been featured on Kookamonga Square online and Poetrylane.net.
From the book:

SUNDAY NIGHTS
Around the table
the ten of them sat
as the Pastor's wife
read from Charlie Brown.
Trying to teach them life lessons
from a comic strip character.
Sunday night youth group.
A young girl ached
to touch hair
glowing honey gold
under fluorescent lights.
He didn't know she loved him.
She was the shy girl.
Skinny girl.
He called her stick woman
behind her back
with his friends.
Blue bell bottoms.
White long sleeved shirt
open at the neck.
Her eyes memorized every detail
of his young man's form
to call up later in dreams.
The nectar of his kiss,
the feel of his shoulders
quivered through imaginings.
Daydreams drifted
of silver moon fingers
touching his freckled face
as he slept in bed.
"Under my thumb"
blasted from the stereo
of his red 1967 Camaro
as he did doughnuts
in the church parking lot-
in front of all the girls.
Laughing and waving
as he burned into the sunset.
She clutched her bible to her breast
as daddy came to pick her up.
The shy girl - skinny girl
wishing to be the moon.
Hand-stitched chapbook.
Six Dollars.
TO ORDER Postscripts in Time ON-LINE
To order through mail:

Send total price plus $1.25 Shipping and Handling
($1.75 in Canada; $3.25 other countries)
for each address sent to.
Send orders to:
FootHills Publishing
PO Box 68
Kanona, NY 14856
Thank you for your support!