FootHills Publishing
|
home


Springfed #67
Robert Riche
ETERNITY
AND OTHER MUNDANE MATTERS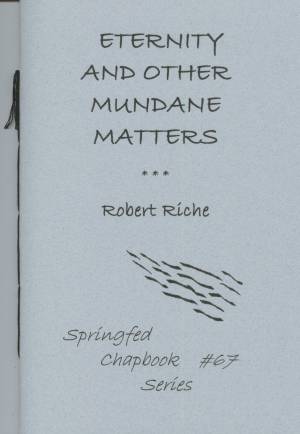 Robert Riche has published two novels, What Are We Doing in Latin America? (A Novel About Connecticut) and The Vision Thing, the latter a picaresque adventure tale and satire on the Bush dynasty. His short stories have appeared in Commentary and a number of literary magazines. His plays have been performed off-off Broadway in New York, and in regional theaters in Berkeley, Washington, Atlanta, and in Bristol, England. He has co-authored one self-help book entitled The Ten Most Troublesome Teen-Age Problems (And How to Solve Them), and he has had numerous comedy television assignments. He writes periodically on food, wine and travel subjects. .
He is the recipient of a National Endowment for the Arts grant, a Connecticut Foundation for the Arts grant, Advanced Drama Research grant; he is a winner of the prestigious Stanley Drama Award, and he has been a Breadloaf Writers Conference scholar. He has come to poetry only recently, and has published in the Alsop Review's online magazine, Octavo.
From the Book:
I STARED AT ETERNITY
I stared at eternity
the other day.
Couldn't get a glimpse of the other end.
It kept moving away
like a big bang in a canyon,
the echoes evanescent,
drifting into the ethereal gloom.
One of these days I know
like ouroboros
it will loop around and take me along.
It will be as though sleeping in the back of a bus
on an endless trip in the night
with no dawn in sight.
Stars, like streetlights, will flash by.
And all those left behind -
astronomers and bums, and kings and queens,
Hollywood starlets, heroes of sport,
retiree duffers in funny pants
looking up from greens and missing putts,
will ponder to no avail
over what's inside.
They'll manage sooner or later
to hitch a ride
and travel with me through the interminable dark.
Like wounded soldiers nodding off,
returning home from war,
none of us will speak.
Hand-stitched chapbook.
Six Dollars.
TO ORDER ETERNITY AND OTHER MUNDANE MATTERS
ON-LINE