FootHills Publishing
|
home


Springfed #66
Jamie Bird
Breaking the Autopilot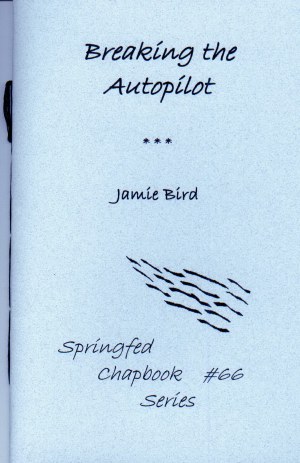 Jamie Bird lives in Rochester. He is currently finishing his B.A. in English at SUNY Brockport He is a former professional hockey player who spent five seasons in the minor leagues, having the opportunity to live in various places including San Antonio, Ft. Worth, Knoxville, Binghamton and Quebec, Canada. At age 26 he decided to leave that behind and go to college.
From the Book:
Breaking the Autopilot
Morning drive to what they call work:
eyes with crusted corners gazing
blankly at yellow lines whizzing
against the grain of worn tarmac,
gray not black. The droning
engine smothers the radio, but my ear
the wanderer- picks up the chords
of a tune I know well-
rock-n-roll-
gotta play this one loud.
The sounds, the words-
from the speakers burst
forth- warm me up
like a pre-game stretch.
On the steering wheel
I play the drums
and I sing out loud
at the top of my lungs.
My voice could scare
dead dogs back to life.
But I don't care.
No I don't care.
Because I'm feeling the music-
feeling the music-
feeling the-
feeling-
feeling the music.
Hand-stitched chapbook.
Six Dollars.
TO ORDER Breaking the Autopilot ON-LINE