FootHills Publishing
|
home


Thibodeaux
Springfed #62
Life On a Blue and Green Planet
Libby Thibodeaux - Springfed #62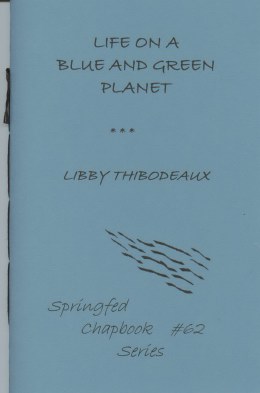 Libby Thibodeaux has been writing poetry for over 20 years. She was inspired by her mother in this endeavor. "She never doubted that I could do anything."
The poems in this chapbook are her thoughts on this world, both the outside world as she sees it and the inside world as only each of us can know our own personal world.
Poetry is her escape, her enjoyment and a wonderful past-time.
From the Book:
BE A MAN THEY TOLD HIM
Be a man, they told him
Don't cry
Don't show emotion
Don't laugh too long
Be a man, they told him
Be tough
Be hard
Be mean
Be a man, they told him
Day after Day
from crib to graduation
They drilled him to be a man
He never laughed or smiled
Cried or any other emotion
He was mean and cruel
and frightening
He died today, alone and afraid
When found
He had a half-smile on his face
And a tear on his cheek
Hand-stitched chapbook.
Six Dollars.
TO ORDER Life On a Blue and Green Planet ON-LINE
***************************************
Imagining a Life
Jane K. Kretschmann
Jane K. Kretschmann, a native of Alabama, lives in Piqua, Ohio, where she teaches at a community college. In addition to the publications credited in the Acknowledgements, Jane's works can be found in ByLine, Writer's Journal, and Wavelength: Poems in Prose and Verse, as well as online in Illustrated Word, a publication of the Episcopal Church and Visual Arts, Right Hand Pointing, and the Akron (Ohio) Art Museum web site. Recently some of her poems were broadcast on Art Waves, on WKCR in New York City, and included in Muscadine Lines: a Southern Anthology (Cold Tree Press).
Jane began writing poetry while taking a class with her colleague and friend, the poet Cathryn Essinger. It is with gratitude and affection that this chapbook is dedicated to Cathy. She also wishes to thank the members of the Edison Writer's Club for their support. When not writing, Jane enjoys reading, singing, and walking her retriever, Belle. Jane is married to retired National Park Service superintendent Jim Kretschmann, her biggest fan, to whom the chapbook is also dedicated, with love.
From the Book:
Imagining a Life

Noticing my admiration for his yard sale offerings,
the vendor volunteers, "These were my daughter's
things. She died a year ago. Her name was Jane."
That's my name also, I reply, picking up a watch,
square like jewelry from the forties, but quartz.
"It's sterling silver, still in the original box,"
he adds. Twenty dollars, I protest, is too little,
but he says the watch needs to be worn. So I
purchase it and a bottle of French perfume,
Narcisse Noir. Wearing them to a party, all I can
talk about is France. I think about Jane. I imagine
her glancing at the Rodier on her wrist, deciding
it is time to politely slip away, go home, change
into her black velour robe (also a gift) and curl up
with her new journal, listing things to arrange
before she departs for her life in the Loire Valley,
where she plans to write stories, raise goats,
sell chèvre and grow old beside her generous lover.
Hand-stitched chapbook.
Six Dollars.
TO ORDER Imagining a Life ON-LINE