Ten Days in Huntington Wildlife Forest
wild voices come when they will
Never Stop Asking for Poems - Selected Works
****************************
From the Introduction:
I have realized for a long time that I have a triangle foundation. The three sides are creativity, nature and people/relationships. It is a fluid triangle, with the length of each side varying in time. These poems all fall under the people/relationship side of my triangle. Thus YOU for a title. You as other, as part of me, as someone I haven't met yet, as someone appearing in my dreams, as someone very distinct, as someone calling to me through time and space. You know who you are.
YOU is the third collection of some of my Daily Spontan-eous Poems that I've been writing and posting on Facebook since 8/22/14. The first two books, wild voices come when they will and there is only this moment were released in 2015 and 2017 respectively.
Once again, as was the case with there is only this moment, these poems were selected by a good friend, Gwen Zimmerman. Gwen read through 450 poems and selected these 70 poems as one grouping she titled "relationship."
From the book:
so many walls separate
you from me
tradition, culture, prejudice
suspicion, fear, worry
lack of confidence
personal inhibition
let's break down those walls
you from your side
I from mine
brick by brick
layer by layer
till nothing remains
between us
just wide open space
where we can join
eye to eye
hand in hand
heart to heart
YOU
is a 76 page hand-stitched paperbook with spine - $12.00
From the United States From other countries
********************************
From the Introduction:
In June of 2017 I stopped in at the Adirondack Interpretive Center in Huntington Wildlife Forest to visit my son, Chapin, a student at SUNY College of Environmental Science and Forestry. Chapin was just starting a Summer internship at the forest. A few serendipitous events occurred which led to a 10-day Poet-in-Residence stay at Huntington Lodge. The poems in this chapbook are one of the results of that stay, in late October, 2017.
From the book:
Passing Through
underneath ground pine
underneath spruce, fir
maple, beech, birch
underneath russula emetica
underneath wintergreen
bunchberry, partridgeberry
underneath wood ferns
underneath Arbutus Lake
Rich Lake, Wolf Lake
underneath otter footsteps
deer footsteps, bear footsteps
my footsteps
underneath soil we all walk on
lies bedrock of ancient mountains
we are all just passing through
even mountains, too
Wild Fruit
partridge berry on woodland floor
small, mostly tasteless fruit
not bad, not good, but edible
wintergreen berries below Arbutus Lodge
red amidst shiny green leaves
slight wintergreen flavor
wild cranberries, purple, red
in boggy area of Rich Lake
northern tartness in each bite
though late autumn
still some wild fruit
left to pick
left to taste
Ten Days in Huntington Wildlife Forest
is a 32 page hand-stitched chapbook - $10.00
From the United States From other countries
********************************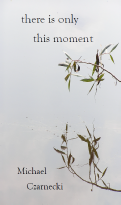 there is only this moment
Introduction
This is the second collection of some of my Daily Spontaneous Poems that I've been writing and posting on Facebook since 8/22/14. The first book, wild voices come when they will, was released in September of 2015.
The poems contained in this book were written in the year since wild voices come when they will was published. Each of these poems was posted on Facebook just as it was written, spontaneously, with no editing whatsoever. That is how they appear in this book, just as written. The only change I've made is to omit the number and date that accompanied each poem as it was posted. That information seemed irrelevant for the book.
The poems that comprise there is only this moment were selected by a good friend, Gwen Zimmerman. She read through the daily poems and actually came up with two groupings; this one, which she labeled loosely "transcendent" poems, and another that were "nature" centered. This book only contains the poems that were part of the former group, though there are also references to nature in many of them.
I continue to post Daily Spontaneous Poems on my Facebook page, along with Daily Photographs. (The cover photo is one of those Daily Photos.) As of today, I've posted 879 poems and 1371 photographs. I occasionally miss a day, but not very often. Each of these endeavors has become a daily practice for me, whether I'm home on Wheeler Hill or somewhere out on the poetic road across America. I hope you enjoy this poetic part of my practice.
Michael Czarnecki—Wheeler Hill, March 30, 2017
From the book:
firsts are notable
first frost
first snowfall
first robin
first library card
first date
first kiss
first lovemaking
first job
first marriage
first child
first car accident
first brush with death
first moment of doubt
first ah-ha moment
so many firsts
yet so many lasts
we're never aware of
till much too late
*******************************
these poems are written for me
these daily creations a practice
something rare in my life
so too, daily photos, another practice
done more for me than anyone else
yoga didn't draw me to practice
meditation didn't draw me to practice
daily journal didn't draw me to practice
yet, these daily spontaneous poems
these daily taken photographs
a practice become necessary
for me, yet shared beyond me
hoping others get something from
these practices that have become
essential in my life
there is only this moment
is a 68 page hand-stitched paper book with spine. $12.00
From the United States From other countries
********************************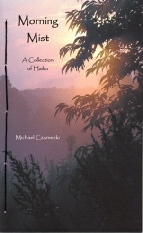 From the Introduction:
This collection contains a few hundred of the haiku I've written in the last twenty years. There are many more that didn't find their way into this book. I continue to write haiku, finding it a wonderful practice, both literarily and spiritually.
When writing haiku, one is present in the moment. Awareness becomes more acute. The world around us also becomes the world within us. Is there anything more spiritual than that?
Contents
Introduction
Spring
Summer
Autumn
Winter
Journeys
Far North, Far West
Mississippi River Journey
Maine Coast Journey
Mid-Autumn Haiku
a November conversation
with Craig Czury
From the book:
bluebird in garden
a male, then female appears
moon near full tonight
old hitchhiking route
decades later, now in car
same ancient mountains
red truck full of corn
passing by on highway 4
my car full of poems
yesterday's footprints
covered up by windblown snow
thoughts of long gone friend
Morning Mist
is a 104 page hand-sewn paperbook with spine - $15.00.
TO ORDER:
From the United States From other countries
********************************
when they will
spontaneous poems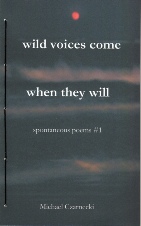 #1
Introduction
On August 22, 2014, I had an idea to post a Daily Spontaneous Poem on my Facebook page. Little did I know that over a year later I would still be posting those daily creations.
I call them spontaneous poems because when I write them, they come in the moment and I do no revising once they are finished. I wasn't sure if I would be able to do this every day, but somehow I have, though there have been days that one didn't appear. Sometimes I was away from the computer most of the day or wasn't able to connect on the internet while on the road. Sometimes I was just too tired. Yet, most of the time a poem did get written and then immediately posted on Facebook.
When I write the poems, I do so quickly and do not give them any titles, just numbers. A few weeks after starting, I considered collecting the better ones, revising, giving titles and then working them into a manuscript. Instead, I decided to stay with the original idea, no revisions, no titles.
The poems collected here are less than twenty percent of what I have written and posted to date. They are numbered and appear in the order they were written, with many gaps throughout. Obviously, writing spontaneously and not revising, they are not all "keepers." The ones included here have been chosen by me. I sought no outside editor and also resisted the temptation to revise.
I continue to write and post Daily Poems. The process has become like a practice. If you are interested, feel free to friend me on FB and you'll get to see the current daily outpourings. Also, I post a Daily Photograph.
Ok, the hour is getting late. I need to wrap this up and go write my Daily Poem for today.
From the book:
56
as my bowl of soup cools
I think how if you were here
you'd love this homemade concoction
spicy shrimp noodle, no recipe followed
garlic, onion, hot pepper, sweet pepper
soy sauce, vegetarian oyster sauce
wild caught Alaskan shrimp, Asian noodles
straw mushrooms, liberal dashes of chili oil
no one here would have it with me
no one here caring for hot spicy foods
I cherish each tingly tasty spoonful
wish there weren't so many miles between us
you really would have loved it
63
this uncle who now sits in wheel chair
taken care of in assisted living quarters
memory partially here, partially gone
same uncle I used to trout fish with
wading streams a half century ago
he now ninety-two, I sixty-three
"You're still young," he tells me
and I still see us, working upstream
casting lures into shimmering water
that forever flows on
116
so many days without sun
today, when it appeared
nearly a shock, a revelation
realization that it still exists
yet later, another insight
not just sun but shadows also
have been absent in my life
wild voices come when they will
is an 80 page hand-sewn paperbook with spine - $12.00.
TO ORDER:
From the United States From other countries
********************************
In the Spirit of T'ao Ch'ien
Charles Rossiter, Editor
One of the poets in this book speaks of "First Breath" and "Last Breath." Here are American poets who have "breathed in" the breath of such Chinese poets as T'ao Ch'ien, Han Shan, and Wang Wei. And here they breathe it back out again where it mingles with the breath of America.
Jonathan Chaves
Translator and Professor of Chinese
Contributors
Sam Hamill
Michael Czarnecki
David Budbill
Charles Rossiter
Antler
From the Introduction:
T'ao Ch'ien (365-427 C.E.) is a major figure in the Chinese poetic tradition whose influence on subsequent generations cannot be overstated. After holding several official posts he abandoned a traditional government career for the life of a reclusive gentleman farmer. His poems, expressed in natural language, reflect on ordinary daily occurrences and express a deep connection with nature. Despite their accessibility and seeming simplicity, they are deeply philosophical.
The poems in this collection share characteristics with T'ao Ch'ien and other poets of ancient China. They are plain spoken, clear, generally short, and readily understandable. These poems explore the poets' states of consciousness and relationship with the natural world as they seek a self-understanding, as well as a connectedness with all that surrounds them. These poems document human relationships, and the comings and goings of other people in the poets' lives. When these poets address issues in the wider world, they see through the smoke and mirrors of officialdom and are critical of social injustice.
Like T'ao Ch'ien's poems, those collected here reflect a viewpoint on life and society from outside the mainstream. Poetry is at the center of each of these poets lives, yet, unlike many contemporary American poets, none holds an academic position. Although the poets live in varied circumstances, all five share the lifestyle of the Chinese mountain recluse when one considers what that lifestyle entails. As David Hinton, poet and translator of T'ao Ch'ien and other major Chinese poets describes it, the "mountain recluse" lifestyle generally included "a relatively comfortable house, a substantial library, family, friends," as well as a political dimension, "for the wisdom cultivated in such a life was considered essential to sage governing."
From the book:
Sam Hamill
Mountains and Rivers Without End
After making love, we are like
rivers come down from mountain summits.
We are still, we are moving,
calm in the depths of danger-
two rivers entering the sea
slowly, as if nothing matters:
quietly, but with great power
merging in deepening waters.
Michael Czarnecki
In The Spirit of T'ao Ch'ien:
a Sequence of 15 Poems
2
Hilltop covered in thick fog
nearby trees barely in view.
No sunrise over eastern ridge
only slow lightening of sky.
Cat meows, wanting food in his dish
homemade bread toasting on wood stove.
Would you understand if I said
right here, the center of the world.
David Budbill
An Old Dog Headed for the Park
or
Glad to Have Another Day
(Montreal, 3/18/07)
Two mornings now we've watched
an old dog
walk past the windows of our B&B,
out in the cold air,
out in the new snow, headed for
the park,
yesterday with the man,
this morning with the woman.
He's old,
he's overweight,
he moves real slow,
he waddles along
wagging his tail
the whole way.
Charlie Rossiter
Cold Mountain 2000:
Han Shan In the City
(4 poems from a series of 51)
I'm here in the city
but there's something wild and unknowable
about where I live.
Crooked alleys and dark shadows
make the way uncertain.
If I choose to go inside
there's no way you'll ever find me.
Antler
First Breath Last Breath
When a baby boy is born
and the midwife
holds him up
as he takes
his first breath,
Place him over
the Mother's face
so when the baby exhales
his first breath on Earth
the Mother breathes it.
And when the Mother dies
her middle-aged son
the baby grew up to be,
by her side
his head next to her head,
Follows her breathing with his breath
as it becomes shorter
and as the dying Mother
exhales her last breath
her son inhales it.
In the Spirit of T'ao Ch'ien
is an 84 page hand-sewn paperbook with spine - $16.00.
TO ORDER:
From the United States From other countries
********************************
For Poems
Selected Works
Introduction
Sometime in 2007, at one of my readings, I mentioned that it has been forty years since writing my first poem. Dan Waber asked me if it was time to consider a "Selected Poems" book. I gave his question short shrift and didn't think much more about it.
Earlier this year, 2008, his question resurfaced in my mind. Maybe a case could be made for such a collection. A number of my chapbooks were out of print and some of the more popular poems I shared at my readings were never published in a book. Maybe those poems could form the core of a selected works collection, with a few others from throughout those decades added in to round it out a bit.
Thus, Never Stop Asking for Poems. The title is taken from a poem of mine that has never been published in a book but has been read often at readings throughout the country: "Liberty Street Poetry Reading, Bath, NY." Chapbooks represented are the complete "Elegy for the Road, Kerouac's Ghost," and selections from "Making Space for Others" and "Drinking Wine, Chanting Poems." Also included is the first poem I read in public, in 1985 for the Bath Peace Group, "For the Natural Course of Events." I've also selected a few poems from each decade that have never been seen in print form.
This book is only a small portion of the works I have written. It is a selected compilation. A collected works would be way beyond the possibilities of a book form. Included in Never Stop Asking for Poems are representative poems from throughout these many decades of writing.
I thank Mr. Kerr, my junior year high school English teacher, who was responsible for the first poem I ever wrote. I am, and will be, eternally grateful for the encouragement he gave me to continue writing poems. And I thank Dan Waber for first suggesting the idea of a selected works collection of my poetry. Dan, you were right, it's time.
* * * * * *
Never Stop Asking for Poems
104 page paperback, hand-sewn, with flat spine.
$12.00
From the United States From other countries
********************************
(Click here to go to a site devoted to US ROUTE 20)
In 1971, Michael Czarnecki bought a backpack, tent and sleeping bag, put out his thumb and over the next five years hitchhiked 30,000 miles through the northeastern United States and Canada. 25 years later, he again took off on the road, this time on a twenty day solo journey across America in an old, beat 1983 Honda Civic Wagon. Leaving family and friends behind, Michael set off to cross the country for the very first time.
Twenty Days on Route 20 chronicles that first time crossing of America. The account is written in haibun, a Japanese literary form combining condensed prose and haiku. Matsuo Basho, Japan's great 17th century haiku master, wrote his classic travel sagas in haibun. Now, more than 300 years later, Michael uses that same form to chronicle his pilgrimage across this vast continent.
Starting from Boston, Route 20 traverses the northern third of the country, through a varied American landscape: rolling hills of New York State; mid-America farmland and villages; sprawling, bustling Chicago; Mississippi and Missouri rivers; Nebraska sandhills; Wyoming plateau country; Yellowstone National Park; lava fields; high desert; Cascade Mountains and finally, the Pacific.
Michael barters for motel rooms, explores small towns, cities and countryside, gives poetry readings, encounters raven and coyote and observes the country slowly unfolding as the road leads forever west.
This second printing 10 years after the journey, contains some slight revisions of the original text and brings back into print a fascinating journey across America on the longest US Route in the country.
As I sat eating my meal I began considering where I would sleep for the night. KC's Corner Restaurant & Motel - hmmm! This was a low budget journey and I couldn't be spending much money on places to sleep. The second night out was too early to succumb to the temptation of a soft, comfortable bed in a motel. Then one of those sudden inspirations came to me - why not barter for a room!
I hesitatingly walked up to the owner of KC's and explained my journey to him. I mentioned that I would be writing a book and that if he let me use a room for the night I would acknowledge KC's on the acknowledgement page and then give him enough books to cover the cost of the room. To my surprise he immediately accepted the offer! This spontaneous idea changed the whole character of the rest of the trip.
I had never done this before, barter writings for lodgings. Felt a little bit like Vachel Lindsay, the early 20th Century poet from Springfield, Illinois. I remember reading his work as a junior in high school and being excited to learn that he went on walking trips, exchanging rhymes for room and board. Poetry had real world value! So now, 30 years later, here I was in a comfortable room because of someone's willingness to accept written words for payment. Mr. Kerr, if only you could know how as a teacher you changed my life!
Stopped at Hot Springs State Park in Thermopolis to soak in the Bath House. A 19th century treaty between the federal government and the Arapaho and Shoshone stipulated that the waters from this mineral spring be made available to the public for free. The 104 degree water in the Bath House can be enjoyed for 20 minutes without charge, so I rented a swimsuit, 75¢, and had a great soak for the allotted time.
An employee at the Bath House told me they may start charging for use of the facilities. When I mentioned the treaty she said that the treaty was between the federal government and the natives. It's a state park now and they aren't bound by the treaty. It goes on and on and on.
76 page paperback, hand-sewn, with flat spine.
From the United States From other countries
********************************
Sea Smoke and Sand Dollars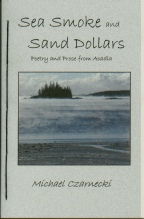 From the Introduction:
This book contains various writings of mine - poetry, prose poems, haibun, haiku - that are about Acadia or were written while living here. Some pieces are quite old, a few quite new. If fortunate, I suspect there will be many more pieces I'll write about this magical place - I hope to return many more times in the years to come, it's only been 33 and a half years since that first visit! Like I warn everyone who is thinking of coming here for the first time - nobody ever goes to Acadia just once!
November 20, 2004
Seal Harbor, Maine
From the book:
Written First Evening Upon Returning
To Mount Desert Island To Live
Full moon hangs over Champlain.
Across the way, snow covered
Cadillac, Dorr loom immense
above the frozen Tarn.
So many years away
and this first night back
feels so much like
coming home to stay.
Heading Back Home After Morning Walk To Post Office
Mid-morn, bright sun, lingering moon
crusty snow in thick-shaded woods.
Underneath spruce, fir, cedar trees
Stanley Brook sings over cold stones.
Red squirrel chatters from nearby rock
raven calls from above but can't be seen.
Contentment found in simple things
lone winter hike, not a soul in sight.
Morning Walk on Closed Park Road
Late year sun angles low over tall trees.
Road winds from shadows to sunlight to shadows.
Sudden gust shakes snow from high branch -
a million bright sparkles drift down, disappear.
Sea Smoke and Sand Dollars
68 page paperback, hand-sewn, with flat spine. $12.00
From the United States From other countries
*******************************