FootHills Publishing
|
home


Jennifer Hill-Kaucher
(Click Here To See Jennifer's Book of Days Reading Schedule)
Jennifer Hill-Kaucher's first book of poetry, "Questioning Walls Open," was published by FootHills Publishing in July 2001. Her second collection, "Nightcrown," a crown of sonnets in collaboration with photographer Michael Downend, was published as a limited edition lotus book in 2003. Her play, "The Hem of the Garment" was chosen for the 2002 Last Frontier Theatre Conference in Alaska with Edward Albee. A Pennsylvania Council on the Arts Roster poet, Jennifer conducts poetry residencies and workshops throughout the state and recently in Ireland.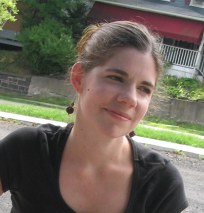 She lives in Kingston, Pennsylvania with her daughter Helen.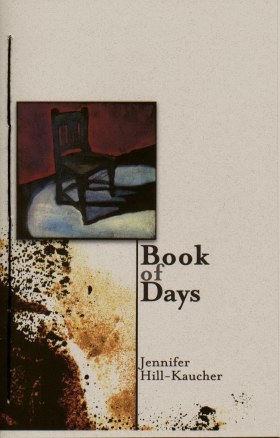 Jennifer Hill-Kaucher's Book of Days is local and present. Much of it feels diary-like, a life being recorded in a book of hours by a woman at night. The imagery in these pages is sensual, lush with dahlias, marigolds and peonies. And also honest. As a poem ironically titled "Omission" ends, you can almost feel the gloves sliding off.
- Lola Haskins
Author of Desire Lines (BOA Editions, 2004)
Book of Days Contents
Sunday
Muse
Advent
Trees of Play
Wreath
Hymnal
Late Summer Inquiry
Monday
Good Morning
Migratory
Cribsheet
Trefoil Sonnet for Girls
Tuesday
Chant-A-Go-Go
To Coffee
Eight Strings
Reading Othello and Watching a Girl
Skip Rope
Wednesday
Typeset
Omission
Listen Daughter, Laughter
Manual Alphabet
Thursday
Surface Tension
Study of Two German Figures
Pose
Ash and Scar
Vanishing Point
Relationship
Specifics
Friday
To a Young Poet
Critical Analysis of Poetry
Interview
Saturday
Flint
Heart
Lightness
Landscape with Six Characters
After Sappho
Hourkiss
From the book:
Sunday

Sunday scrapes the meatloaf off the plates,
replaces door hinges.
Letters are stamped, weeds pulled,
books read in the slipknot
of autumn light. Sunday afternoon
twists his noose around our necks.
Under which floorboard of the house
does that insistent cricket live?
Omission

I write to you on cream paper with a watermark,
the kind that comes with lined envelopes
packaged in a box with a flat satin bow.
My script rolls in the safety of April as I tell
you about things you already know - how spring
connects the dots to form its landscape. The pages
fill quickly, the way strong women taught me.
I take an entire paragraph to describe the flowering
dogwood outside my kitchen window, how I am drawn
to the morning light of this month, the chickadees
that punctuate the feeder, that magnolia on fire.
On the third page, I stick with the comfort of the daily,
how my life is awash in Shakespeare, ninth graders
and the cruelest joy of untangling the language
of Romeo and Juliet. I say it's not quite a triumph,
fourteen is a tough age for understanding paradox,
I can tell by their gaping mouths when I say,
"in a minute there are many days" or "thou day in night."
I want to be cut out in little stars. How do I
close this letter? I sign in slow loops, seal
the envelope and place the stamp of Khalo
in its upright position. From their graves
the women of my family sigh and slip off their gloves.
ISBN 0-941053-53-9
Book of Days is a 60 page hand-sewn paperback with flat spine - $14.00
TO ORDER Book of Days ON-LINE
**************************************
Jennifer Hill-Kaucher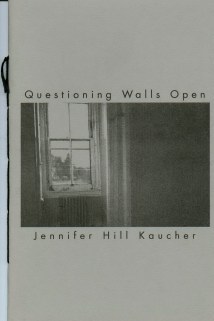 From the Book:
"Letter"
I wish you would write. Your letter
would arrive in good time, aloft
in days striated with routine.
I'd put on the kettle, study
the althea on the stamp,
its latin name a whisper
in my throat. Then I´d tear
the envelope, leave
a line of teeth to read
the marrow of your life
in your hand, that fine fist
we learned - racemose loops
and slanted stems that lilted
us toward other suns. Later,
I'd see the pages folded
beneath my cup, the rim
of stain, O of surprise.
ISBN 0-941053-04-0
Hand-stitched chapbook - $7.00.
TO ORDER Questioning Walls Open ON-LINE
**************************************

To order through mail send total price plus $1.25 Shipping and Handling ($1.75 in Canada; $3.25 other countries) for each address sent to.
Send orders to:
FootHills Publishing
PO Box 68
Kanona, NY 14856
Thank you for your support!