FootHills Publishing
|
home


Hanging Out
With Loose
Words
M.R. Betten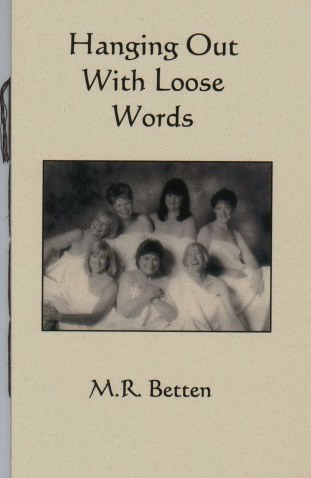 Mary Rose Betten is a character actress seen often on tv, film and stage. Her works as a published playwright include: PEOPLE OF THE PASSION, THE BAR OFF MELROSE and MARY M. She has written and performed her own comedy routines on network television, won the coveted CLIO award for comedic work in TV commercials and is currently completing a collection of short stories.
Mary Rose Betten's poems have a voice that is playfully dramatic, slightly wicked, and absolutely her own. With imagination and insight, she casts time, desire, and memory in starring roles, and graciously provides poets their own paparazzi.

Chryss Yost
Chryss Yost is an editor of
"Poetry Daily" and "California Poetry."
Mary Rose Betten, in her poems, is hilarious and brave; and I bet that's the way she behaves in her "real life," too. Whether she's telling us what it's like to be a character actress or a learned theologian's wife, or asking us if we're also troubled by "the grandmotherly tone" of the instructions on seed packets, or sharing with us her defiance and acceptance of the aging process - "I'm a/Been there/Done that/Never can be too fat/Crone," whose "hair is a color God never meant it to be ...," who wears "shoes only an elephant could love" - or describing the complicated joy and sorrow of mothering - "the leaf of my own tree/The pistol of my blood red flower/Sweet force of life declaring life" - her voice is tender and wry and human, straight-forward and full of surprises. She pulls no punches and she takes no prisoners. I, for one, am glad she's on the planet.
- Cecilia Woloch
Cecilia Woloch's books include:
LATE - (BOA Editions Limited, 2003)
SACRAFICE - (Cahuenga Press 1997)
From the book:
Count Your Brown Spots
One for loss
Two for change
Three for uncertainty
Four for strange
They offer
Drama
Conflict
Mystery
Storytellers take your pick
So Jupiter is huge
So they found canals on Mars
Brown spots match the fruited planes.
They are the stuff of stars
Study their shape
Make them dance
Sing them a song
Induce a trance
They're festive
So capricious
Natures very own confetti
At the brown spot pageant
I won first prize
For a spot that looked
just like
Ted Kennedy
ISBN 0-941053-55-5
Hanging Out With Loose Words is a 36 page hand-sewn chapbook - $8.00
TO ORDER Hanging Out With Loose Words ON-LINE
To order through mail send total price plus $1.25 Shipping and Handling ($1.75 in Canada; $3.25 other countries) for each address sent to. (New York State residents please add $1.12 sales tax per book)
Send orders to:
FootHills Publishing
PO Box 68
Kanona, NY 14856
Thank you for your support!