FootHills Publishing
|
home


Memory's Dog
Steve Myers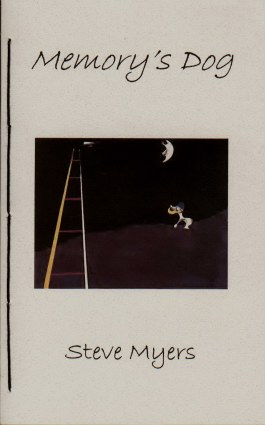 Musical words and rhythmical phrases are the ways into these poems that meld memory and imagination, and I find myself almost humming along rather than reading-or, reading as reading should be, with the mind, heart and body. Hopkins and Heaney, Charles Wright and the ancient Chinese poets are heard and seen here, with the delightful result of strong emotion presented in strongly musical and imagistic poetry. Unlike most contemporary poetry being written today, Steve Myers' poems elevate the so-called ordinary images of his life with a language that is unabashedly beautiful. Memory's Dog is a delight.
Len Roberts
Steve Myers grew up in rural Bucks County, Pennsylvania in the early 1960s and has lived at various times in other corners of the state, as well as in Mountain Lakes, N.J.; Rochester, N.Y., and Glasgow, Scotland. He received the Ph.D. degree in English from the University of Rochester in 1990 and since has taught at DeSales University. The author of a book on W.B. Yeats' poetry of the 1890s as well as scholarly articles on Yeats, his chapbook, Work Site, was published by FootHills in 2003. Individual poems have recently appeared or will soon appear in Atlanta Review, Bellingham Review, The Cream City Review, The Dalhousie Review, Miller's Pond, Paterson Literary Review, Two Rivers Review, and West Branch. He currently lives in Center Valley, Pennsylvania. His wife and son are both artists, the former a musician, the latter a musician/actor.
TABLE OF CONTENTS
Writing Bucks County at 4 a.m.

Prime of Life

Bye's Springhouse

Forty Crossings

Shibboleth

Camping at Hampton's Farm, 1962

Winter's archangel, the grackle,

Kept from Sleep

Celeste

Miriam Rosen's Show and Tell

Frisson: The Whale-Boat at the
Mercer Museum, Doylestown

Civil Defense
II.
Easter Early This Year, Over Easy

Bat-eared Fox

South Mountain Morning

These Are the Mornings

My Son Sings Campion at the
Turn of Summer

Tolstoy's Women

While Observing a Groundhog,
I Listen to Ram Dass Do the Tao

Odalisque 2

I Think of the Birds of November

and the Philosopher Harry Wiley

Zen Painting with Water

As if by instinct

At Magdalene
At Newman House

While the Future is Putting Its
Cards on the Table, My Irish
Side Fumbles A Handful of Chips

Equivocation in Middle Age

Grievance

Mountain. Matins. A Truck Drives By.

Feast of St. Stephen,

From the book:
While Observing a Groundhog,
I Listen to Ram Dass Do the Tao
October spills over South Mountain in slow motion.
The valley fills; as the crow flies
his wingtips skim the thin miniscus
forming from Vera Cruz to Blooming Glen.
The Delaware River watershed
downshifts to reduced-sluice mode.
Small-ribbed locust leaves go yellow, porous and delicate
as rice paper.
One thumb-and-finger stem-twirl shreds them.
*
From my porch I watch a groundhog, sunning his genius
for non-stirring-
black-footed grass-flattener, small-bore bear,
storehouse of mass
fleshed to run his engine on idle all winter
under the bronze viburnum.
*
Grayscale cumuli are fulminating in Macungie.
All the reliable timetables tell me the Second Law
of Thermodynamics
arrives from Emmaus this afternoon, right on the money.
Twice today its ripsaw whistle, gone up like a hawk-shriek;
third time the charm that strips a sparrow down
to skin and bone.
*
Fast-forward, rewind-
I force my tape deck into feeding me a line,
the 48th rubric
of the Tao:
The Way is gained by loss upon loss
Until at last, ah! The Way!
--voice of Ram Dass, Indian-summering on
about hsin-hsin, heart-knowledge. 50 in February,
I ruminate on the wisdom
of an anonymous Chinese artisan,
as the groundhog ruminates upon a field of grass.
*
Hsin, hsin runs the blood-flush of the heart in autumn.
Translation: more, more--of everything under the sun:
finch-glint, cricket-skritch, last gush of Russian sage…
time enough in November for the heart to den
like a swollen roshi,
rapt in foreshadowing
of its own shadow, dozing as though there was no tomorrow-
knowing nothing
can save me from the heart-cease to come,
not even inevitable Spring.
Memory's Dog is a 64 page hand-sewn paperback with flat spine - $14.00
ISBN: 0-941053-38-5
TO ORDER Memory's Dog ON-LINE
To order through mail send total price plus $1.25 Shipping and Handling ($1.75 in Canada; $3.25 other countries) for each address sent to. (New York State residents please add $1.12 sales tax per book)
Send orders to:
FootHills Publishing
PO Box 68
Kanona, NY 14856
Thank you for your support!