FootHills Publishing
|
home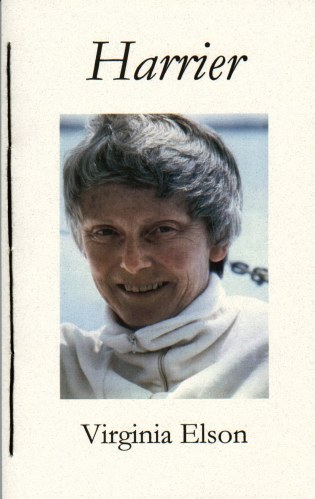 Virginia Elson (1919-2000) was born in Albion, NY, received her MA in English and American literature from Columbia University, and taught for many years in Brockport and Kenmore, NY. For her last thirty years she lived at Smith Pond, in the foothills of the Allegheny Mountains, first in a cottage close to the water-where she began to write and publish poems, and with a friend founded and for five years published a little magazine, Yes-and later in a new house she and Sarah Curtis built on a hill overlooking the pond. Her previous publications include a chapbook, Where in the Sun to Stand, and a book, And Echoes For Direction, both from Judith Kitchen's State Street Press, and a renga, Stalking Reflections, written with Linda Allardt and privately printed, as well as many poems in magazines such as The Atlantic, The Literary Review, Prairie Schooner, Yankee, and Poetry Northwest.
This last collection of her poems was edited by Linda Allardt, with the generous assistance of Sarah Curtis and Judith Kitchen.
(Cover photo by Sarah Curtis.)
TABLE OF CONTENTS
THE SUN'S STROKE

Catch
Re-reading Auden's "Musée Des Beaux Arts"
News From Ascona
Metamorphoses
Before the Colonels' Coup
Bernice's Garden
Drive to Town, Kerkyra
Reprise
Imagine a Perfect Day
All Wars Should Be Fought in This Garden
No Space For Star Wars. . .
Attempted Suicide
Maenad
Another April
Experiment
Snapshots in Rome
Survival
RELATIVITY

Then And Now
New House-First Winter
Telephone Insulators
Hunt
Small-Town Laundromat
Prospero: Paradox
Selfheal
Relativity
Sunset From Papa Joe's, Islamorada
Weather Vane
Heron at Islamorada
Sonnet For Emily Dickinson
Today's Loaves and Fishes
Birthday
Re-Entry
Harrier
From the book:
HARRIER
Surely the hawk was out to kill:
field mice knew, tunneling beneath
flat thatches of dry weed stalks,
and the thin grass snake easing itself
out of a sun too suddenly winged by shadow,
seeping down through a crack in the rocks
secret, smooth, seamless
like a spring sucked back to the source.
Certainly it was hawk-hunger that patterned
his dihedral glide and sent him quartering
low across the winter wheat to gyre up slow
on thermals over the fresh-plowed acres.
And it was appetite that finally braked him
for his plunge, talons downstretched
toward the pond's marshy shoreline.
He struck-and missed. What, then, if not game
delight sent him tilting out over the water,
harrier of his own reflection,
before he soared again?
Harrier is a 44 page paperback, hand-sewn, with flat spine $10.00
TO ORDER Harrier ON-LINE
To order through mail send total price plus $1.25 Shipping and Handling ($1.75 in Canada; $3.25 other countries) for each address sent to.
Send orders to:
FootHills Publishing
PO Box 68
Kanona, NY 14856
Thank you for your support!