FootHills Publishing
|
home


FootHills Publishing, Wheeler Hill, New York, is pleased to announce the release of "A Nickel Tour of the Soul" by Jennifer MacPherson.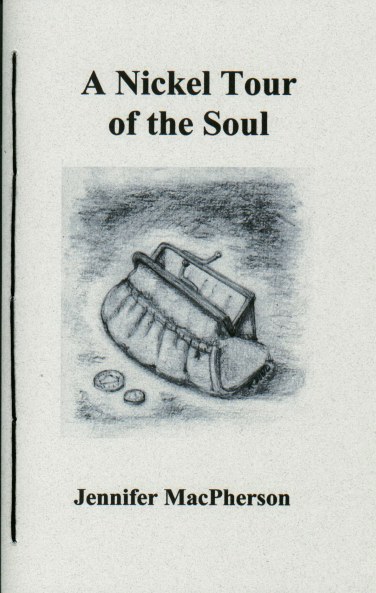 Jennifer MacPherson is Senior Editor of The Comstock Review. A retired school psychologist, her work has recently appeared in Primavera, Poetry International, Louisiana Literature, Poet Lore, Asheville Poetry Review and The Connecticut Review. The author of four fulllength collections of poetry, the latest of which is As They Burn the Theater Down (Hale Mary, 1997), her Greatest Hits was published by Pudding House in 2000 as well as a 2002 chapbook, Stuck in Time. She lives in Syracuse, NY, where she whips up gourmet goodies, facilitates writing groups, plays with her Burmese cats, and writes when she can't control herself.
Jennifer says of this collection:
A Nickel Tour of the Soul takes the many emotions and states of being which define us as human and makes them concrete and accessible in these short, rather surreal poems. Sometimes I think of them as the Seven Deadly Sins meeting the Gifts of the Holy Spirit with a few other abstracts thrown in so as to cover the alphabet and diversify the subject matter. I also enjoyed playing with gradations of similar emotions to highlight their differences; fear and terror are not the same, nor is rapture and ecstasy. These poems were begun as two separate exercises in classes with Michael Burkard and Carolyn Forché and I am indebted to them for starting me on the road that led to the completion of this book. Although the first poems were written in 1992, the majority of the poems were written during the summer of 1999, many at Provincetown Fine Arts Work Center.
From the Book:
Hope
The white sheet of a second chance has been
spread before you, so white it
blinds your eyes. You blink, tears
run from eye corners, little rivers
that heal as they flow.
Winds that howled yesterday purr today.
You are beautiful to your mirror.
Grits taste like milk and honey and even
the dog next door
growls a welcome instead of a threat.
Power
the clatter of boots, of iron, of steel,
horses rearing
glass breaking
you will be beaten if you are the wrong religion
the wrong race, wrong sex,
if you love the wrong person,
wear a silk dress,
suffer an illness, an ugly face, a limp, a scar
cannot tell time,
have bad parents, have good parents,
are an orphan.
the sound of fists against flesh
ISBN: 0-941053-29-6
A Nickel Tour of the Soul is a 76 page paperback, hand-sewn, with flat spine - $14.00
(Wholesale orders - standard discount rate applies. For more information or to send an order contact FootHills Publishing -
fhp@foothillspublishing.com
)
TO ORDER A Nickel Tour of the Soul ON-LINE
To order through mail send total price plus $1.25 Shipping and Handling ($1.75 in Canada; $3.25 other countries) for each address sent to.
Send orders to:
FootHills Publishing
PO Box 68
Kanona, NY 14856
Thank you for your support!