FootHills Publishing
|
home


Fumbling for the Flesh of Song
Teresa Gilman
Teresa Gilman has written poetry and nonfiction for 10 years. She received first prize in the National Penwomen's Poetry Contest (CNY Chapter) in 1999, and 1st prize in the Abacus and Rose poetry contest in 2001. Her work has appeared in the Comstock Review. Peregrine, Just Us, Hey!, Kalliope, and the Women Artists Datebook. A previous chapbook released by FootHills Publishing earlier this year, "Grass Stained and Wet to the Waist", is out of print.
She works at Syracuse University, and is also a photographer, petsitter,
family biographer, aunt. She lives in Syracuse, NY.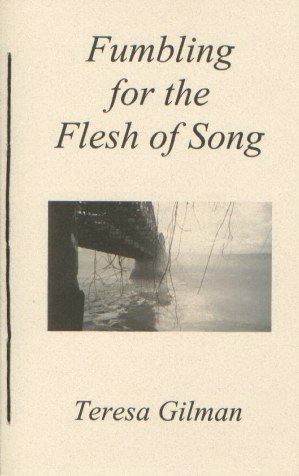 Two poems from the book:
Needing to Speak
My body bursts with heat suddenly
in the middle of a sentence I'm having
trouble uttering. I sweat all over
during the short walk from home to office
on a mild day with slight breeze.
Even so, the blazing up my spine suffuses me
in dizzying heat as my unbounded passion
makes a raging fool of me, and
even a little sun causes moisture to bloom
like the red tides in August, like spit
over my face and neck and arms.
All through me the racing, the anxious
fear of losing what I stand on,
of taking one step too far
over the edge, the fear
of falling forever
without a sound.
Leavings
The light this morning rests above mist
that whites out the dazzle of late October,
the gold and crimson downpour that muffles
and holds our footsteps, our dogged ongoing
in the face of such perils as trainwreck,
and stillbirth
and love.
Morning came on me as I dreamed
combinations unknown to me before this day, lifting
the blue of early November, the remnants
of your scent in a shirt left behind
the morning you drove off, and I
to save my eyes, did not look up
at that moment when you turned
the corner at the end
of my street.
Few things come so easily
and leave with such crushing defeat
as love, like the berries at summer's end,
clinging on as winter winds whip them dry,
leaves desert them, and even hungry birds
no longer seek them out.
Fumbling for the Flesh of Song is a 48 page paperback,
hand-sewn, with flat spine - $10.00
ISBN: 0-941053-17-2
TO ORDER Fumbling for the Flesh of Song ON-LINE
To order by mail send total price plus $1.25 Shipping and Handling
($1.75 in Canada; $3.25 other countries)
for each address sent to.
Send orders to:
FootHills Publishing
PO Box 68
Kanona, NY 14856
Thank you for your support!