FootHills Publishing
|
home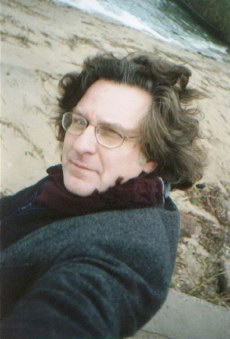 Craig Czury works as a poet in schools, homeless shelters, prisons, mental hospitals and community centers throughout the world. His books have been translated into Spanish, Russian, Lithuanian, Portuguese and Italian, and he has been awarded many national and international fellowships to continue his collaborative poem fusion performance and mural projects (www.poet-in-education.com).
Czury lives in Reading, Pennsylvania, where he edits the Red Pagoda Press Poetry Pamphlet Series.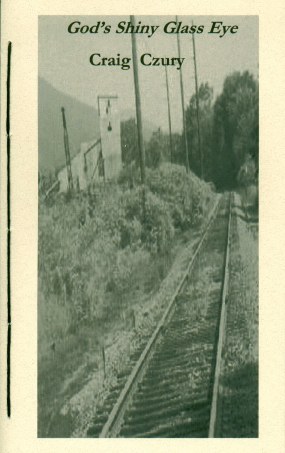 God's Shiny Glass Eye is a revised and expanded edition, with photographs,
of the long out of print chapbook published by Great Elm Press in 1987.
Some new material has been added as well as
14 photographs of colliery remnants taken by Craig.
Book endpapers are actual
whiteprints from a colliery
God's Shiny Glass Eye is a montage that offers an impressionistic vision of the eastern Pennsylvanian mining country. The authenticity of the poetry is strengthened by Czury's strong identification with coal country. The poet's imagination and the anthracite world intimately merge to produce a poetry that is poignantly barren and stripped of any artificial embellishment. It is an angry poetry, but its passion is restrained and boils beneath the structure of the book.
Michael Basinski
Table of Contents
GOUGED EARTH / GOUGED PEOPLE
COALSCAPE
UNCOVERING THE MINE SHAFT
ZOLA IN SHAMOKIN
FLOATING DUST
THE SHIPWRECKED
ANTHRACITE HISTORY
SHAMOKIN
TO KEEP WARM
BELLS LIKE SAD ANGELS
WILKES-BARRE 1984
PETERSON VITALE KELLY
THOMAS RADYZYSKI
AMERICAN
MARCH 10 1951
MEMORANDUM
COALSCAPE
COALSCAPE
WAKING IN ONE OF
BOYLAN'S JUNK CARS
MAMTICOKE BUS
HACKING AND SMOKING
GENETTI HOTEL
AMONG SCHOOLCHILDREN
FLOOD SITE
FRANZ KLINE
PRAYER FOR THE DISAPPEARED
KOTO MUSIC ON PUBLIC SQUARE
CARDS KIELBASA
AUGUST 2, 1981
KULPMONT HEARSAY TALES
I'M PROBABLY WRONG BUT IT FEELS RIGHT TODAY
BREATHE, BABY, BREATHE
LOVE LETTERS TO JERSEY GIRLS
From the book:
GOUGED EARTH / GOUGED PEOPLE
January 22, 1959 the Susquehanna River burst through the roof of the Knox Mine, up from Wilkes-Barre, flooding the entire honey-comb of mines throughout the lower northern anthracite coalfield: 12 miners dead, thousands of miners out of work forever. I was 7 years old. Within 5 years our textile industry had moved south for cheaper labor...thousands of mill workers out of work or moved out of the region forever.
i inherited the black-star hole
through each one of these window panes
I inherited the voices and attitudes of the men and women who were shut down and abandoned. A tremendous anger...a tremen-dous silence.
One high school student, after listening to me read my poems about the gouged earth, gouged people, sulfur creeks and mountains of slag, asked me if I was an environmentalist. I flipped off the lights, opened the window, rearranged my chair...hacking and smoking.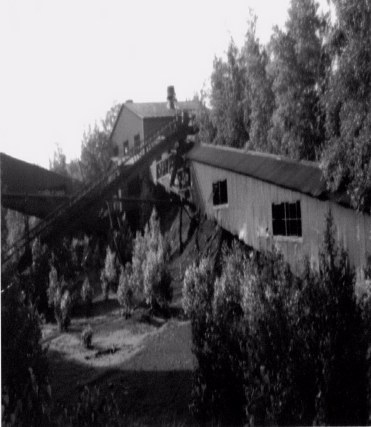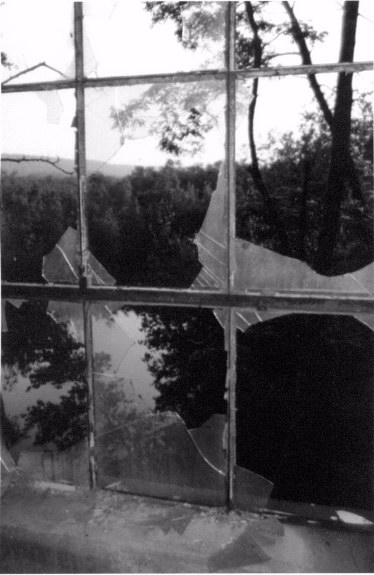 God's Shiny Glass Eye is a 68 page
paperback, hand-sewn, with flat spine.
TO ORDER God's Shiny Glass Eye ($15.00) ON-LINE
To order through mail see below.
****************************************************************************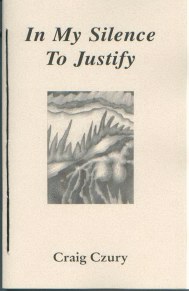 IN MY SILENCE TO JUSTIFY unifies ten years of poetry from a bridge between Mexico (Diary W/o Names), my new life with Heather across the Schuylkill River (Parallel Rivertime), my thoughts on writing (Between Sleep And Waking, Diverse Articulitus, White Pall), September 11 (Aphoristic Shrapnel), and its aftermath (In My Country). These are poems given to ideas and spacious thought grounded in a profound spirit without borders, without sanctuary.
In My Country
we are a village
flying toward one dream of wings on earth
what you try to keep to yourself
when you speak without opening your eyes
we breathe from each others lungs
even when you smoke with your eyes closed
staring at the face that becomes our face of sleep
under your dark eyelids
your leg with my leg
your head with my shoulder
the way we've known each other all our lives
stranger
one of us jerks and cries out here
here stop here
we all jerk and cry out
and what if this bus were to stop
who will remember whom
at the moment of stepping off
Craig Czury
Leiszs Bridge
Reading, Pa.
3/19/03
In My Silence To Justify is a 72 page paperback, hand-sewn, with flat spine.
TO ORDER In My Silence To Justify ($13.00) ON-LINE
To order through mail see below.
***************************************************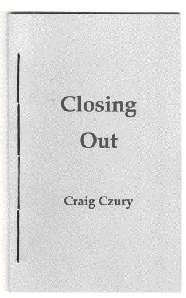 From the book:
as if it is just a matter
of closing my eyes
letters from an abandoned script
written and erased into this blank
lost conversation
Craig Czury (www.poet-in-education) works as a poet in schools, prisons, hospitals and community centers throughout the world. He is the author of 11 books of poetry, with poems translated and published in several foreign languages. His collaborative Poem Fusions (multi-voiced poetry performances) are a community doc-umentary of voices that have become backyard, stage and radio plays. Craig lives in Reading, Pa.
Paperback, hand-sewn, with flat spine.
Ten Dollars.
TO ORDER Closing Out ON-LINE
To order through mail see below.
*************************
To order any of the above listed books by mail send total price
plus $1.25 Shipping and Handling ($1.75 in Canada; $3.25 other countries)
for each address sent to.
Send orders to:
FootHills Publishing
PO Box 68
Kanona, NY 14856
Thank you for your support!