FootHills Publishing
|
home


Poets on Peace #11 - Small Things Rise and Go - Ann E. Michael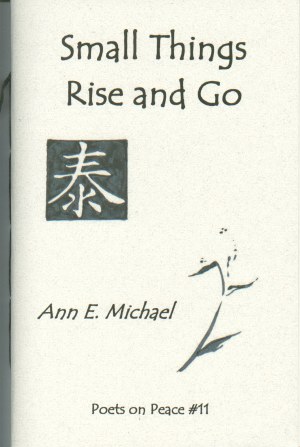 Born in the Year of the Dog, Ann E. Michael lives with her family and many pets in Eastern Pennsylvania. She is a past recipient of a PA Council on the Arts fellowship in poetry, an essayist, librettist, and occasional radio commentator. She is currently teaching English at DeSales University in Center Valley, PA. This is her second poetry chapbook.
Her website is located at: www.annemichael.com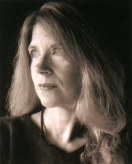 Photo by David Sloan
"It is my contention that true peace is not static but mobile, resilient, transforming. Wilhelm's translation of the I Ching says of T'ai (Peace): "The Receptive, which moves downward, stands above; the Creative, which moves upward, is below. Hence their influences meet and are in harmony, so that all living things bloom and prosper...at which time the forces of nature prepare the new spring." What I attempted to do when choosing the poems for this collection was to celebrate the harmonious energy of spring as well as to acknowledge the past and future seasons that make up our lives collectively and individually. Some of these actual and metaphorical seasons are not those of prosperity and balance, but the I Ching is, after all, the Book of Changes."
From the book:
NAP IN A TREEHOUSE
Alone in my children's treehouse,
I read 300 poems from the Chinese.
Sunlight slants over the cornfield,
flies buzz, the afternoon is warm.
This first day of autumn,
insomnia's caught up with me.
After so many sleepless nights,
I doze with Li Po and Tu Fu.
TO THE MOUNTAIN
"World
you grow vaster.
Our time cannot
encompass you." -Denise Levertov
Through you: the mountain
and its open secret-
something both solid and elusive.
You never tired of its white presence,
a friend to the lake,
to the sea.
You never climbed Ranier
but let it slip into and out of your sight,
impressing every cell of your body
with its shape:
sky with white shadow,
the wide lake-
the sleepy call of Earth
uncomplicating itself for you, then
growing vaster, emptier, encompassing
your time within its boundaries.
Oh, Life, that had
a Mountain in it.
Hand-stitched chapbook.
Eight Dollars $8.00
ISBN 0-941053-13-X
TO ORDER Small Things Rise and Go ON-LINE
Thank you for your support!