FootHills Publishing
|
home


Side by Side
Denis Emorine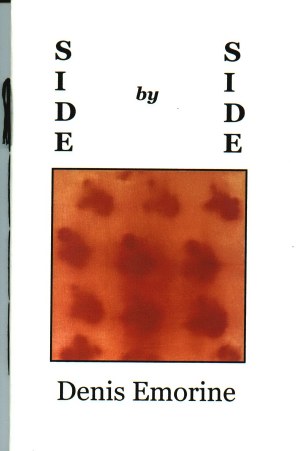 Cover art by Jennifer Bock-Nelson
www.bock-nelson.com
Denis Emorine is the author of short stories, essays, poetry, and theater. He was born in 1956 and studied literature at the Sorbonne (University of Paris). His works have been published in France, Belgium, Romania, India and the USA. His theatrical output has been staged in France, India and Russia.
Writing, for Emorine, is a way of harnessing time in its incessant flight. Themes that re-occur throughout his writing include the Doppelgänger, lost or shattered identity, and mythical Venice (a place that truly fascinates him). He also has a great interest for Eastern Europe. Denis Emorine is part of the editing team at La Nouvelle Tour de Feu (France) and collaborates with various other reviews and literary websites in the U.S., Denmark, France, Germany and Japan. In 2004, he won first prize for his poetry at the Féile Filiochta International competition.
http://denis.emorine.free.fr/ul/english/accueil.htm
I
Eight untitled poems

translated from the French
by Pradip Choudhuri
From the book:
4
You've murmured my name through the hedge
with a voice that had no authority to be heard.
I have openly whispered yours
while trampling on innocence
The shadow has enclosed me in her arms
4
Vous avez murmuré mon nom à travers la haie
d'une voix que rien n'autorisait à se répandre.
J'ai murmuré le vôtre à découvert
en piétinant l'innocence.
L'ombre m'a entouré de ses bras.
II

Any where out of the world

Ten untitled poems written directly
in English by the author
From the book:
Who are you?
50 years old…
you are neither an old
wise man
nor a young and stupid one!
Maybe a whisper
In the darkness of life.
You'd like to turn around
but
you dare not.
Whatever happens
you are always watching
inside your mind.
What a failure…
ISBN: 0-941053-87-3
Side by Side
is a 36 page hand-sewn chapbook - $8.00
TO ORDER ON-LINE
Click here for orders from US or Canada.
For all other countries click here.