FootHills Publishing
|
home


Wells
Springfed #56
Midnight Summons
Sueann Wells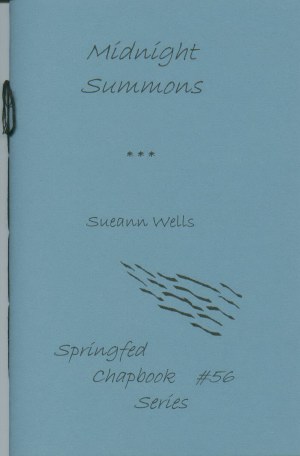 Sueann has written poetry in spurts since she was eight years old, when she caught the writing bug from her mother, a budding songwriter. Naturally, the beauty of poetic language stuck with Sueann as she developed as a writer. She now has an intensified interest in penning her thoughts in poetic form, as it most accurately mirrors the language and format of her own brain. She has dabbled in poetry writing workshops in the Rochester, NY area, and always has an open ear at poetry readings (especially Just Poets in Rochester, NY). She wishes to share her voice and her global outlook with the community, and some day with the world. Inspired by such local legends as William Heyen and Katherine (Kitty) Jospe, and postmodernist poets, Sueann allows her content to dictate the format of each poem on the page. Therefore, each poem in this book may seem a little different from the others.
Sueann earned a B.A. in English from the State University of New York College at Geneseo, honing her craft under the direction of such craftsmen and women as Caroline Woidat, Celia Easton, and David Kelly. She now teaches English Language Arts at a Rochester, NY private school, as she completes her M.S.Ed. degree program in English Education at the State University of New York College at Brockport. She has had a few critical articles published and/or presented at conferences, and continues to market other articles, such as one regarding postmodern poetry. She looks forward to presenting a paper on Arab-American women poets' expression of identity at a national conference in April 2006. Her creative and intellectual explorations are many. This is her first published book of poetry, though she looks forward to more creative success in the future. Once an adult catches the true writing bug, it is quite difficult to squelch.
From the book:
Power
Lying here in my padded room
I see no escape.
Colors swirl around me,
no refuge,
constant movement.
I need no entertainment.
A light above - shiny, fluttering objects:
Angels to take me away so early?
I'm so new, though, not yet grown.
She cradles my innocence,
not knowing.
No Escape.
I'm here,
stuck,
whatever may happen.
She thinks she knows best;
I know she's mistaken.
I'm not ignorant.
Absorbing all, I see more than she,
more than most,
maybe more than all.
An omniscient observer,
I feign helplessness for my own benefit.
Why do for myself when others are willing?
I cater to their desires,
Giving them a cute smile on cue;
Make them swoon, gush for me.
I cherish the moments of power.
I am no devil,
but no angel.
I am me.
They all try to understand me:
my words, my needs, my desires.
Foolish - they never get it right.
I long for the one thing they can not give.
Give me freedom or leave me alone!
They think I cannot live without them.
My mind whirls to think of that life…
Oh, the possibilities!
But lying here in my padded room,
I try to enjoy the colors,
the sounds,
the movements,
And I repress the urge to scream!
Hand-stitched chapbook.
Six Dollars.
TO ORDER Midnight Summons ON-LINE

**************************************************
Springfed #57
Fried Eggs and Un-edged Lawns
Jodi Corbett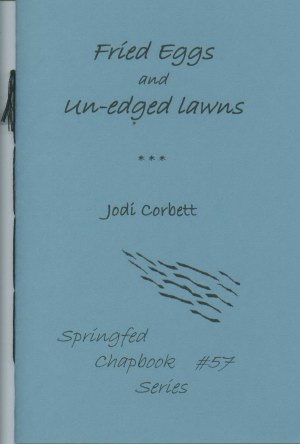 Jodi Corbett lives with her husband and two sons in the old suburbs of Reading, Pennsylvania. She will complete her bachelor's degree in English and professional writing at Kutztown University in May 2006. She has published articles, poetry, and prose in Reading Area Community College's newspaper, The Front Street Journal, and poetry, prose and research papers in the scholarly journal, Legacy, as well as published prose in Kutztown's literary magazine, Shoofly. "A Nice Pair of Pajamas" was first published in Legacy, Volume II. In addition to writing, she paints and creates stain glass windows.
In her first published chapbook, Fried Eggs and Un-edged Lawns, Jodi selected poems that illustrate a working class world where she is love-bound to people who are duty-bound to work. Time runs a generation behind in Berks County, where people stay because their parents stayed even though shining industry deserted ten years ago. It is a place where a handshake judges a person by the depth of his callous and life's big payoffs belong to the bank.
From the book:
My Brothers' Work
In the garage where my brothers work
every weekday since their voices grew deep
are cinderblock walls that have turned black from customers' exhausts
and from their own calloused fingertips.
Oil constantly bleeds upon my older brother's concrete workspace;
he will mop the blood clean at five o'clock and return tomorrow,
despite his threats.
The rusty heater blows air upon my neck
while I wait for them to push a dead car inside-
(my mother had asked me to guide her onto the car lift
"Keep me straight, honey, warn me," she had said.)
And my younger brother grins at my not belonging
when he rolls the bay door up letting the heat escape,
but nothing else.
The car, one of many, had suffocated in the heartless freeze
(an auto-immune deficiency from a defunct fuel pump),
and they lamented the cost of American-made parts:
"Four hundred dollars is too much for
a seventy-year old man still working,"
my younger brother had said, and the three agreed
to lose a profit on the pump.
My mother is at the wheel (as usual),
while my brothers flank her rear on the left and right sides,
their six-foot bodies bent sideways pushing the car like oxen
and my mother watches my hands flutter signals to a halt;
even though she has driven dead cars over her sons' lifts for years.
I hear my older brother's authoritative and final: "Good,"
as he begins resuscitating another machine.
Hand-stitched chapbook.
Six Dollars.
TO ORDER Fried eggs and Un-edged Lawns ON-LINE

*****************************************************
Springfed #58
Reality of Life
Pat St. Pierre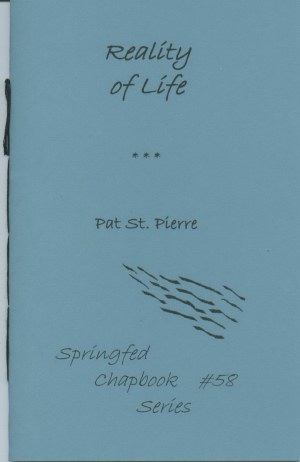 Pat St. Pierre initially started writing at New Canaan High School in an English class. Her first poem was published while she was a student at the University of Connecticut. Many years later she began writing poems and a few children's short stories. Since then she has published both children's and adult's fiction and nonfiction. Over the years, she has taken part in many workshops and writing groups. She is a past member of the Saugatuck Poetry Group and The Rose and Thorn Ezine. Her weekly column "News from New Neighbors" appeared in her local newspaper, the Wilton Bulletin. Currently, she is a member of The First Tuesday Poetry Group. Pat's poems have appeared in many places some of which are: Wind, Manna, The Yellow Butterfly, Misc Z, Alura Quarterly and Beanfeast. Her poems have won several first and second prizes and an honorable mention. She lives in Wilton, CT with her husband.
From the book:
Can You Hear Me?

Mama can you hear me?
She sits statue like,
her eyes fixed straight ahead
revealing nothing.
She thinks that I don't care
but what was I to do?
Her mind like a windmill
would spin endlessly.
I placed her in a nursing home,
that's when silence came.
I'd rather she be angry
than think of herself deceived.
I remain with my guilt
and weep in the blackness of night.
Mama can you hear me?
Hand-stitched chapbook.
Six Dollars.
TO ORDER Reality of Life ON-LINE
Thank you for your support!