FootHills Publishing
|
home


Disking Deep
Barbra Minar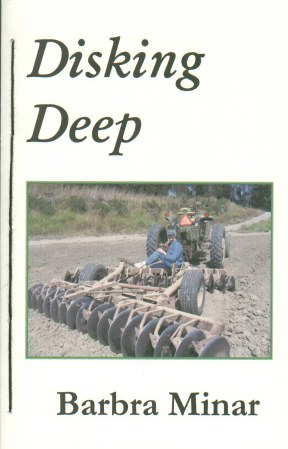 I have just learned that Barbra has been donating all proceeds from Disking Deep to the Katrina Reconstruction
Fund for the working team going from Santa Ynez Presbyterian Church. This team is dedicated to helping in
Barbra's home town of Gulfport, Mississippi and the Gulfcoast for the next three to five years.
To support Barbra in this effort, FootHills Publishing will start contributing a third of any future book sales of Disking Deep to the same fund. Disking Deep will shortly be going into a second printing.
Michael Czarnecki
Barbra Minar's poems are a blessing, like a soothing cup of tea under a full moon, "the Queen of the Night", as she names it, an image that often appears in her heart-spun poems. This poet is such a light, casting her wisdom of age on every woman's joys and struggles, every mother's and wife's bliss and hurt. Precise attention to detail, brave imagery, and concise, metaphoric language stir up a book that spellbinds the reader through her story of Midwestern and southern roots. She lovingly rises from her well of solitude and reflection with a cup of gold that is this book you will drink and drink again to "set you free."
--Perie Longo
Author of Milking the Earth and
The Privacy of Wind
These poems are meditations and celebrations of the things and feelings of everyday life, presented with such freshness of vision and language to elicit only profound gratitude from the reader fortunate enough to come upon Barbra Minar's work.
--Leonard Tourney
Author of Time's Fool and eight other mystery novels
Professor of Writing University of California Santa Barbara
Table of Contents
The Grand Round Space
Full Moon Madness
Light Communion
Freedom
The August Dance
Homecoming
Sibling Spaces
You Don't Have To Die, Child
Father's Gift
The Bathroom
First Kiss
Bikes and Mississippi Summers
After the Funeral
Off Key
Roots Exposed
Fireflies
Depression and other mysteries
Silver
Back Among the Living
Sand Stars
Our Hands
Return of the Black Dog
Three Gardenias
Front Door Shut
Metsovo Woman
Last Words
Bullets
Alfredo Speaks
Radio Jazz
Mississippi Blues
Baby's Mother Florida 1942
Kiss Her
Grandmother's Goodbye
Orange
Bowl
Lifetime Oath
Webs
Disking Deep
Family Secrets
Common Restoration
The Maker
Easter Bread
From the book:
Disking Deep
At winter's end
the earth lays cold
glazed with frost
a tangle of dried weeds,
stubble, rotting roots, rock.
Day after day
the plow rotates metal blades
slices skin, splits muscles
shatters bones
heaves to the surface
hidden blood, bitter springs.
Disking deep
until rough fresh order
rests,
the earth
broken open
ready for seed.
Barbra Minar graduated from Immaculate Heart College (after marriage, three children) in Art and Creative Writing.
Challenged with Systemic Lupus at the age of twenty, she had a serious flare up in 1984. Being forced into solitude she has written for twenty years publishing women's nonfiction books, children's books, short stories, various magazine articles, devotionals and poetry. Now she devotes her work to poetry which Barbra considers the most challenging artistic word form.
ISBN: 0-941053-86-5
Disking Deep
is a 52 page hand-sewn book with spine - $12.00
TO ORDER ON-LINE