FootHills Publishing
|
home


Pat Janus

In Memorium
June 9, 2006
On the last evening of her life, Pat gave a reading for Just Poets in Pittsford, NY. A packed audience witnessed and heard her read from her book "Synchronicity," just released that evening. She treated all who attended to an amazing voyage in words and personality. Her poems made us laugh, reminisce, reflect and skirt the border of tears. Ever the poet, she left us with an experience we will all treasure forever.
50% of the proceeds from the purchase of either of Pat's two books will be donated to Isaiah House, a hospice in Rochester where Pat spent many hours comforting the dying.

Synchronicity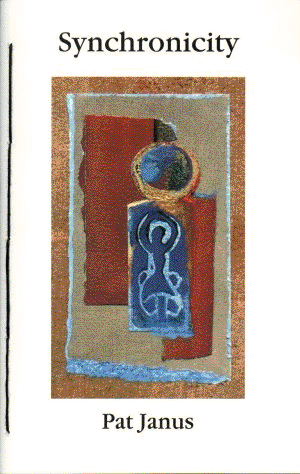 Cover Art by Sherry L. Tulloch

Pat Janus has long mentored young poets and is now one of the respected elders of our tribe. Beware: These poems are portals to a another reality, a world much like our own, but kinder, more attuned to shape of leaf, flow of breath, tug of place; in short, the sacred precincts we daily walk, unawares. This collection is a testament to a life lived deliberately, with compassionate service to others. And a sense of humor. These poems, though well honed, never lose the feel of spontaneity; like Blake's doors, they continually open to new delights and surprises.
John Roche
Author of On Conesus
FootHills Publishing, 2005
From the book:

Synchronicity
Part of me
lost
and I did not
even know
that it was missing.
Like some gift book
set aside
unread,
then picked up
at a later time,
and found to be
exactly
what I needed
to read,
you appeared
to call a name
I did not know
was mine
until I heard it.
ISBN 0-941053-89-X
Synchronicity
is a 72 page hand-sewn paperback with spine - $16.00
TO ORDER ON-LINE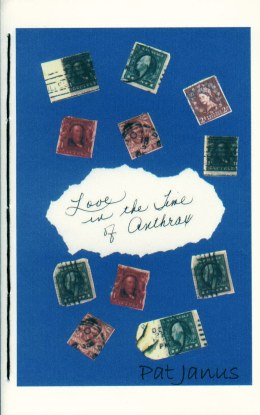 When you read Pat Janus, you will be drawn to her human connections in life - the letters written, and not written on the fiber of real paper - the "dailyness" of events that defined the pains of loss and empty spaces left behind. The sensitivity of her imagery takes us to moments of discovery - to the dust of kitchen people - the newspaper street corner in NY City - the Kentucky Derby - their woods - and down the road of good intentions... trips laced with wonder and reflection. It is a tender read.
-- Ron Bailey
Poet/Teacher
From the book:
LOVE IN THE TIME OF ANTHRAX
The mail has always been
the thread that tied us
one to another.
Not the graceless
electronic messages
that flit across the screen,
but the slanting tendrils
of your handwritten words,
the linen paper imbued
with the essence of you.
A letter to be opened eagerly,
read,
carried in a pocket,
then reread in a different light.
I cannot imagine it to be
the death of me,
rather death would be,
if no letter came.
Pat Janus has always written poetry but took a hiatus from publishing to become an oncology nurse and then a hospital chaplain. This work enables her to be present to people at some of the most significant times of their lives.
Her poetry has been published in numerous literary journals and magazines and she is an active member of the Rochester poetry community.
Pat lives in the Corn Hill neighborhood of Rochester, N. Y.. Her three grown sons live in Penfield, N. Y., Quakertown, PA. and Birmingham, Alabama. She loves spending time with them and their families.
ISBN 0-941053-71-7
Love in the Time of Anthrax
is a 52 page hand-sewn paperback with spine - $10.00
TO ORDER ON-LINE