FootHills Publishing
|
home


Poets on Peace #9 - Torn For Peace - Wynne McClure & Paul Bither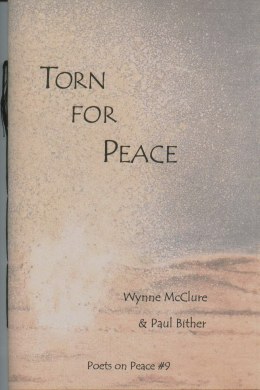 Wynne McClure's latest publication is her chapbook from
Foothills Publishing Springfed Series, The Hidden Self. She is also in a recently published anthology The Span I Will Cross by the Five In The Afternoon poets, as well as The Pinnacle Hill Review, the anthology of Rochester Poets, and Poetic Visions of the Athenaeum poetry group edited by Gary Lehmann and published by Tamafyhr Mountain Poetry (tmpoetry.com). She has been published in Hazmat Review, past Rochester Poetry Society chapbooks, and the 2003 issue of RIT's Signatures magazine in which she was awarded first prize. She was also awarded Honorable Mention in Miller's Pond Louella Cady Lamphier Contest. Her internet publications include creekwalker.com, miller'spondpoetry.com, puddinghouse.com, poetsagainstthe war.com and voicesinwartime.org. Wynne will soon be published
in Voices Of the Gallery, a publication of the Memorial Art
Gallery of the University of Rochester.
Paul Bither has had a life-long interest in writing, trained as a
journalist, and has recently been working in poetry. He has been published in creekwalker.com, Signatures, poetsagainstthewar.com, and Poetic Visions.
From the Book:
Under Investigation Wynne McClure
I hear the new Patriot Act
announced.
It gives librarians
the charge to report "suspects"
they discover among the books.
Laura canceled the
White House Poetry Reading
when the word "peace" crept in.
Does this mean I could
be interrogated for reading
a peace poem aloud in our library?
Perhaps I could produce
papers proving I've been here
since the 1600's. Is William Penn
one of our patriots, or was he born
too early for our sort of freedom?
What of Washington, Franklin,
Adams, Jefferson, our "Declaration"
defying
an earlier insane George?
The Other Foot Paul Bither
For what did my forebear shiver
at Valley Forge.
Is it now all gone?
We fought for rights,
now we oppress
sucked into the sluice of endless and
mounting retaliation
Can we invent a new system of nature
in which seeds produce
not after their kind?
We learned our lessons well . . .
no messy gas chambers this time
-bad publicity.
Now torture for democracy
has become a good tool
when used offshore.
Change is not easy.
We who were free, loving
peace and brotherhood must
now learn to appreciate chains,
barbed wire, bombs and bullets.
Thought must be controlled.
Black is now white.
The hob-nailed boot of terror
is now my own
my beloved country.
Hand-stitched chapbook.
Eight Dollars ($8.00).
ISBN 0-941053-49-0
TO ORDER Torn For Peace ON-LINE
Thank you for your support!