FootHills Publishing
|
home


Poets on Peace #13 - Long Climb Into Grace - Ann Spiers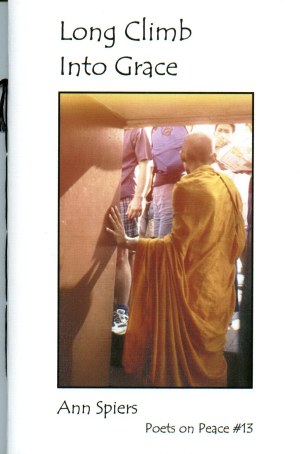 Ann Spiers lives on Vashon Island, a green and salty community accessed by ferry from Seattle. Concentrating on arts and environment, she serves on the boards of Willard Espy Literary Foundation and local Audubon chapter, surveys shoreline for dead birds and wetlands for live amphibians, and leads creative writing seminars and ecological field trips. She has founded and edited literary journals, produced and hosted radio, and her poetry and essays are published widely. She manages environmental projects and teaches in diverse venues.
e-mail: spiers@eskimo.com webpage: http://www.eskimo.com/~spiers
Cover photographer Poncharee Kounpungchart:
"I was born and raised in Thailand. At nine years old, my sisters and I came to Federal Way, WA to live with our father. I currently am in Seattle with my husband and son. I received my General Art Degree (BA) at the University of Washington. I return often to Thailand to visit family and photograph."
"My favorite kind of photography depicts people within their own life style. My photographs remind me how beautiful life is when breath is allowed in and allow me to breathe truthfully. I feel comforted to know I have evidence of my existence."
e-mail: franklypk@yahoo.com
Website: www.poncharee.com
From the Book:
On the Gulf of Tonkin Between Wars, 2004
Hired dockside, the wood boat holds us.
Red sunset loses its rancor, and we float
in that moment when no port awaits us,
no land owns us, no aircraft strafes us,
and our names are on no list to live or die.
We have nothing to do, rocking into dark,
but be flesh and bone riding the top deck.
Gentled, we jettison enmity into waters
once boiling with five-inch shells and salted
with blood carried by the Red River into the sea.
The sky's blue fails. The moon grins.
The US Turner Joy returns, phantom ship,
masts clotted with communication gear.
In a flash of time, she is gone.
We forget history, and history releases us
as wind moves water across this wet battlefield,
as silenced air fills with stars,
and the seam holding day and night disappears.
Hand-stitched chapbook.
Seven Dollars $7.00
TO ORDER Long Climb Into Grace ON-LINE
Thank you for your support!