Iris Miller

Iris Miller
Angels Flying Backwards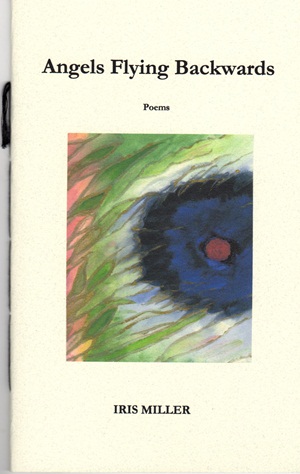 From the book:
Flying to Leningrad on a Winter Night
I face the void with Valium
and a needlepoint of daisies.
Squeezed into a window seat,
suspended between the black Atlantic
and the sky with its stars
that have already burned out,
I pull white yarn through canvas
making petals one by one.
I look for signs.
Orion skims the wing
of the plane like a cosmic benediction.
Across the aisle - two nuns
in traditional garb. I'm not
religious, but we wouldn't crash
with them aboard, would we?
I focus on bringing daisies
into being, stars of the earth strewn
across the sky by my own hand.
My friend, playing solitaire
with tiny magnetic cards, is bored
with my petals. She'd like
me to make a center for a change.
I switch to yellow yarn,
feel calmer. The petals flying
off in every direction
will finally have something
to hold onto.
Iris Miller has explored imagery as visual artist, art teacher to city children, art therapist, and shamanic practitioner, as well as through poetry. She believes in the power of the image to teach and to heal. As Patricia Ann Lothrop, she was raised in Reading, Massachusetts and earned degrees from Middlebury College and Cornell University. She has lived in Rochester, New York for many years, and spends summers on Monhegan Island in Maine.
Angels Flying Backwards

is a 28 page hand-stitched chapbook - $10.00.

Release date 10/11/11

TO ORDER:
From the US
From Canada
From Other Countries