Dale Hobson

A Drop
of Ink
Dale Hobson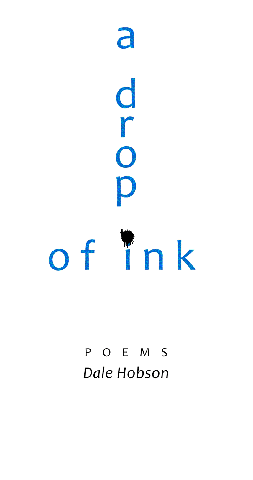 The illustrations accompanying "Evening Upriver," "Evening on the St. Lawrence," "The Poachers" and "Ice"
are reproduced from original wood engravings by Greg Lago of Clayton, New York.
From the book:
Afterword
I have come to you in the way that poets do-
up from paper, out of ink, into the inner eye.
Now you have seen these rivers and mountains, if dimly,
the way they would emerge from morning haze.
And you have met me and mine, strangely familiar,
as those you almost recognize in dreams.
Look up from the page, from this world into yours,
tinted now as a drop of ink will stain a quart of wash.
I look up from the same page and see you,
aflicker, across a fire in the dark.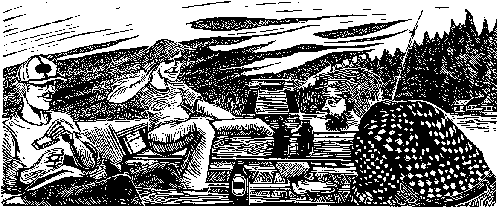 Evening on the St. Lawrence
40s jazz ripples out from pine-hidden patios.
Mist breeds over Croil Island shallows.
The boat turns slowly on its anchorline.
We insulate ourselves, bourbon
against the whiteout, line our bellies
with smuggled Canadian beef and beer.
The old river road still runs through rockcuts
under the lake, linking farm foundations, root cellars
full of fish and muck. Lampreys taste the current
with toothy sucker-mouths, threading dog ribs
mingled in washed-out roots of apple stumps.
The past outlasts us. The land changes.
We picnic on forgotten graves, sing
drunkenly. Fog engulfs.
We nod wet dreams come nightfall
in the lightly bobbing boat.
Dale Hobson writes in and about the Adirondack North Country of New York State. As web manager at North Country Public Radio he created and edits Books by Email, a serial presentation of complete new and forthcoming books by authors of the region. He hosts an occasional broadcast/podcast feature "Giving Voice," showcasing poets in performance and interview, is an occasional co-host of Readers & Writers on the Air, a monthly call-in on contemporary literature, and writes a weekly column for the NCPR newsletter The Listening Post. Previous publications include the chapbooks Nickelodeon, Second Growth and The Water I Carry. A Drop of Ink is his first full-length collection of poetry.
He shares a home on Sugar Island Flow in Potsdam, New York with his wife, Terry de la Vega.
a drop of ink is an 80 page hand-stitched paper book with spine - $16.00.
TO ORDER a drop of ink
From the US
From Canada
From Other Countries