Ann E. Michael

The Capable Heart

Ann E. Michael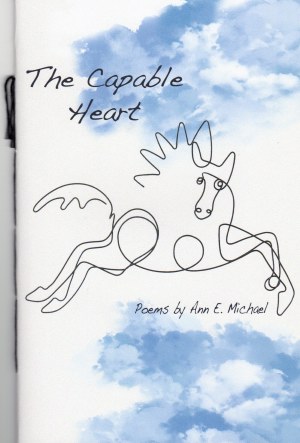 Ann's previous book
In The Capable Heart, Ann Michael evokes the wild beauty and power of horses that move us deeply and simultaneously call us to rein them in. Layered metaphor and images born of passionate attention describe the richly sensuous and spiritual encounter between women and horses: the caution and the ensuing trust, the strength arising from their closeness. We learn of the discipline between horse and rider that teaches a young daughter "who she is and who she will be," of a mother's awakening to the restraints of her own domesticity-whether to follow the unbridled urges of her heart or to don the traces, bearing "with good will the burdens others impose . . . and pull for love." These are moving, carefully crafted poems that earn our trust and build a world we enter and live in, which is what good poetry does.
-Paul Martin
author of Closing Distances
The domesticated horse is a marvelous example of how wildness tugs against an acquired desire for cooperation and duty, and the human attraction to horses offers a richly complex source for metaphor. The poems in this book take several inspirations as their source, chief among them my daughter's love for horses but also my own gradual acceptance of these large, beautiful, potentially-dangerous creatures, the long-shared culture of humans and horses, and what it means to be domesticated not only through the whip, figurative or otherwise, but through the bonds of love and coexistence.
-Ann E. Michael
From the Book:
Stray Horses
The black and the brown
twin themselves, gelded wrecks,
ill-cared-for and stray in my pasture.
The black is smaller, the shadow
who follows, placid and stolid,
vanishing into thickets as light fades.
The skittish brown one's tall:
mulish ears, overlarge head,
big belly and a sore mouth.
He draws back his colorless lip,
rolls his left eye away from me.
Frayed halter-grayish now,
noseband too tight-crosses his flat face,
a wound he wears without dignity.
Every year, late in autumn,
they escape rotted fencing and endure
macadam's injury on split hooves
to trespass my front meadow
where the uncut weeds are dry and sweet
even under frost.
I hate their spoiled strength, wasted beauty,
wish they'd die loose in a woodlot,
that our neighbor would mend his goddamn fence,
treat their hooves, bother with a currycomb.
They are too cumbersome to embrace,
to live with in the uneasy peace
of food and shelter as might a cat.
Too wily and too strong for me,
they thwart my efforts to ensnare them,
yank them home.
Mornings I watch them grazing
crisp brown clover and timothy.
Their astonishing vulgarity, their broad ugliness
makes me sigh. The drunk who owns them
retrieves them at his leisure,
swearing good-naturedly, and I know
in a week they will be back-
pitiable, oafish, indelible as my own failures
which likewise graze here-
embarrassing the clarity of the front pasture,
ragged as the worn-out milkweed clinging
like burrs to the meadow's winter coat.
Ann E. Michael is the author of three previous chapbooks of poetry and an opera libretto as well as numerous prose works. She is an educator at DeSales University in Pennsylvania.
www.annemichael.com
.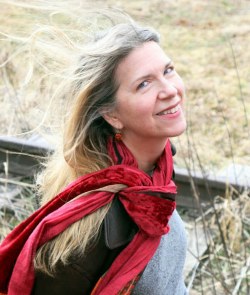 The Capable Heart is a 36 page hand-stitched chapbook - $10.00
TO ORDER ON-LINE
From the US
From Canada
From Other Countries
*****************************************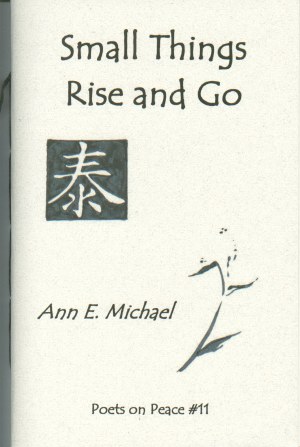 Born in the Year of the Dog, Ann E. Michael lives with her family and many pets in Eastern Pennsylvania. She is a past recipient of a PA Council on the Arts fellowship in poetry, an essayist, librettist, and occasional radio commentator. She is currently teaching English at DeSales University in Center Valley, PA. This is her second poetry chapbook.
Her website is located at: www.annemichael.com
Photo by David Sloan
"It is my contention that true peace is not static but mobile, resilient, transforming. Wilhelm's translation of the I Ching says of T'ai (Peace): "The Receptive, which moves downward, stands above; the Creative, which moves upward, is below. Hence their influences meet and are in harmony, so that all living things bloom and prosper...at which time the forces of nature prepare the new spring." What I attempted to do when choosing the poems for this collection was to celebrate the harmonious energy of spring as well as to acknowledge the past and future seasons that make up our lives collectively and individually. Some of these actual and metaphorical seasons are not those of prosperity and balance, but the I Ching is, after all, the Book of Changes."
From the book:
NAP IN A TREEHOUSE
Alone in my children's treehouse,
I read 300 poems from the Chinese.
Sunlight slants over the cornfield,
flies buzz, the afternoon is warm.
This first day of autumn,
insomnia's caught up with me.
After so many sleepless nights,
I doze with Li Po and Tu Fu.
TO THE MOUNTAIN
"World
you grow vaster.
Our time cannot
encompass you." -Denise Levertov
Through you: the mountain
and its open secret-
something both solid and elusive.
You never tired of its white presence,
a friend to the lake,
to the sea.
You never climbed Ranier
but let it slip into and out of your sight,
impressing every cell of your body
with its shape:
sky with white shadow,
the wide lake-
the sleepy call of Earth
uncomplicating itself for you, then
growing vaster, emptier, encompassing
your time within its boundaries.
Oh, Life, that had
a Mountain in it.
Hand-stitched chapbook.
Eight Dollars $8.00
TO ORDER Small Things Rise and Go ON-LINE