Martin Burke

A = O = A
Martin Burke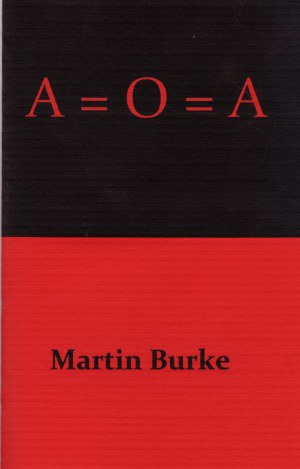 Author's Comment:
The splitting of the atom remains one, if not the most ambivalent achievements of the 20th century and will forever be associated with the name and personality of Robert Oppenheimer. The contradictions in the achievement were a perfect mirror for the contradictions within the man himself & as such may never be successfully resolved.
Notions of innocence or guilt are not usually assigned to scientific investigation & discovery but Hiroshima changed everything. Responsibility entered science in a way that it previously has been denied it & it is no longer possible to say that every discovery is neutral in itself & that only its use….
The present work is the first in a projected quartet dealing with the allied times, issues, & personalities of this critical period in human development. If there is to be a human development in the wake of the Bomb then origins will have to be address & responsibility will have to be accepted -both by the scientist & the poet.
From the opening of the poem:
In retrospect we speak of time following time
links on a chain
of chaos finding definition, finding expression
of order emerging in an orderly manner
but this is not so
everything happens separately though everything is
happening together
everybody know something but no one knows enough
bits and pieces
here and there
in America
in England
in the Europe England is not yet a part of
in a voice of authority saying
"it can't be done"
but there are other voices
(there are always other voices)
Greeks who knew
offering their authority even in the absence
of `proofs'
Rumi saying
split the atom's heart
and you will find a sun
split that and then -
and Oppenheimer
another cigarette
another martini
(the cherry is optional)
"it can be, will be done"
yes, mostly it is Oppenheimer
atomic-man pur sang
a mind eluding the nets of definition
a complexity to match anything found in nature
Martin Burke is an Irish poet-playwright living in Wetteren, Belgium He has published a variety of books in the USA, UK, & Ireland, including The Other Life, also published by FootHills Publishing. More associated with a visionary than a political tradition, the present work none the less shows the meeting of the two in a concise & sharp manner.
Speaking of his work critics have said:
"Burke is the eloquent essayist of the sublime"
Projected Letters
"His style is far ahead in terms of imaginative inventiveness: ….startling, original work"
Kiosque Review
A = O = A is a 24 page hand-stitched chapbook - $8.00
TO ORDER ON-LINE
From the US
From Canada
From Other Countries
*****************************************