FootHills Publishing
|
home


Katharyn Howd Machan
(bio)

REDWING
Voices from 1888!
(Release Date - January 17, 2005)
REDWING Voices from 1888 will be released on January 17, 2005 - the 20th Anniversary of the first REDWING poem that Katharyn wrote. The book contains 93 poems, each a monologue by a resident of the fictional town of Redwing. Books are hand-stitched and printed on quality stock.
I began writing the Redwing poems in January of 1985, two weeks after my mother's death on New Year's Day. Maybe they were my way of making a family around me then. Maybe they're my way of saying what so often goes unsaid in families, between friends, among neighbors, the words we hold back sometimes even from ourselves. I have been creating these monologues for twenty years now. Redwing, in Tuscarora County of central/western New York State, is a place in my imagination. Each of its women and men, its boys and girls, has a story to tell. In their secrets and silences, their losses and dreams, their satisfactions and dissatisfactions, we all live, too, I think. Redwing is fire in shadow, a flame at the throat, a crimson flash in dark flight.
---Katharyn Howd Machan

Katharyn Howd Machan was born in Woodbury, Connecticut, in 1952. With her husband and fellow poet, Eric Machan Howd, and their two children, CoraRose and Benjamin, she now makes a home in Ithaca, New York, where she teaches as an Associate Professor of Writing and Women's Studies at Ithaca College and directs the national Feminist Women's Writing Workshops, Inc. In 2002 she was named Tompkins County's first Poet Laureate. Her poems have appeared in numerous magazines, anthologies, and textbooks, and she is the author of 23 collections from a variety of presses, most recently
Greatest Hits
(Pudding House Publications, 2004),
Sleeping with the Dead
(winner of the 2003 Finishing Line Press chapbook competition),
Wise Woman
(winner of the 2002 Anabiosis Press chapbook competition),
Dreaming How the House of Love Begins
(Pudding House Publications, 2002) and
Skyros
(Foothills Publishing, 2001). As Zajal, she is also a performer and teacher of belly dance, emphasizing feminist spirituality.
ISBN 0-941053-48--2
Redwing is a 128 page hand-sewn paperback with flat spine - $20.00
TO ORDER Redwing ON-LINE
To order through mail see bottom of page.
**************************************
Also Available by Katharyn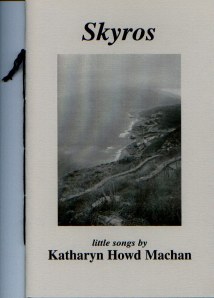 "Let this collection of twenty-one sonnets transport you oceans away to Skyros, a small island in sun-soaked Greece, where 'the bay curves emerald, turquoise' and you walk on 'ancient cobbled' streets to a village 'clustered up a hill,' 'walls of weathered white,' 'sheltered...for shade against long sun.' Listen to the call of drums and bells, smell basil in pots by every door. Come and join Katharyn Howd Machan as she beckons, 'turn and dance within the light.'"--Barbara Crooker, author of ORDINARY LIFE, THE WHITE POEMS, and others
From the book:
CARRYING THE PRAYER
I reach out, touch the oldest wall of stone
I can imagine touching, one by one
my fingers each a song of praise alone
near hilltop where the goat-clad ones still run
bell-hung with heavy music. Here I find
a layered temple, Pan to Christ, and more:
Athena moves to Mary in these lined
and sculpted marble fragments on the floor,
the faded words on windows' arch, the groove
for candles' flame--yet brilliant sky takes hold
through crumbling curving roof as though to move
beyond grand Byzantine of painted gold.
Once frescoes graced this chapel, bold and bright;
now lizards turn and dance within the light.
Hand-stitched chapbook - $6.00
TO ORDER Skyros ON-LINE
Thank you for your support!