FootHills Publishing
|
home


Katherine Dorn Meierjurgen
Beyond the Lilac Hedge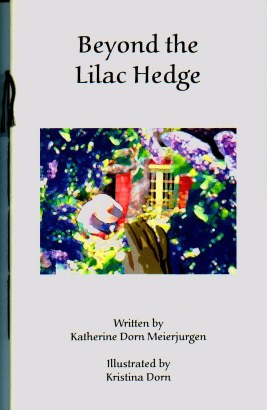 With 6 Color Illustrations by Kristina Dorn
Katherine Meierjurgen was raised in Suffield, CT, the daughter of Robert and Alice Dorn. The Finger Lakes region of New York became home after attending Alfred University, SUNY Binghamton, and the Instituto de Estudios Europeos in Madrid, Spain. She began writing poetry when her daughter was born, as there seemed no other way to express the intensity of emotions that arrive with children.
This chapbook was born when the sight of a white, sleeveless, button-down shirt in a catalog tumbled the poet into memories of her Auntie Helen, who always said, "Katherine will write the books, Kristina will illustrate them."
Kristina Dorn raised hell from New England to Florida to Oregon, and currently resides in Manchester, CT with her two children, Truman and Phaedra; and partner, Keith. She holds a BFA from UCONN, Storrs, and continues to let her short attention span run wild in a variety of art forms, treating herself to daily doses of self-administered recreational therapy. She admires her big sister for so doggedly maintaining her expressively emotional nature in the face of all who would subdue her, for refusing to submit to adversity, and for her courageous belief that poetry should come out of the closet.
From the book:
Dedication
To our Auntie Helen
Some gifts do not arrive wrapped in bright packages, tied in a neat bow. Some gifts arrive quietly, take up residence in your soul, gently open your heart and enlarge your capacity to embrace the world.
Auntie Helen, a gift herself, brought me home to the wider world. She taught me to believe in others and to believe in myself. I learned from her that nothing is as healing as being skin to skin with the earth and that Tang and homemade cookies served in a cozy kitchen can be a balm to the soul.
Earth Bowl
What manner of woman walks here?
She comes bold
Searching, retreating
Seeking strength, renewal
Awe captures her
She feels release
Joyful abandon
Warm flesh meets cold snow
Ears tune to water rushing beneath
Earth whispers slake thirst
Too long disconnected
But here,
Here she connects
In the water-gouged bowl
ISBN 0-941053-74-1
Beyond the Lilac Hedge
is a 32 page hand-sewn chapbook - $10.00
TO ORDER ON-LINE