FootHills Publishing
|
home


Poets on Peace #6
"Homefront" by Patricia Monaghan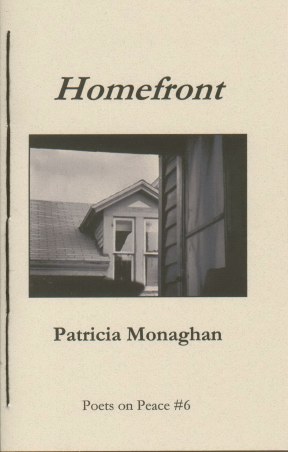 Does any war ever end? Not in the hearts and minds of those who endured it. Not in the lives of their loved ones, who bear the conse-quences of a war for years, even decades, after others have forgotten its bloody battles.
War literature in the past has focused on the experience of soldiers in wartime and, less frequently, on veterans after war's apparent ending. "Homefront" offers another vision: that of the child of a shell-shocked veteran who seeks for understanding of and reconciliation with a man who truly brought the war home.
Patricia Monaghan is the daughter of a decorated Korean War veteran and is a longtime member of the Society of Friends (Quakers), one of the traditional "peace churches." She is the author of many books on the goddess, including the recently released The Red-Haired Girl on the Bog, about the goddess
in the Irish landscape.
She is a member of the Resident Faculty at DePaul University's School for New Learning, where she teaches science and literature. Patricia is a reviewer for Booklist, the Journal of the American Library Association.
Patricia is an award-winning poet whose work
has been set to music and is performed around the world. She is also an acclaimed lecturer who has appeared at hundreds of universities, festivals, bookstores and community centers around the United States and Europe.
Table of Contents
Collateral Damage
PART ONE
Home Movies, 1954
Knowing the Bomb So Well
Dream Details
Shelter
Geography
Loaded
Kevin Barry Gave His Young Life
Minstrel Boy
On Cheyenne Mountain
Accidents and Loss and War
Doll Crematorium
Munchkins in War, 1962
PART TWO
At the Pow-Wow
Isaac Afterwards
The Patriot Game
In County Mayo
To the Rebels in My Dreams
Friendly Fire
Jeptha's Daughter Laments
After the Attack
Now, In his Age, the Inner Sea
At Quartz Creek, at Fifteen
The Last Run
Dancing for My Father
From the Book:
COLLATERAL DAMAGE
In memoriam,
Lt. Col. E. J. Monaghan (USAF, Ret)
My childhood.
Sitting on his knee.
Telling him my hurts.
His arms around me.
My girlhood.
Playing games with him.
Reading to each other.
His shoulder to rest on.
My youth.
Learning what he knew.
Showing off my gifts.
His eyes shining with pride.
My life.
None of this happened.
It was taken from us.
This is what war does.
Hand-stitched book with flat-spine.
Ten Dollars.
TO ORDER Homefront ON-LINE

*******************************************

Poets on Peace #7
"The Metal of my Mouth" by Edward A. Dougherty.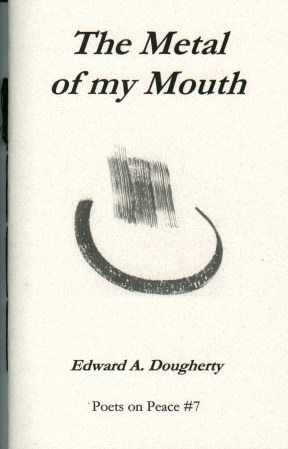 Edward A. Dougherty lives with his spouse in Corning, a place where three rivers join in the hills of upstate New York. Together, they were peace volunteers in Hiroshima, Japan, for 2½ years, where they were directors of the World Friendship Center and witnessed the fiftieth anniversary of World War II and the atomic bombings. They continue to be active in the Elmira Quaker Meeting.
In 1995, Pilgrimage to a Gingko Tree, a bi-lingual collection of his Hiroshima-related poems, which includes work by John Bradley and atomic-bomb-survivor and calligrapher Hiromu Morishita, was published.
Poems included in the book: Speaking for Myself, The War at Home, The Missing, A Toast, Something About Peace, Schwartzkopf in the Netherlands, Passing-bell, Why I Think About Hiroshima & Nagasaki, Like Superman, Splitting A Dense Element, Times Like These.
From the Book:
Splitting A Dense Element
IN MEMORIUM-Ichiro Moritaki sat for an hour at the Memorial Cenotaph each time there was an atomic bomb test-475 times. His last protest, at 92, was in July 1993.
One eye was a flash in the sky.
The other waits for thunder.
A burden to listen to,
an hour of silence
is another dense element.
One eye is for the children:
a slit burned closed.
The other is an ancient cave-dwelling.
This concrete arch
is a poor heritage.
It offers the souls
little comfort, little protection.
A burden to look at,
a man sitting alone
cannot be ignored.
Can you stop it by sitting?
One eye was split.
The other watches for a reaction.
Ed Dougherty
Hand-stitched chapbook.
Seven Dollars.
TO ORDER The Metal of my Mouth ON-LINE

*******************************************

Poets on Peace #8
"Walking the Labyrinth: Poetry of Conflict and Resolution"
by Sandra J. Lindow.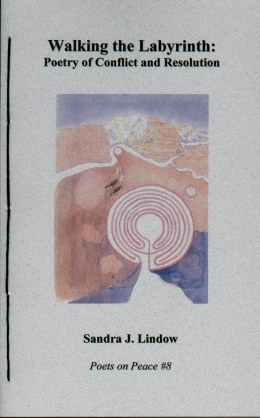 Forward: Portrait of the Poet as an Anti-War Activist
I came of age in the sixties during the Viet Nam War and quickly came to the conclusion that war does not solve problems, it only creates more. In college at the University of Wisconsin - Eau Claire, I became an anti-war activist, wrote for an underground newspaper, protested the draft, and participated in guerrilla theater, sit-ins, teach-ins, and marches. Angry at what I saw as the university's suppression of free speech, I spent a fair amount of time one miserable Wisconsin winter marching up and down in front of the Chancellor's house carrying a sign as the carillon bells played hymns of faith and love. I began to see that the problems in the world had much to do with greed, poverty, nationalism, religious fundamentalism, racism and paternalism. The willingness to see others as less than ourselves was the crux of the problem. Sometime the summer of 1969 I heard the word "feminism" spoken and defined by an older woman, English professor, experienced an epiphany and recognized myself. Soon I saw feminism and anti-war activism as going hand in hand.
Since college throughout my working, marrying and child raising years, I have continued to explore these issues in my writing and in my own life. Since 1981, I have sought to understand the nature of conflict and nonviolent conflict resolution especially through my work as a reading specialist in a treatment center for emotionally disturbed children and adolescents. When in the fall of 2000 my husband, daughter and I spent a semester in Dalkeith Scotland as part of the University's Wisconsin in Scotland Program, I began to see conflict resolution through an international lens. The fall of 2001 I joined an interfaith spiritual growth group for women, cultivating inner peace through prayer and meditation. We had just begun our work together when the September 11th terrorism occurred, giving an urgency and poignancy to our discussions in the months that followed.
When in "A Defence of Poetry," Percy Bysshe Shelley concluded "Poets are the unacknowleged legislators of the world," he meant that poets have the power to influence others at the very grass roots of our understanding. Poetry and political activism are inextricably connected whether or not poets write about national events. I arranged these poems beginning with a short history of human conflict and moving through a series of poems written in the early nineties where I react to specific acts of human violence. Later poems move from recognition, alarm and anger to cultivating spiritual development and peacefulness in myself and in my interactions with others. "Let there be peace on earth and let it begin with me ..."
Sandra J. Lindow
From the book:
On Distance
In 1987 astronomers observed
the birth of a galaxy-
a billion suns ignited
within an incandescent cloud
seventy-one billion, trillion miles away.
The other day I figured out
I was five handshakes away from Hitler.
In the sixty-eight campaign
I shook hands with Nixon,
who'd shaken hands with Eisenhower,
who'd shaken hands with Roosevelt,
who'd shaken hands with Stalin,
who'd shaken hands with Hitler.
So there you have it.
In a universe where distances are enormous
and human intelligence exists
as a kind of whimsical afterthought,
evil is as immanent
and as intimate as touch.
Sandra Lindow published her first poem in a Sunday School Magazine when she was eleven. She continued writing throughout high school and was named Outstanding English Student her senior year at Marshfield High. She received her BA in English 1971 and her MST in 1974, both from the university of Wisconsin- Eau Claire. She has been teaching reading, writing since 1972 and has worked with all ages from preschoolers to senior citizens.
Now officially past her 55th birthday, Lindow takes the responsibilities of apprentice cronehood seriously through her writing and her community activism. She has won numerous awards for her poetry including the Wisconsin Press Women's Award for Poetry (2003), the Wisconsin Fellowship of Poets Triad Award (2003), the Wisconsin Regional Writers' Jade Ring for Poetry and eleven Rhysling nominations for the best speculative poem published in a given year.
Over the last twenty-five years, her poetry has appeared in magazines and anthologies such as Asimov's, Tales of the Unanticipated, The Magazine of Speculative Poetry and the Wisconsin Poets' Calendar and on-line `zines such as Fables, Strange Horizons, and Raven Electrick. She has published three other chapbooks of poetry, Rooted in the Earth (Sand and Silk, 1989), The Heroic Housewife Papers (Pandora, 1990), and Revision Quest, (Linden Leaf, 1997). Heroic Housewife was named the best poetry collection published by a Wisconsin writer in 1990. In 1996 her longer collection of science poems, A Celebration of Bones, which also looks at violence, was published by Wordcraft of Oregon as part of its Jazz Police series.
As well as writing poetry, she has published book reviews and academic criticism in various magazines and journals and edits poetry for the award-winning magazine Kaleidoscope: Exploring the Experience of Disability through Literature and the Fine Arts. As West Central Regional Vice President of the Wisconsin Fellowship of Poets, she is involved in many readings, and local and state arts activities. Recently she helped get a handicapped accessible labyrinth for Eau Claire's new Phoenix Park and she is presently coordinating a state and local poet/artist collaboration called "The Epidemic Peace Project." Since 1981 Lindow has worked as a reading specialist at the Eau Claire Academy, a treatment center for emotionally disturbed children and adolescents. She lives in Eau Claire, Wisconsin with her husband Michael Levy, their daughter Miriam and their cat Maisie Cantata.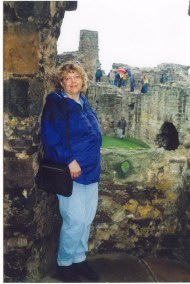 64 page hand-stitched book with flat-spine. Thirteen Dollars.
TO ORDER Walking the Labyrinth ON-LINE
Thank you for your support!