Michael Czarnecki Brief Bio

(Some of my writing.)
Sometimes I think that the most important thing we do in our lives is to create - whether poems, stories, artwork, music, children or love.
46 years ago, Mr. Kerr, my junior year high school English teacher, encouraged me to write my first poem. I haven't stopped since.
In 1985 I gave my first public reading of a poem I had written. Since then I've given hundreds of readings throughout the United States. I started working in schools as a poet-in-residence in 1990 and have since worked in scores of schools in numerous states around the country. Yet, that work was always something I did "on the side" after the making-a-living work, selling wine for a local winery, was done for the day. In 1995 I decided I couldn't do that other work anymore. The work drained me, emotionally, physically, spiritually. I knew what I wanted to do - be a poet, a creative person with words. So, I quit the winery and since that time I have made a living being a poet, publisher, oral memoirist and encourager. My only regret is that it took me that long to make the change.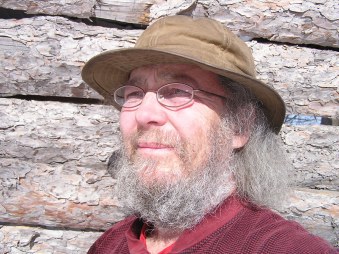 Now my work is my life - there is never a moment when I wish I was doing something else. I'm healthier and happier. Maybe not richer in money, but there are other types of wealth not measurable in dollars and cents.
From our 50 acre homestead on Wheeler Hill, where I live with my wife Carolyn and two boys, Chapin, 18 and Grayson, 22, I go out into the "dust of the world," as the old Chinese poets would say, doing the work of a poet and oral memoirist. I travel down the road and then settle back in on quiet, peaceful Wheeler Hill amongst my old-order Amish neighbors and not far from my daughter, Cassandra, 13 year-old grandson Caleb, and granddaughters, 6 year-old Brook and 4 year-old Sidney. The best of two worlds.

Interviews
Pea River Journal
North Country Public Radio, NY
April 24, 2008 — Michael Czarnecki is a rare animal--a poet who makes a full-time living through his art. From his home base in the Finger Lakes, he spends many days each year on the road, reading his work and conducting workshops. His company, Foothills Publishing, has brought forward the work of countless other poets in more than twenty years of collections and anthologies. He will be in the North Country next week, holding workshops and readings in Canton and Tupper Lake. Dale Hobson talked with him by phone to see how he does it all.
The Write Question
A weekly literary program from Montana Public Radio that features writers from the western United States.
Wednesday, November 30, 2011
Michael Czarnecki and the Montana Poets Series
Out of Bounds Radio Interview
Tish Pearlman
The Free George
Online magazine and visitors' guide of Upstate NY, covering things from Albany to Lake Placid, including Saratoga, the Lake George region and the Adirondacks.