11/10-12

11/10
A whole day in Chattanooga, mostly in the motel room. A little run down so took it easy and got a bit of work done and a lot of rest.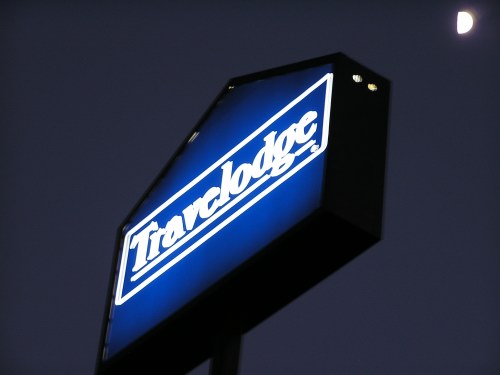 A first quarter moon shone bright in the evening. Still haven't gotten used to the early sunset, early dark.
The moon will be full the final day of the journey, my birthday, the day I return to Wheeler Hill. I thought of how I could follow it (as long as clear skies) through the week, mark off in moon measurement the time till my return.
11/11
Drove from Chattanooga to Oak Ridge, TN the next morning for a program at a senior living center.
Frost on ground as I drove along I-75. I've been moving north. This is preparing me for my return to Wheeler Hill, where snow has already fallen a few times, though no accumulations.
I thought it interesting that I was in Oak Ridge today, Veteran's Day. This place played a major role in the development of the atomic bomb in WWII. In fact, Oak Ridge was built in 1942 solely for that purpose.
I came across this interesting entry on the Wikipedia page for Oak Ridge, about a vision a local eccentric resident and mystic, John Hendrix, had in the early 1900's:
In the woods, as I lay on the ground and looked up into the sky, there came to me a voice as loud and as sharp as thunder. The voice told me to sleep with my head on the ground for 40 nights and I would be shown visions of what the future holds for this land.... And I tell you, Bear Creek Valley someday will be filled with great buildings and factories, and they will help toward winning the greatest war that ever will be. And there will be a city on Black Oak Ridge and the center of authority will be on a spot middle-way between Sevier Tadlock's farm and Joe Pyatt's Place. A railroad spur will branch off the main L&N line, run down toward Robertsville and then branch off and turn toward Scarborough. Big engines will dig big ditches, and thousands of people will be running to and fro. They will be building things, and there will be great noise and confusion and the earth will shake. I've seen it. It's coming.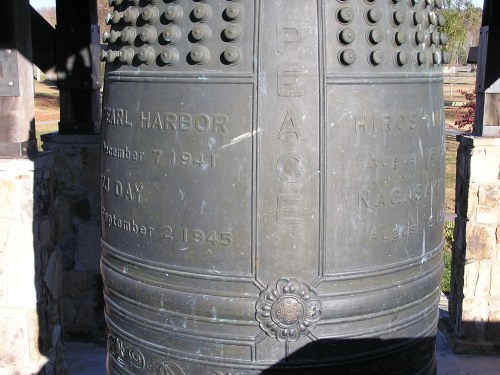 Before the program I stopped at the Friendship Bell. It is a bronze bell cast in Japan and erected in Oak Ridge on the 50th anniversary of the city's founding. The morning air was cool and crisp as I took in the scene, the information about the bell, floated around the history of this place in my mind. I couldn't help but think about the thousands of nuclear weapons still in existence and wondering about when (I'm afraid I don't feel that "if" is the right word here) one or more will be used again.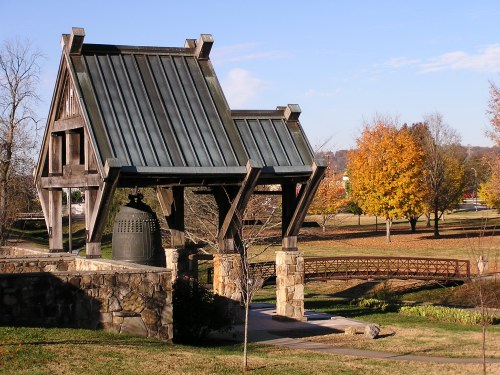 At the program I talked with Mary Keene, a resident. She grew up by Appalachian and Big Stone Gap, a coal mining region in eastern Virginia. "There are no happy memories from there, " she told me. Also said, "After the explosion every family had a body laid out."
Traveled through Great Smoky Mountains National Park on my way to South Carolina. A busy day with it being a holiday and great weather. Still an enjoyable passage through, once I got to the park itself.
The entrance to the park was an amazing number of miles through an amazing array of tourist attractions. Hotels and motels, gift shops, amusement parks, restaurants. "Lumber Jack Fued." "Hatfield and McCoy Dinner Show." "Biblical Times Dinner Theater." "Christ Museum and Gardens." The natural wonder of a National Park is just not enough for people.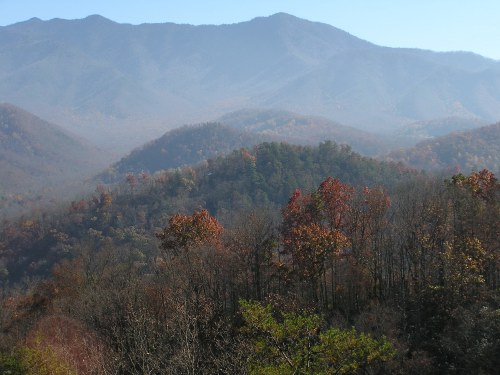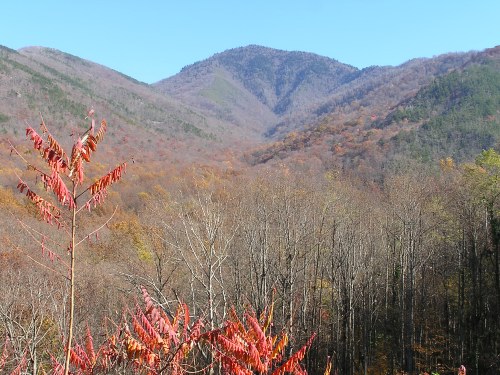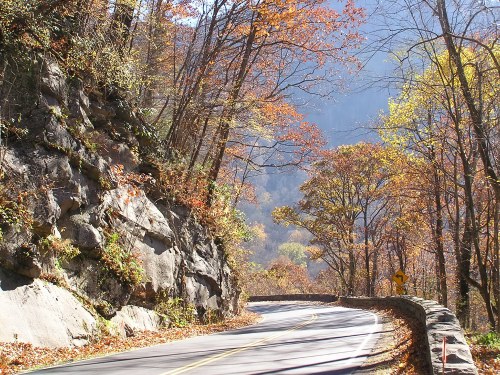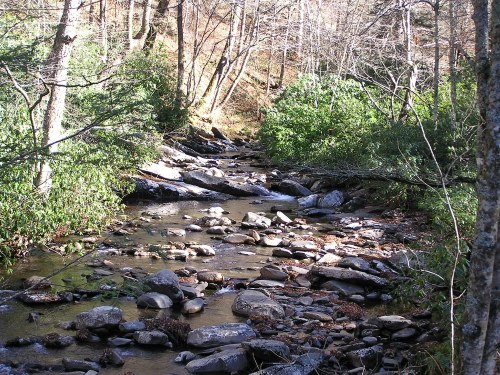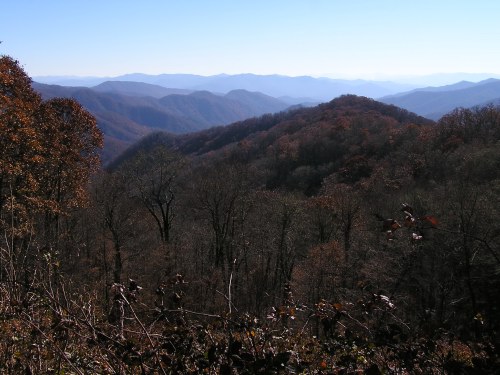 The above were photos taken as I passed through the park. GSMNP is the most visited park in the country, with over 9 million visitors a year. Half of the population of America is within a two-days drive of the park.
Outside of the park I stopped briefly at "Enchanted Forest Path of the Bear" to inquire about postcards. No cards but had a wonderful talk with Charles, the owner and wood carver. Retired from the Air Force, he now carves wooden bears, totem poles and other such items. Doing what he enjoys.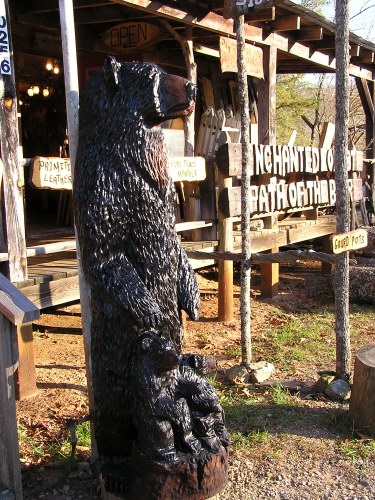 11/12
I lost, or rather, can't retrieve pictures from today. The camera's memory card wants to be formatted, won't let me access the pics on it. I've tried numerous times, on camera and computer, to no avail. I hope when I get back home I can access them somehow.
A few pictures were of a small road in Spartanburg, SC that was canopied by big Live Oak trees lining both sides of the road.
Drove into Asheville, NC for a reading at Battery Park Book Exchange and Champagne Bar. An amazing book store with nooks and crannys, alcoves and rooms with shelves and shelves of hardcover books.
Prior to the reading I went over to LeNoir and Charlton's house. LeNoir is a sister of a poet friend, Bart, from Rochester. We had never met but she offered to put me up for the night.
A good reading, sparsely attended. Everyone who was there enjoyed it and nice talk afterwards with Kyle, the book buyer for the store who had booked my reading.
Late afternoon in Asheville a cold front came through and the wind picked up. The temperature dropped into the 30s and with the wind it was really cold. Again, moving northward, away from the southern warmth.
Had a great time with LeNoir and Charlton. Good conversation and invite to return for them to show me around Asheville. I think I will take them up on it sometime in the near future.