10/19-21

10/19
Left Hugoton, KS in the moonlit pre-dawn darkness. Lights, near and far dotted the flat Kansas landscape. I passed numerous vast arrays of wind generators, red lights blinking. These were the largest wind farms I've ever seen, hundreds, if not thousands in the morning darkness and then after sunrise.
Scattered patches of snow lie on the ground here and there. The waitress at the restaurant where I had breakfast told me they received some wet snow yesterday.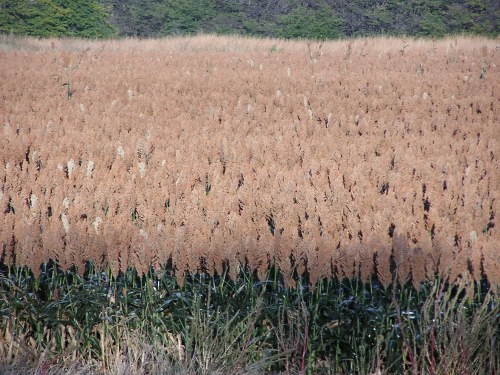 Field of sorghum. Saw quite a lot of it while driving through Kansas.
As I moved northeasterly the flat landscape gave way to rolling hills. Very picturesque.
Crows have replaced ravens. I'm in the high plains now, not the arid southwest.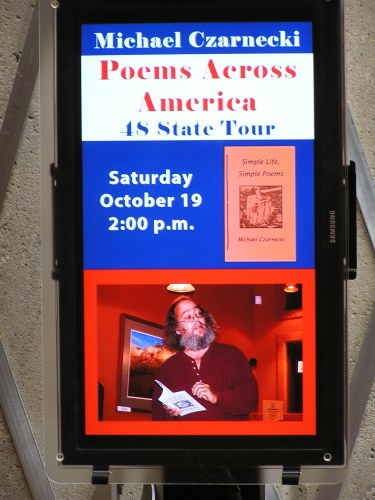 On the digital display at the Public Library
in Manhattan, KS.
A small turnout for the reading, as is the case more often than not,
but again, very well received. A couple of young students, an eleven year-old with his father and a tenth grader who was getting extra credit for attending.
Rob, the father, took me out for a beer at Finn's Pub, a few blocks away. Good conversation with him and another guy at the bar. I'm not much of a bar person, but it was an enjoyable time and it was good talking with Rob. He has a brother in Kutztown, PA he's going to encourage to attend the second last reading of the tour, in Reading.
Also had a nice conversation with Daniel and Danielle, a couple who attended the reading. They were interested in my Wheeler Hill experience and homesteading. I mentioned Helen and Scott Nearing and their book "Living the Good Life." They weren't familiar with it but before leaving the library they checked out a copy of it. Daniel also offered to accompany tomorrow on a hike at
Konza Prairie
, a KSU and Nature Conservancy property that contains the largest remaining area of unplowed tallgrass prairie in North America.
I stayed at a friend's apartment in town, Erica, a grad student in the children's literature program at KSU. She's from NY and I met her a couple of times at Keuka College where she attended undergraduate school.
We went out that evening to Auntie Mae's, connecting with a few of her grad student friends. Once again, enjoyable sharing of stories over a couple of local brews. Very much a college bar, crowded and noisy on a Saturday night. As we sat talking I wondered how many of these 20 year-olds would still be friends, still be in touch, 20 or so years down the road? They're all going through a shared experience, having common interests and technology makes it much easier to stay in touch now compared to when I was in my 20s. I guess this thought came because of the connecting with old friends I've been doing on this journey.
10/20
I took Daniel up on his offer to hike with me at Konza Prairie.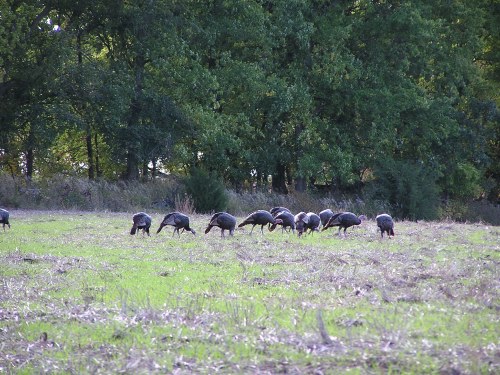 Wild Turkeys, just like back at Wheeler Hill.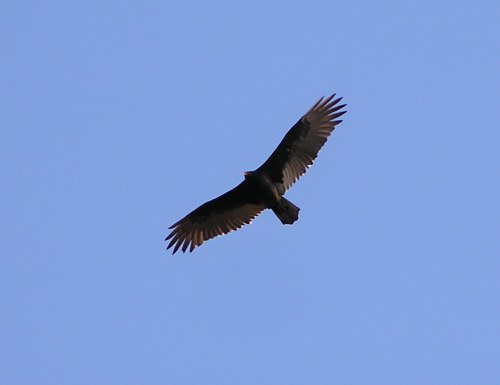 Turkey Vulture soaring overhead.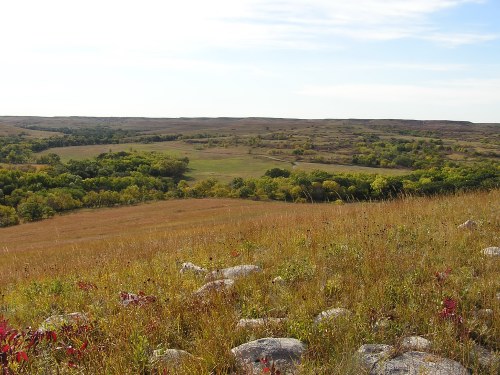 A broad view of some of the tallgrass prairie. Note the limestone rocks.
This area, the Flint Hills, has a limestone base just under the surface. Because of that it was not very usable as farmland. So, it was more used as range and vast areas remained unplowed.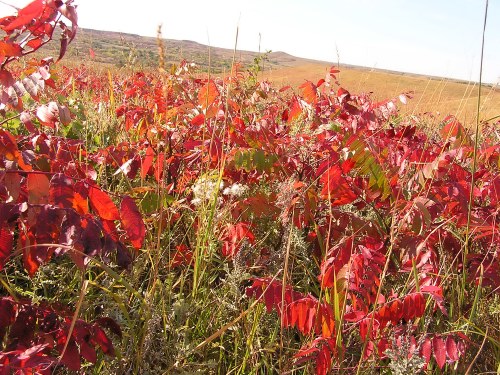 Fiery Smooth Sumac.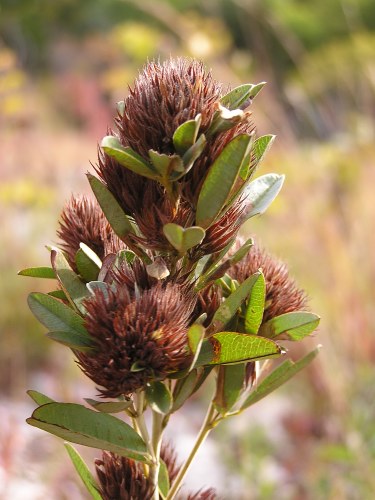 Round-headed bush clover.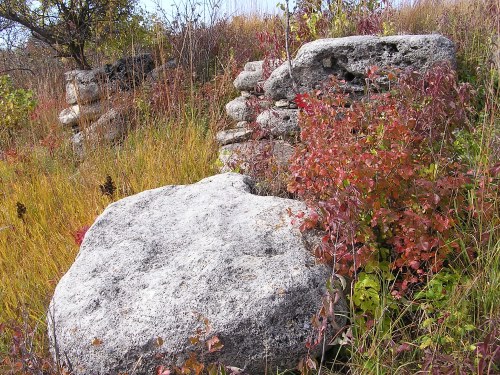 Limestone outcropping.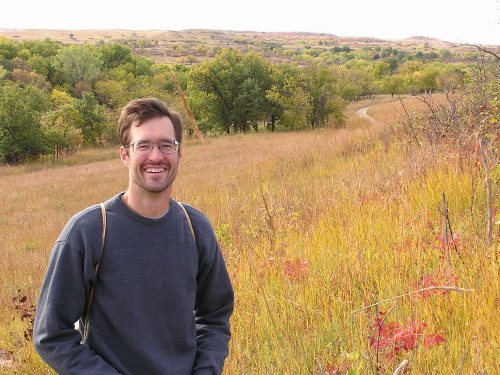 Daniel, my "tour guide."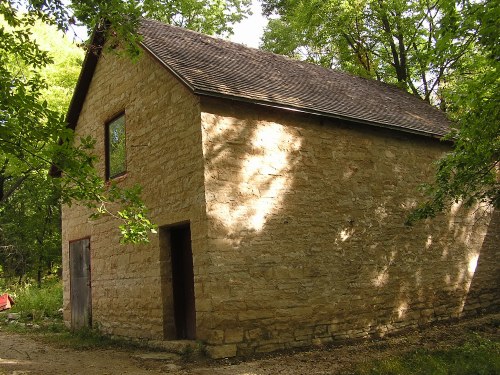 Hokanson homestead barn. The homestead was settled in the 1870s.
This barn is made of limestone blocks.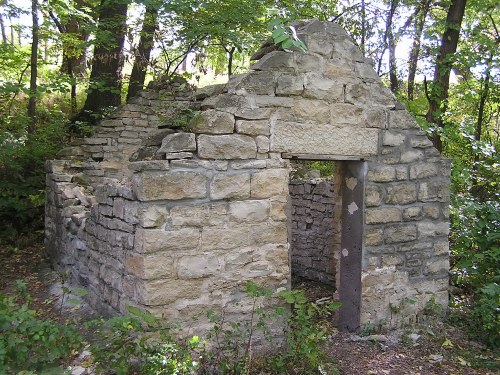 The springhouse.
It was a wonderful 2 hour hike with Daniel. He was very helpful in identifying a lot of the plants and giving me an overall sense of the value of this tallgrass environment.
After the hike I slowly made my way to Kansas City, MO for a reading at Prospero's Books.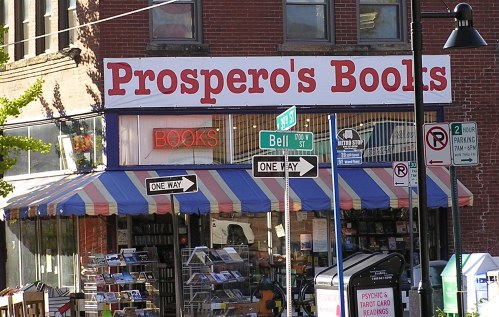 Prospero's is one of the great independent bookstores in America.
Jason, who booked me, is also a poet and publisher and we shared experiences of ours in that realm. Another group was also using the store for a reading that night. Oshone, was the head of that and it was a big open reading. About 20 people attended. I started out the evening with about a 20 minute set then they followed. A wonderful mixed bag of poetry and a great supportive group that was good natured and fun-loving yet serious too.
So, the 10th week of the journey came to a close. 4 weeks left to go. Wheeler Hill gets closer and closer.
10/21
Slow getting out of Kansas City. Caught up doing booking and publishing work.
Stopped at Fort Scott, KS. A small town that incorporates Fort Scott National Historic Site.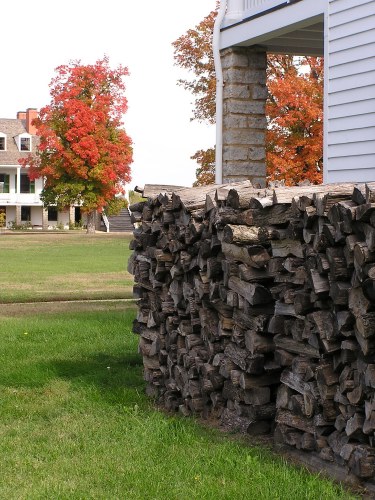 Red Maple and firewood at Fort Scott. I learned that the firewood is used only a little. It mostly hides from site the air conditioning unit for the Visitor's Center.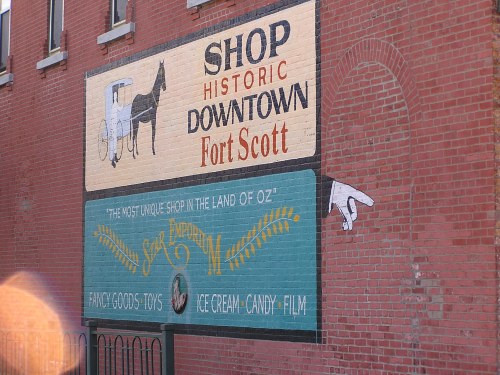 Kansas, the land of Oz.
When paying for gas at a station by Fort Scott I was amazed that
so many people in the store were buying giant cups of fountain soda.
By giant I mean 32 oz. While I stood there (a problem with the register)
for about 5 minutes, at least 8 people filled up these gigantic cups with soda.
Maybe there was a special on them, I didn't check. I wasn't tempted.
I set up camp at Roaring River State Park, Missouri just before dark. The river
is 150' or so away from my site. As I drove into the park a kettle of Turkey
Vultures soared overhead. Venus shown bright just above a hill to the west.
This will be home for the next day and night.