9/10-12

9/10
Another sunny, hot day. Went to the shore of Devil's Lake early in the morning to do some work on the computer. Sat at a table near the lake shore where there was a cool breeze. pretty nice view too.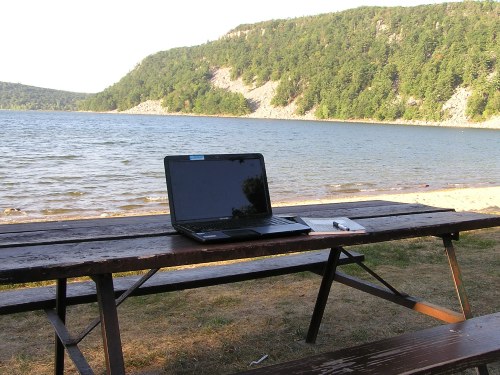 A lot of publishing work needed to be done after breaking camp I went to the lodge at the lake, had a little hot tea and bagel with cream cheese and spent a couple of hours working inside. Pleasant talk with Cassie, a recent college graduate who works there. She's leaving next month to work for Americorp over by Yosemite. I was wearing my John Muir quote tee-shirt that I bartered for back in Portland, Maine. She recommended I read, "A Passion for Nature," a biography of Muir by Donald Worster. I'll put it on my winter reading list.
Nice to talk with a young person who has a passion for nature and the environment, who wants to do work along those lines. When I was in my later 20s I toyed with the idea of going back to college for some sort of environmental degree but finally decided against it. Other than that, I never had a career or work goal in mind. I'm glad. Who knows where I would be now if I did have some other career.
Stopped at the Frank Lloyd Wright visitors center near Spring Green, WI. Didn't have time to go to Taliesen, but thought I'd get a bit of info about it and FLW at the center. Wrong. It was basically a gift shop and restaurant and the place where you could buy tickets and tours to Taliesen, just down the road. Felt it was a little mis-leading to call it a visitors center. I guess I equate visitors centers with a fair amount of information about a place too, like at Acadia National Park. They sell books and stuff but also have a lot of educational information available too.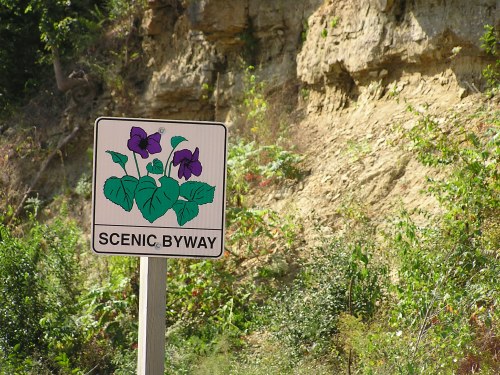 A nice scenic highway sign in Wisconsin, violets.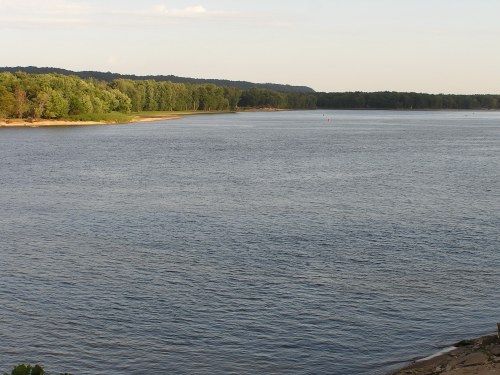 Wisconsin River.
Reading at Riverside Grind in Guttenberg in the evening. Just arranged this two weeks ago. I wanted to read along the Mississippi in northeast Iowa and this seemed like the perfect place. A coffeshop facing the river in this small, historic town.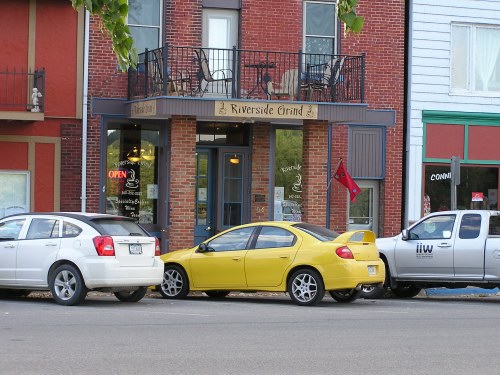 Riverside Grind in Guttenberg, Iowa
Well, it was the perfect place. Cheryll, the owner, was very enthusiastic and about 12 people turned out. Each and every one was a fascinating person and I had great conversations with a few people. The atmosphere was very relaxed and intimate. We talked between poems, sipped wine and I sold a lot of books. Molly, a young woman who works there part time, is also a reporter for the local weekly newspaper and will be writing a piece about the evening.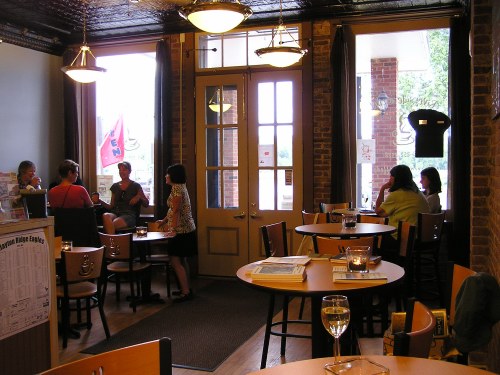 This was the first time Cheryll hosted an event like this. She was very pleased and so was everyone else. Already there was talk about having some other evenings like this and having me come back again.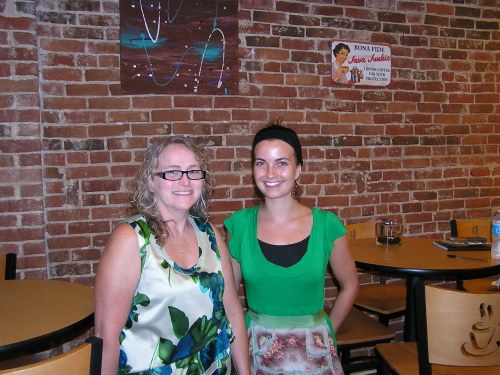 Cheryll and Molly.
Sara, one of the women who attended the reading, offered me her guesthouse to sleep in. It is a beautiful A-frame at the north edge of town right across the street from the river. What a special place to stay in. I took a walk along the levee in the dark before turning in for the night. My first evening west of the Mississippi.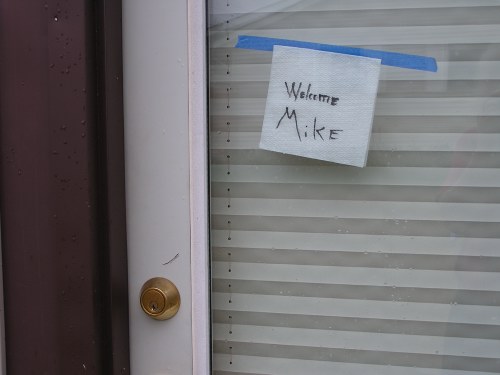 Note left on the door of Sara's guesthouse.
9/11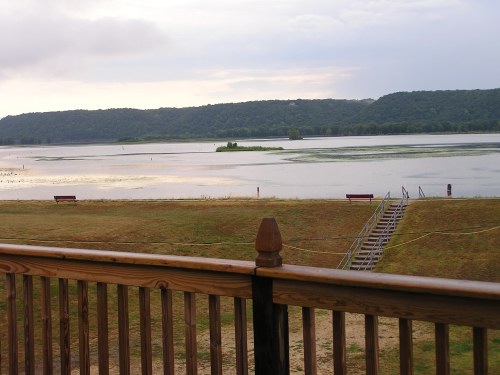 View from the porch.
The next morning I met Becky at Riverside Grind, another reading attendee, and we had a wonderful talk for well over an hour. My age, we have a lot in common. Another kindred spirit.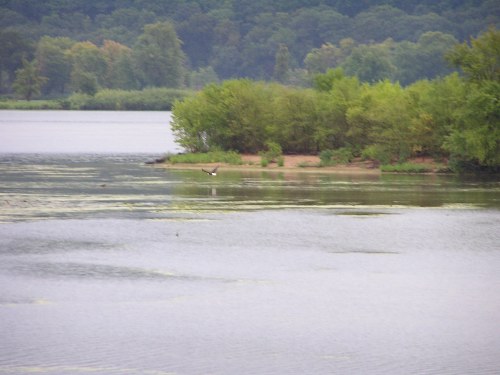 Mississippi River and Bald Eagle.
When I left Guttenberg I drove along the Mississippi heading north to the Twin Cities. I traveled both on the Wisconsin and Minnesota sides of the river. Brought back a number of memories of when I spent 30 days driving along the river in 1998, from its source at Lake Itasca in northern MN to Venice, LA, as far down on the delta as you can drive. Again, a journey in the present, a journey in the past.
Just a little north of Prairie du Chien, WI I noticed a huge flock of white birds circling above. At first I thought snow geese, but they were actually White Pelicans. Over 150 of them kept circling high. I watched for about 5 minutes and then drove on. They were still circling.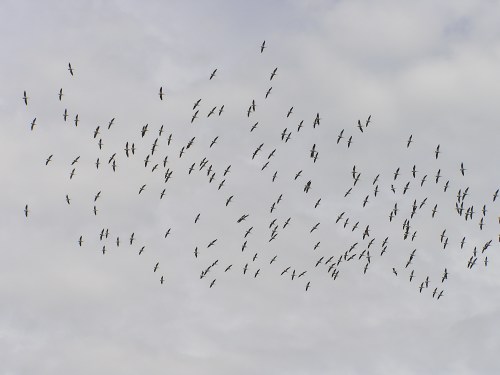 White Pelicans.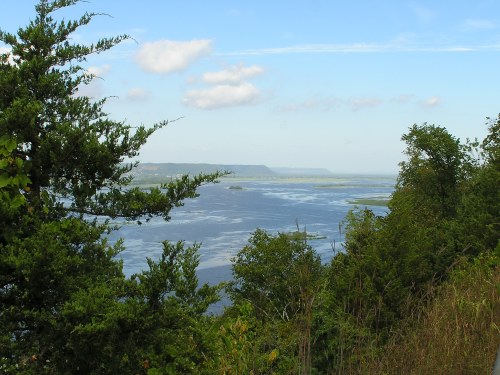 View of the Mississippi from a hill in Wisconsin.
The reading for Minnesota was at Common Ground Books in St. Paul, Garrison Keillor's book store. I arrived early, talked with David, the person who booked the reading, then spent a little time exploring the neighborhood. Macalaster College is just across the street, so I wandered around the small campus and then sat on a bench in the shade by the college commons. The grassy area was peopled by students throwing Frisbees, sitting in groups talking, and individuals using their laptop computers. Again, flashing back memories of college days at SUNY Buffalo, minus the laptops of course.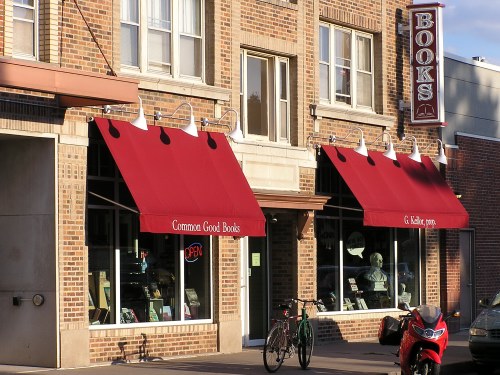 Common Good Books in St. Paul.
The reading also featured Ana Davis, a FootHills poet whose book was being released at the reading. We had a nice crowd, about 30 people, almost all who came because of Ana's book release. But, Carolyn's best friend from high school, Fran, came and brought along Carolyn's sister, Sharon. Ana read first and then I followed. Though most of the audience was there for Ana, they also seemed to relate to what I presented. Ana sold a good number of books and I sold a fair amount. Had good conversation with a number of different folks afterwards.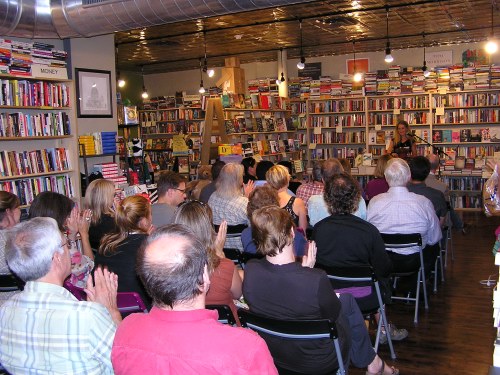 Ana reading.
After the reading I headed to Carolyn's family house in Minneapolis. This is the house she grew up in and one I've stayed in many times over the three plus decades we've been together. The house has not been lived in since October of last year, when we moved her father to Bath to be near us. It felt a little strange to enter the house knowing no one was there. All of the other times her mother and father, or just her father after her mom died, was there to greet us. I opened a few windows, let some fresh air flow into the house and made it as comfortable as I could for my two night stay.
9/12
I spent most of the day at the house working on FootHills stuff. I did foray out for a little bit to stop at Kramarczuk's Deli to buy some Polish Sausage for lunch. Somewhat of a tradition that developed in all of the visits here over the decades.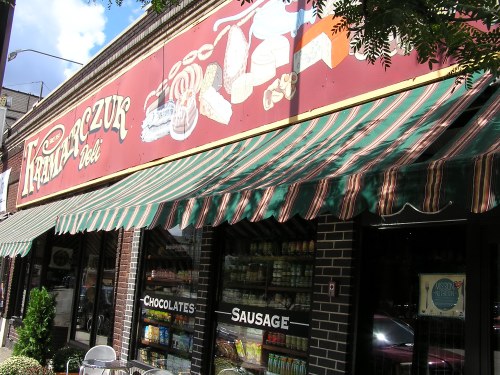 For the evening I went over to Ana's house for dinner. Don, a professor at the college she works at, and whose class I've "lectured" in, was also there along with her two sons, Darwin and Keya, and Mahtilde, a young French woman who is living with Ana while she does an internship here.
What a wonderful evening it was! The dinner was exceptional, prepared by Mahtilde. Appetizer of bread, spinach, tomato, cheese, followed by quiche Lorraine, cheese, salad and dessert. All of this accompanied with wine and great conversation.
The talk covered much ground. Literature, history, nature, native Americans, personal journeys, etc. After awhile it delved into politics, the differences, the similarities between America and France. An interesting exchange of views.
Ah, the conversations one gets into while on the road.