8/30 - 9/2

8-30
A quiet day around Bob's house in the Ohio countryside about 50 miles from the center of Cleveland. Took care of some of the work that needed to be done: set my tent out to dry from when I packed it up in the morning dampness two days ago in Susquehanna State Park; worked on more FootHills books; booked both Michigan and Iowa for the tour. Also had good conversations throughout the day with Bob, who is also a poet and helped set up the reading.
Late afternoon we headed to
Mac's-Backs Books on Coventry
for my reading. Maril, Bob's partner and an old friend of mine, came over from NY and we met her and three other poets for dinner right next to the book store at
Tommy's
. Actually, there's an open doorway between the store and the restaurant, almost one business, though not. Tommy's has been around since 1972, Mac's-Backs on Coventry since 1982. They've had this symbiotic relationship at this location for about two decades.
Suzanne, who owns the book store, was very pleasant to relate with. Very supportive of poets and writers and has a wonderful store of used and new books and a great trading policy. I was pleased to be reading at this literary institution in the Cleveland area.
14 people attended the reading and a number of books were sold. Suzanne also purchased some books for the store, including three
Vigil for the Marcellus Shale
, a collection of 12 poets opposed to fracking we just released. Maril, one of the contributors, brought some books for me from home.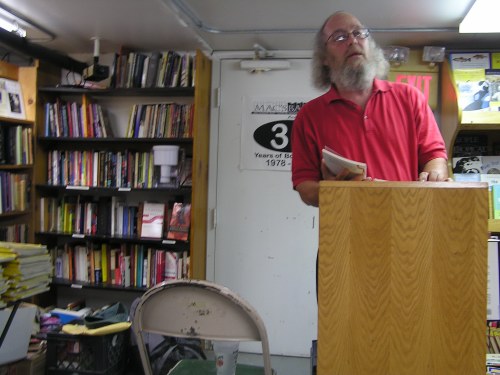 The audience consisted of fascinating people and mostly all writers. Some good questions and comments followed the reading and then stimulating individual discussions for awhile afterwards.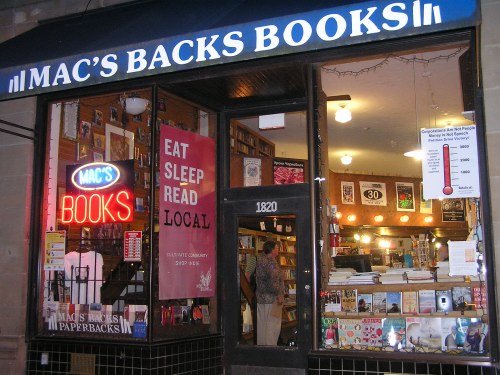 One of the attendees was James Brentar, who had connected with me awhile back on Facebook because of US 20. He had written a song about it. Nice to meet him and have a face-to-face connection with a Facebook friend. Here's a link to a page where you can listen to the song:
"Route 20 All the Way"
So, we left Cleveland and drove 50 minutes back to Bob and Maril's country house where we sipped wine and talked late into the night, a common occurrence of this journey.
8/31
Another day hanging at Bob and Maril's country house in Ohio. More publishing, booking and PR work getting accomplished.
In the afternoon Bob and I drove into Cleveland to visit the Cleveland Museum of Art. This place had been mentioned to me often by others as a place to visit. It's actually just off of US 20, so I've passed it on my 20 journeys but have never stopped.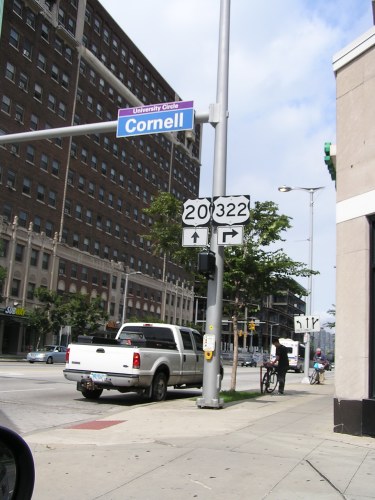 Again, US 20 connection.
It was as others have said - wonderful. Even though a number of areas were closed for renovations, there was so much to see, to take in, to be awed by. Too much for the short time we were there. The Asian work drew me and also the impressionists and 20th century American art, and . . .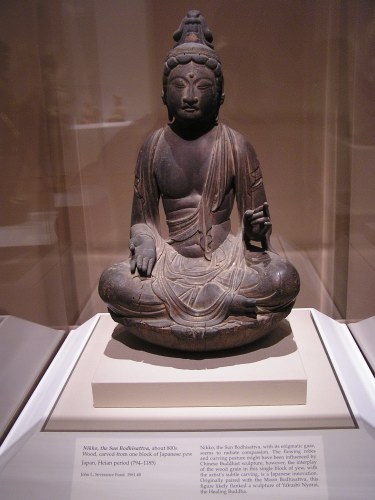 Nikko, Sun Bodhisattva. Japanese Yew wood sculpture from about 800 AD.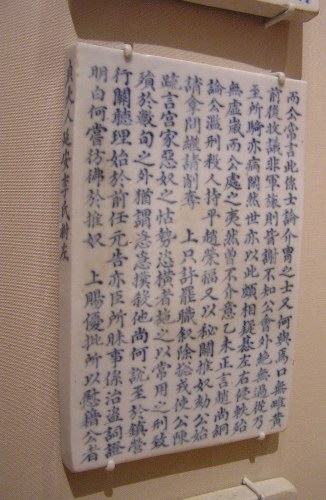 Porcelain epitaph plaque, chronicling the life of a deceased person and placed in the tomb.
This from 18th century Korea.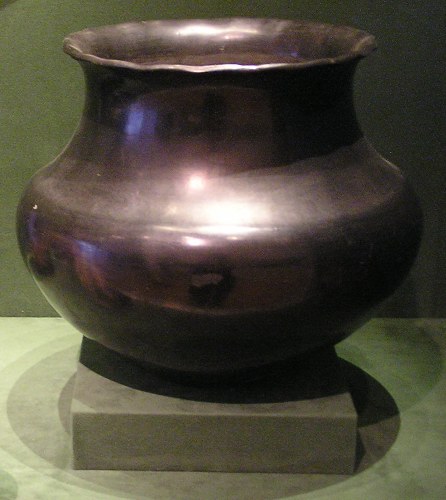 Water jar by Martina Martinez. The blackware method was rediscovered by her and her
husband after finding shards of old pottery. The firing technique gives the dark surface, not glazing.
A Charles Burchfield quote on Hopper described his art as "silent poetry."
In Hopper's own words, he tried to capture the "sad desolation" of America. I'd say he succeeded.
Louise Nevelson, an "architect of shadows." A critic in the 1940s said of her work: "We learned the artist is a woman, in time to check our enthusiasm. Had it been otherwise, we might have hailed these sculptural expressions as by surely a great figure among moderns." Someone I need to learn more about.
I could easily spend a whole day in the museum soaking in, being inspired by the art here. Reminded me of the couple of years of facilitating writing poems from the art at the Arnot Museum in Elmira. Always interesting, always stimulating.
Over dinner and beyond, good conversation with Bob about poetry and other matters. A haiku I wrote for my daily Facebook haiku:
two old poets talk
share poetic memories
season moves toward fall
We spoke of poetic influences. For me the line would be:
Frost, Jeffers, Snyder, Basho, T'ao Ch'ien, Welch, Li Bai and then countless other Chinese poets.
Relaxing time here in rural northern Ohio.
9/1
One more day at my country retreat in Ohio.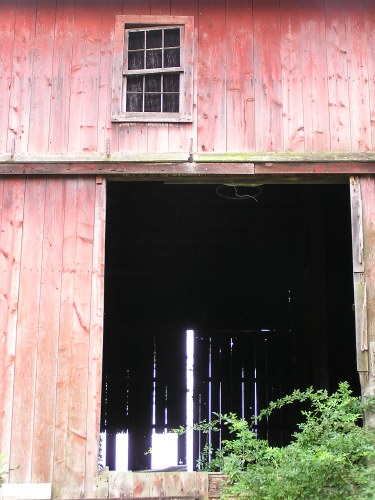 The old barn on Bob and Maril's property.
This afternoon Bob and I spent about three hours working outside in the heat and humidity clearing out trees and brush from in front of the house. Pokeberry, raspberry and rose brambles, small weed trees, etc. We accomplished a lot in that time span and the front of the house is much more airy now.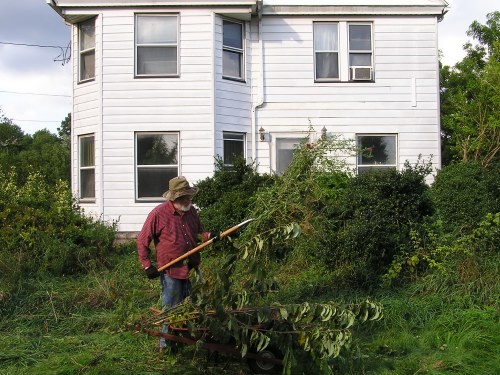 Bob, hauling away the trimmings.
It felt good to do a stretch of physical work. To sweat, to feel achy afterwards. This poetry on the road work isn't too physical. That is something I need to be cognizant off. To make sure I get in enough physical activity. I've been on a couple of good hikes so far. Still, a lot of time is spent behind the wheel, behind the podium. I need to keep in mind that I need to exercise my body, not just my mind.
While working outside I noticed a movement in the brush and then found a praying mantis. I don't see them very often, so was excited to be able to view this one for awhile.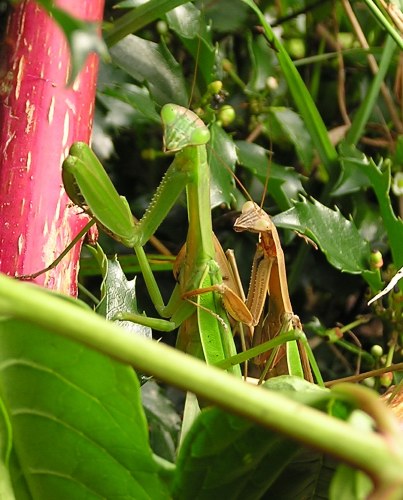 A green and a brown praying mantis.
One last evening here, sipping wine, having stimulating conversation. Tomorrow back on the road and camping, most likely, in southern Michigan. Then a stretch of four programs in four days, three readings and one Palm of the Hand Memoir workshop. A pleasant interlude along the way here in Ohio.
9/2
First day of the fourth week of the journey. Feels good to make the swing west now. Making my way across the northern states. I won't return to the south till late October. It may still be quite warm and humid, but certainly not summer heat.
A little more physical work this morning before heading out, hauling the rest of the cut brush to a big burn pile in the back field. Labor Day. Appropriate.
Spent most of the day taking a leisurely drive to Toledo, OH. Stayed off the interstates and followed old friend, US 20, for a few hours. Rural Ohio. Far suburbs of Cleveland, small towns, farm fields and old farm buildings going back to earth. Passed through towns I've been by a number of times in the past: Wakeman, Norwalk, Fremont, Woodville. They were all very quiet, many businesses closed for the holiday.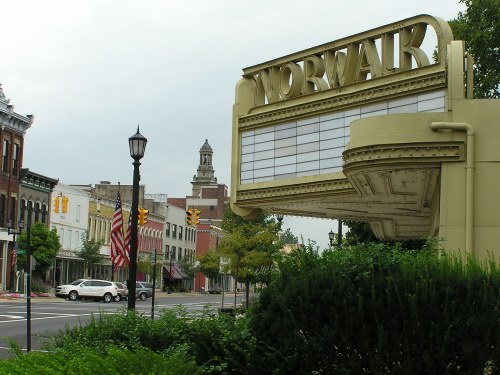 Downtown Norwalk. Notice the lack of cars and people on this holiday afternoon.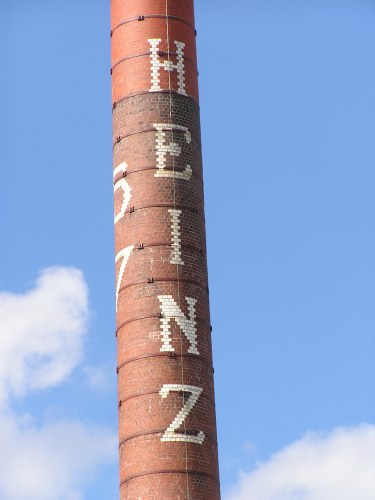 Fremont, where Heinz ketchup comes from.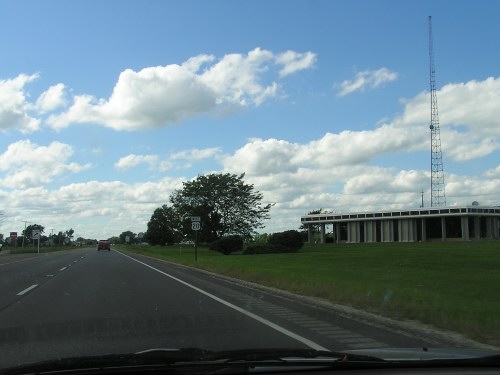 On old friend, US 20. Taken while I was cruising down the road.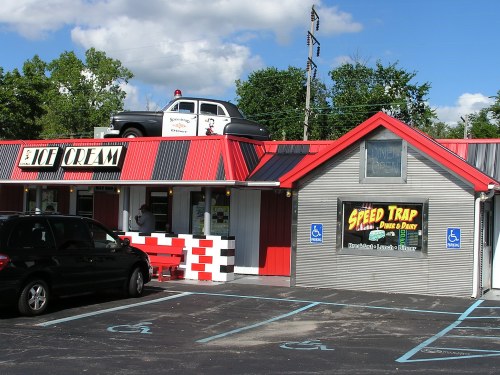 Woodville. Speed Trap Diner. Have been warned that Woodville
is a real speed trap on 20. 25 mph through town, and I did see
a real police car out there.
I was planning to camp but in Toledo I saw a sign for Motel 6, $31.99 a night. With the extra driving and the cost of a campsite and state park fee it was like a wash. So, I took a room, had a little pizza from a nearby pizzeria and worked on more FootHills proofs. A productive day with the work that still needs to be done while on the road.
In some ways I wish I didn't have the publishing work to do, didn't still have booking to do. I feel like I don't have enough time to reflect on the journey itself. I try to be with the experience as much as possible, and usually succeed in that. But the hours spent on the booking and publishing work seem to take away from the down time of the journey that is valuable for digesting what has gone on. A lot has occurred in these first three weeks. A lot I've experienced, a lot I have felt, a lot to be thinking about.
It is as it is. The booking that still needs to be done is a challenge that has already led to wonderful situations. The books I work on to be released by FootHills are a pleasure to get out into the world. There is no ideal, only the way it is, and the way it is really isn't too hard to take!