8/27-29

8/27
Havre De Grace, a beautiful town at the mouth of the Susquehanna. I explored a bit more of it, walking the promenade by the old Lighthouse; reading historical signs about the British attack that destroyed 20 to 40 houses in the town during the War of 1812; checking out some of the old buildings. A pleasant morning then a quiet afternoon at the campsite (it was awfully humid) before my evening reading.
The reading went very well. 18 people attended, including Hendrik and Annaleas, and I sold quite a few books too. Good questions and talk afterwards. A nice ending to a few days' stay here at the place where the water from Wheeler Hill enters the bay.
A day in Havre De Grace and at the campground.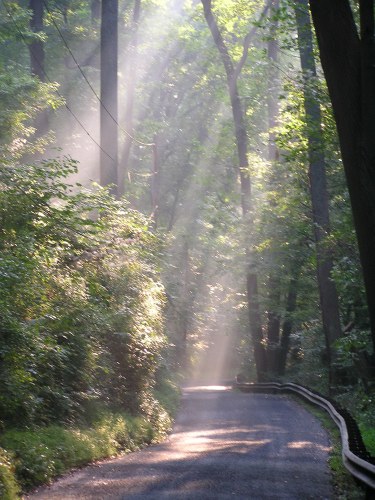 Morning sun filtering through trees in Susquehanna State Park.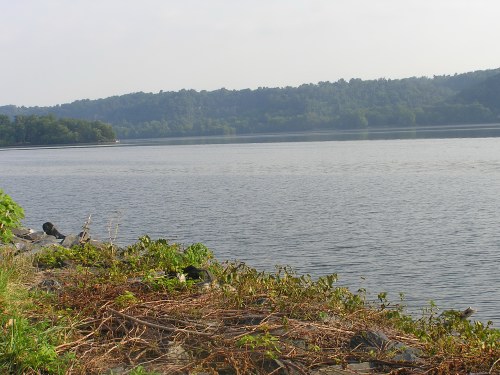 Susquehanna River near the mouth.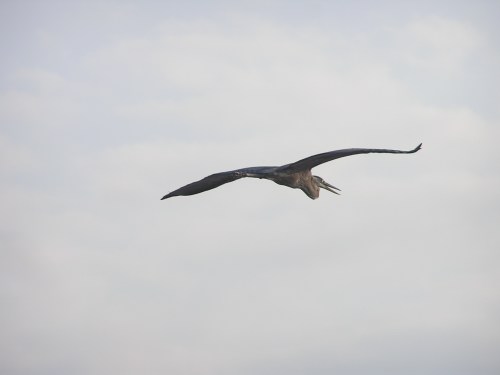 Great Blue Heron over the river.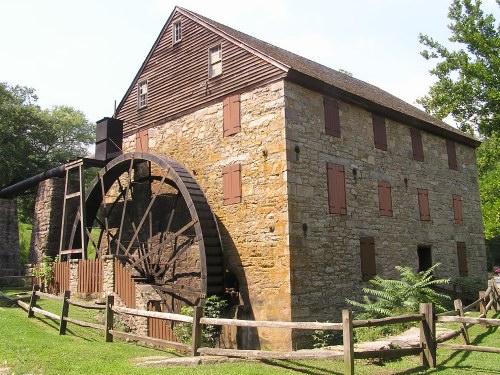 The Rock Run Grist Mill in the park.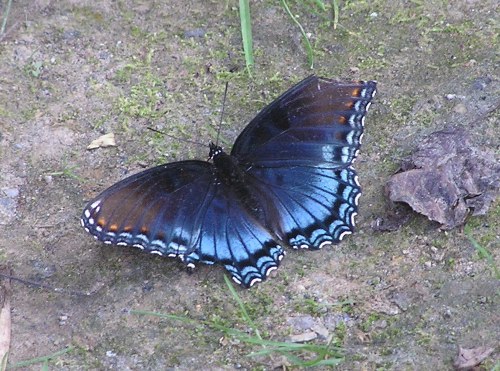 Red-spotted Purple Butterfly (Thanks Chapin)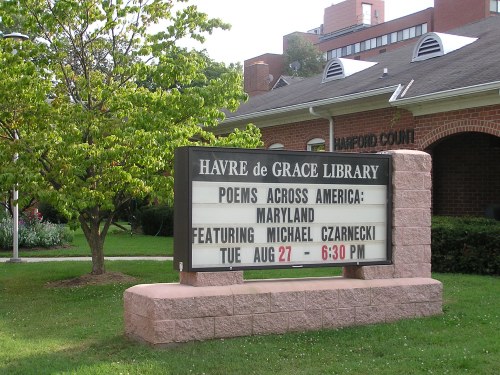 8/28
Left camp early, a little after 7:00 with damp sleeping bags and tent stuffed into the trunk. Made my way across northern Maryland toward Winchester, VA and my next reading. I stayed off of interstates and US highways and took smaller MD State roads. Much more enjoyable than the big roads. Rolling hills, farmland, small towns: Jarrettsville, Monkton, White House, Hampstead, Liberty Town, Jefferson.
Stopped for breakfast in Hampstead, the first diner I passed along the way. I had been looking for one for an hour or so. A wooden sign above my booth: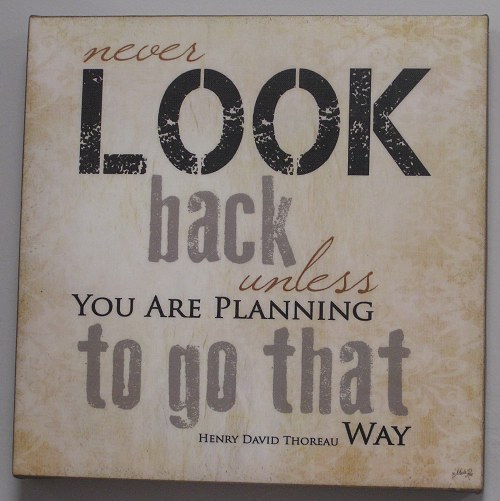 Appropriate.
I hadn't looked much at what was ahead on the map and was surprised to find I was going by Harper's Ferry National Historic Park. Even though it was slightly rainy, I decided to stop. (I used my senior America the Beautiful pass for free admission!)
Even though the rain came down heavier, I thoroughly enjoyed the couple of hours I spent there. An historically preserved town at the confluence of the Shenandoah and Potomac Rivers. Since my time was short, I focused on my main interest, learning more about John Brown's raid in 1859, which was one of the events that led to the Civil War 18 months later.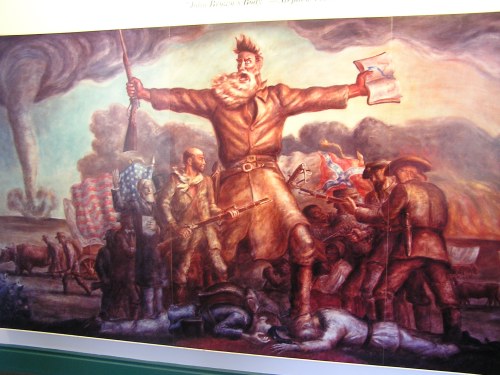 A mural of John Brown, toting bible and rifle.
I won't go into all I learned here. I could easily have spent the whole day taking in the scene, digesting the information.

Another Thoreau quote.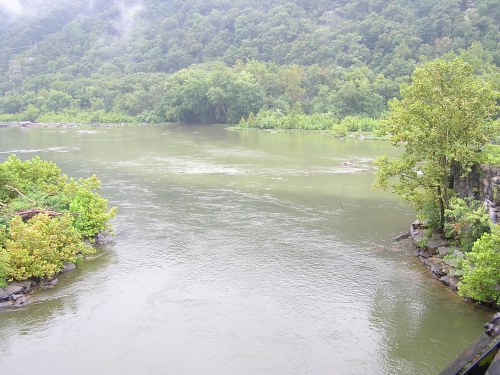 The confluence of Shenandoah and Potomac rivers.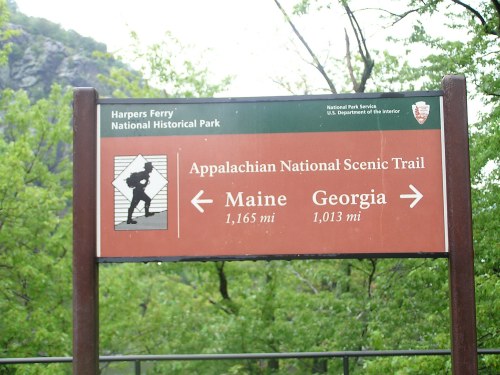 For the third time on this journey I walked a bit of the Appalachian Trail.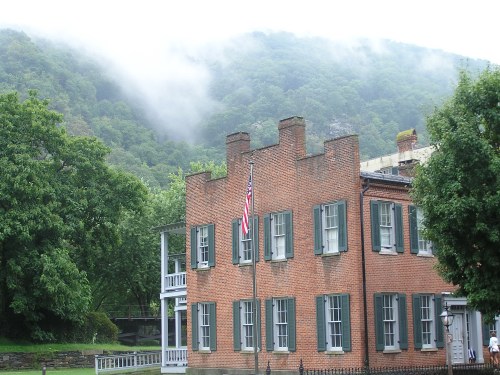 Mist over the town.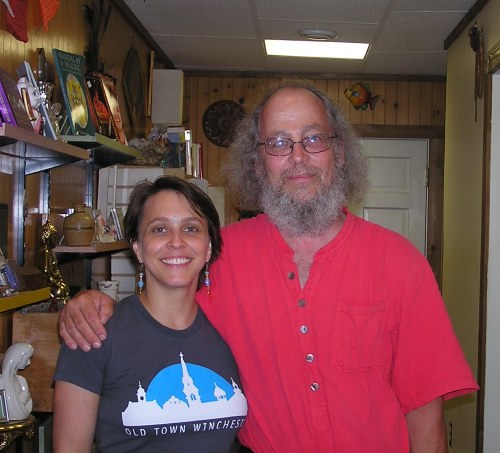 With Dorian.
As I drove into Winchester I easily found
Remember Yourself Massage and R-
Studio
in the Old Town section. I parked across and down the street a little ways and as I stood on the street glancing toward the shop a pleasant friendly wave came from someone on the sidewalk in front of the place. It must be Dorian I thought. It was as if we were old friends though we never have met. I had first contacted her less than three weeks ago after doing a little search for poetry in Winchester on the web. She and her partner Nate operate the business and gallery and are very warm, inviting people.
Again, more than I have time to write, but the evening was exceptional. Good talk with people before and after and about 25 in the audience. I performed "Elegy for the Road/Kerouac's Ghost" with Dorian being the negative dream killer voice (totally out of character!) and Nate adding percussion on djembe. A great creative reading and certainly wonderful people to connect with.
So it goes on. The road offering new adventures, new friends, new knowledge and scenery. So much more still lies ahead.
8/29
Spent the night on a futon in R-Studio, where the reading was held the night before. Had a Buddha for company.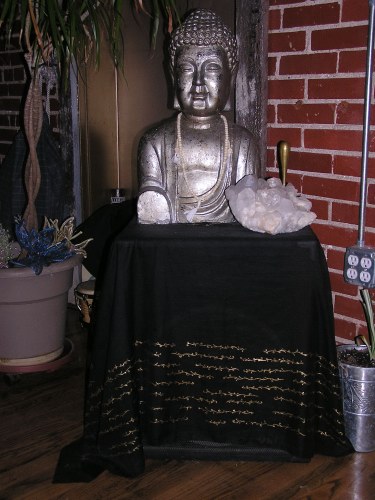 Relaxing morning in Winchester. Got a bit of work done on the computer and then went out for a late breakfast with Dorian, Nate and Matt, a friend of theirs. He's also their auto mechanic. Nate asked him to look at a slightly squealing belt on my car. He tightened it a little bit and the squealing has mostly disappeared now.
We sat outside at Chowhounds, a restaurant on the Old Town Walking Mall, a short stroll away. Old Town is an historic district in the center of Winchester, the heart of it a few blocks long walking mall. The district contains many old buildings and is a thriving business area with shops, restaurants and offices. A pleasant place in the midst of the city, with trees, benches, brick pavement and an easy-going feel to it. We had a nice, leisurely breakfast with good conversation on a wide range of topics.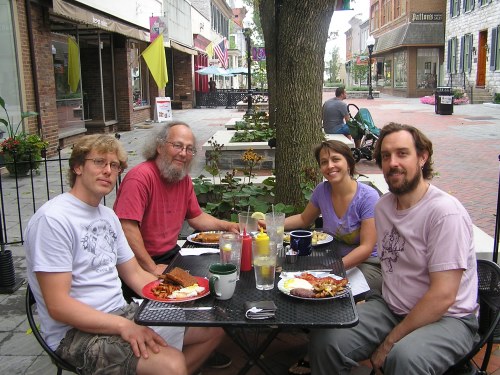 Matt, me, Dorian and Nate having breakfast in Old Town.
The south end of the district, the evening before.
I shifted my West Virginia reading to the last week of the journey. I still didn't have anything scheduled and Dorian mentioned they know a number of folks in Chester Town and Romney, neither very far from Winchester. So, I'll try booking something in one of those two places and maybe a small caravan of folks from Winchester will come on down to it.
The rest of the day I motored along on interstates, heading north to Ohio. I have a reading at Mac's-Backs Books on Coventry in Cleveland Heights Friday evening. I exited the Ohio Turnpike and turned onto a small side road a few miles from my friend's house where I was going to stay for the night, a place I had never been to. I stopped on the road and looked at the map I had pulled up on the computer. Suddenly, blue flashing lights from behind grabbed my attention. The officer came over to the car wondering what was happening, why I was stopped in the road. I explained the situation and he asked for my license. While he called it in we talked about my journey, where I was reading in Ohio and he asked me, like so many others, what about Alaska and Hawaii. A pleasant chat, a clear report and he wished me well.
In all of the many tens of thousands of poetic road miles I've driven over the years this was only the second time I've had an encounter with the police. The only other time was in 1996, eastern Oregon. That time it was an interesting exchange. Here's what I wrote in "Twenty Days on Route 20":
So I entered the final state of the journey, Oregon. Not more than 10 minutes later I was stopped by a county sheriff. I knew I wasn't speeding and couldn't think of anything I may have done wrong. Well, he stopped me because I didn't have a sticker on my license plate. I tell him New York doesn't have stickers on them. Still, he wanted to check my registration and license. He returned a few minutes later after checking me out and told me he couldn't write me up for anything so he was just giving me a verbal warning. "A verbal warning for what? I haven't done anything wrong." He agrees but still says he had to warn me. And I have 458 more miles to drive in Oregon!
The next 130 miles I didn't see another police car but I couldn't get David Crosby's song, Almost Cut My Hair out of my mind. The long hair, the beat car.
So, back north now, though the air is still humid. When I leave Ohio I begin the long sweep westward, further and further from home.