ryki zuckerman

a bright nowhere
ryki zuckerman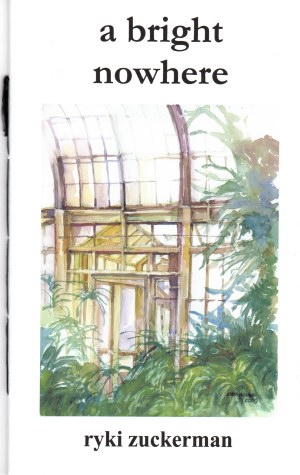 From the book:
magic du jour
for trudy stern
she dices plum tomatoes,
plucked from next summer's garden,
adds milk from the cow
grazing in the print on the wall,
and a dash of herbs,
freshly chopped, gathered
from a hillside in a chinese
poetry book on the shelf.
toiling over a hot stove,
she simmers
this soup, made just for me,
not on the menu
of her teahouse,
arriving in a bowl in her hands,
kept warm by her beatific smile.
in each spoonful
a dollop of mindfulness, piquant caring,
a taste of the sun.
ryki zuckerman is a poet, editor, teacher, and artist who is the author of Looking for Bora Bora (Saddle Road Press, 2013), body of the work (Textile Bridge Press, 1984 & 2006), suite of six (micro-book, Destitute Press, 2014), and the nothing that is (Benevolent Bird Press, 2015). Her poems have appeared in Black Mountain College II Review, Slipstream, Home Planet News, Steel Bellow, Swift Kick, Lips, Paunch, Pure Light, The Buffalo News, Artvoice, poetry superhighway, Moondance, and other journals. Her work has been anthologized in A Celebration of Western New York Poets (White Buffalo Publications, 2014), Brigid's Fire (CSIPP, 2011), and the Mo' Joe anthology (Beatlick Press, Albuquerque, New Mexico, 2014). Her poems have appeared as Broadsides for Serendipity Arts and also for the Tea Leaves Collection. She has done readings at many local venues, as well as on spoken arts programs on WNED-TV, WBFO-FM, WHLD-AM (AudibleInk Radio), and thinktwiceradio. In 2009 she was the featured reader for the Poetry Collection of the University of Buffalo at the Butler Mansion. She is a longtime co-editor of Earth's Daughters magazine. She created, curates, and hosts two literary reading series: the Wordflight at Red Doors Series and the Gray Hair Series.
a bright nowhere
is a 40 page hand-stitched chapbook. $10.00
From the US
From Canada
From Other Countries