Hartman

Do You Remember
Benjamin Hartman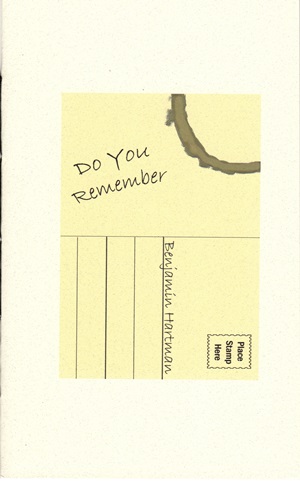 From the book:
The ground sucks at your feet
and the wind chaps your hands,
but the work is good,
the tearing and cutting,
clearing what was
for what will be,
keeping your mind Here;
they all fall away
like the clippings
from your shears,
the clean, cold air renews
from within.
Benjamin Hartman graduated from SUNY Oswego in 1997 with a degree in Secondary Education/English and a minor in Creative Writing. These studies confirmed his lifelong love of crafting word imagery and inspired him to share his experiences with a future generation of writers. He spent the first twelve years of his career teaching English and Creative Writing in both inner city and rural schools, during which time he earned an M.S. In Curriculum, Instruction and Assessment. In 2011, he and his wife, Michelle, opened their winery, Deep Root Vineyard, in the heart of the New York Finger Lakes wine country. He lists among his sources of inspiration: the interactions between the natural and material worlds, the love of an amazing woman, and his two maturing children, Zayna and Asher.
Do You Remember
is a 28 page hand-stitched chapbook. $10.00
From the US
From Canada
From Other Countries