Kim Shuck

Sidewalk NDN
Kim Shuck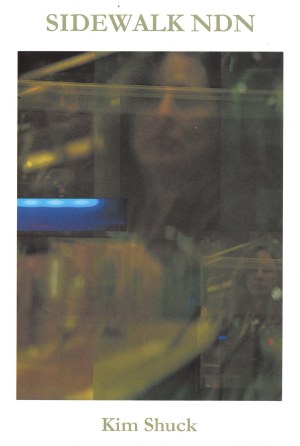 Re-Matriation
Chapbook Series
of Indigenous Poetry
#7
Susan Deer Cloud, Editor
In anthropology we believe that scientific methods reveal the truth(es) about culture, but in Sidewalk NDN Kim Shuck clearly demonstrates that a poet's words can just as easily, and perhaps more concisely, tell the story of contemporary indigenous lives. In this collection of poems, including "Great Indian Urban Poem," "Owl Feathers," and "Longer Incantations for August," Shuck's simultaneously visceral and cerebral lines echo the cadences of our midnight stomp songs where gym lights replace willow arbors.
Jenny L. Davis (Chickasaw)
Henry Roe Cloud Fellow, Yale University
There is simply no finer poet than the word-beader-warrior, Kim Shuck. She writes with such beauty, defiance, focus and power; this new work pumps the blood and brain in a good way. Her lines linger on me like a fragrance, like lilacs in the spring, wanting more of that … Something always wonderful happens when I read her work, and I hear myself say, "Oh Wow." Sidewalk NDN is an edgy work, meant to "set a whole new generation ablaze," and this collection is some of her finest master-full writing …

Trace A. DeMeyer, poetry reviewer for News From Indian Country and author of One Small Sacrifice

From the Introduction by Re-Matriation series editor, Susan Deer Cloud
Sidewalk NDN deftly and subtly delivers to its reader what it feels like to "walk in two worlds." These poems embody the world of the urban NDN still holding fast to remnants of land, freedom and the older ways of being and living as a medicine woman, really.
From the book:

A Breath Before October
There is no rattle in this
Heat no dance song it offers to teach me here in the
Moment before the lightshed before the
Hot tea of sunrise and the
Water I want to go to this morning is in the
Bathtub that
Cool and horrible blue in a pink and blue tiled room one
More thing that cannot be touched cannot be
Soothed but it
Can fill with water less hot than my
Grumpy skin flushed with those
Random harvest angles that have us all
Checking the calendars and declaring the
Weather shift the one they've all been
Talking about but I want a walk along the
Serpent mound a quiet day of
Picking out passionate curves in thread and glass I
Want squash soup and an evening that is
Right for it
Kim Shuck plays in many different sandboxes, including weaving, beadwork, poetry and general commentary on everything from trees blooming to the sparkle of mica in the pavement. Smuggling Cherokee, her first solo book, was awarded the Diane Decorah first book award by the Native Writers Circle of the Americas in 2005 and was published by Greenfield Review Press in 2006. She has been in many anthologies, such as A Bird Black as the Sun and From Turtle Island to Abya Yala.
Sidewalk NDN is a 36 page hand-sewn chapbook - $10.00.

TO ORDER:
ON-LINE
From the US
From Canada
From Other Countries