Tish Pearlman

Tish Pearlman
AFTERLIFE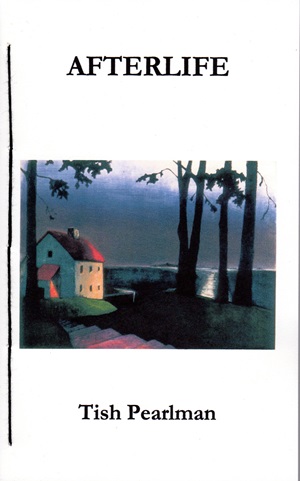 "In prose both direct and lyrical, Pearlman writes of what is fragile, what can be lost: a mother's hope, childish innocence. Lives. Her poems embrace the personal and the public, from her own near-death experience to the national tragedies of AIDS and school shootings. She reminds us of what is precious, what must be cherished. Her poems celebrate 'the lonely, proclaiming heart' and the possibility of joy and love amid the ruins. This newest collection is a treasure."
---- Jeanne Mackin,
Her most recent novel is "The Beautiful American"
From the book:
Introduction
After I died and then resurfaced during a harrowing heart surgery experience on June 1, 2009, I emerged with poems. I had written poetry obsessively in my 20's and stopped when my mother died in 1982. For almost five years now my pen has been claim to a new territory of poetry as witness. I published a chapbook filled with work (unconscious and very much in the moment) from my near death experience entitled "The Fix Is In" (Finishing Line Press, 2012). I continue to draw imaginings, memories and dreams from my new recharged life as a poet. It has been a most amazing adventure. I never dreamed I would write again, but feel as if I have been reincarnated. The poems in this collection are from a place unknown but impressionistically clarifying, and sometimes, landscapes, real or imagined, where I have lived or passed through. I explore my early life with a lonely, alcoholic mother, my work in LGBT politics in San Francisco in the 1980's, my longing for connection with the ghosts of the past. I also find myself continuing to set sail in the unconscious, and surfacing with water colors, whispers and the residue of coma.
The Drive Home
We would meet the night
with simplicity.
Slipping into half-sleep by the
roar of the car engine carrying
us into the late hour¯city lights twinkling & dissolving
and then the blackness and moon shimmering
of the sea.
We traced the miles to home with
the radio purring weather reports,
news and rock music.
Jarred awake when the engine
died, signaling arrival.
The foggy sea air, whispers, the clicking of keys &
of lights.
A day banished. Prayer. Now I lay me down…
Childhood is half-awake as it
tries on the world
and the world is indifferent
as it lures the child toward
no known destination, deep sleep, the long night.
Tish Pearlman is a poet, writer, broadcast journalist and community and political activist originally from Manhattan Beach, California. She is creator and host of the award-winning public radio interview show "Out of Bounds," which is produced in Ithaca, New York. In 2008, the program was awarded "Outstanding Public Affairs Program Series" by the New York State Broadcasters Association.
Pearlman career as a poet began in the 1970's. Her first chapbook "Breaking Through the Silence" was released in 1981. She gave many readings at political and literary events on the central California coast, including Cal Poly, Dandelion Wine Book Company, Cuesta College, Day with Creative Women arts events and Take Back the Night rallies. Her work also appeared in several literary journals and local magazines, including, Street Cries Magazine, Expressive Arts Review, Adventures in Poetry Anthology, Carousel Quarterly, California NOW Times and Latitude/20. Her current work has appeared in The Healing Muse (2010 and 2011, 2012, 2013), The Ithaca Times, The Syracuse Post-Dispatch Healthy CNY Magazine, Conversations Across Borders and Earth's Daughters. One of her poems was accepted for an anthology "The Art of Medicine in Metaphors." Her 2012 chapbook "The Fix Is In" retells her near death heart surgery experience. It was published by Finishing Line Press.
She is the 2013-2014 POET LAUREATE of Tompkins County, NY.
Afterlife
is a 72 page hand-sewn paperbook with spine - $16.00.

TO ORDER:
ON-LINE
From the US
From Canada
From Other Countries