Laura D. Nolasco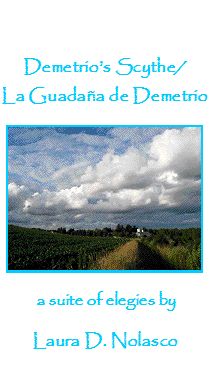 Demetrio is the follower of the Earth Mother, Demeter, whose name he bears. He holds a scythe, an instrument for mowing and harvesting, which also can belong to the Grim Reaper, the gatherer of souls. Demetrio's scythe has a metaphorical double-edged blade; when he swings it too vigorously, he has been known to hurt himself.
The Earth Mother has graciously agreed to teach Demetrio how to use his scythe for harvesting rather than self-harm. She will also show him how to extract the medicinal qualities from deadly nightshade, also known as belladonna, and to heal himself with bitter herbs such as rue.
In a time when much poetry drifts brokenly across its page, Laura D. Nolasco returns to Greek mythology and established poetic forms to narrate her search for cultural identity in Demetrio's Scythe. Nolasco adopts tripartite structure and natural imagery-descent to burning identification with the flame tree, transformation to evergreen, ascent to celebration with the lily-and uses the sestina, villanelle, and pantoum in a journey from cultural outsider to joyful member who declares I too am Dominican. Along the way we find memorial poems, prayers, a powerful condemnation of domestic violence, and a celebration of American heroines. With these courageous choices Nolasco demonstrates broad range while remaining accessible to the reader, and so takes her place as a poet whose future work we excitedly anticipate.
-Colleen Powderly, author of Split
Lori Nolasco holds a multilingual and richly textured conversation inspired by poets such as Janine Pommy Vega, Langston Hughes and contemporary musicians. Whether experimenting with form or calling on jazz, you will see her Demetrio constantly shapeshifting from life-giver to life-reaper.
-Kitty Jospé, author of Cadences
Weaving with a rich thread of Greco-Roman mythology and a lyrical thread spun of the Spanish language, Nolasco creates a vibrant tapestry of lamentation in Demetrio's Scythe/ La Guadaña de Demetrio. Here the eye of the mind confronts humanity, its gods and the natural world in all their "lacerated" barrenness. Here, in free verse, sestina, villanelle and pantoum, we see depicted "the robin bereft"; here "dark dreams break the surface." But, finally, we discern the cold thread of hope that is an angel's song of "the advent of the lily."
-Karla Linn Merrifield, author of The Urn
and the award-winning Godwit: Poems of Canada
From the book:
Demetrio's Scythe
in memoriam: Janine Pommy Vega
Scythe in hand off he stormed
into the fields
to harvest
with every twist
of his reed-like blade-like form
his own discord.
I am Demetrio
he intoned
follower of the Earth Mother
until grass and grain
fell in uneven clumps
I am not voiceless
I do not need her to speak for me
she tells me my Spanish sounds broken up
and my singing off-key
again and again he spiraled and swung
as the double-edged blade cut
and whistled in macabre harmony
oh no me importa
oh no me importa.
Grim reaper of his own soul,
Demetrio
met the resonant presence
at the end of her life's journey
chose instead to immerse himself
in the noise of his own making.
Now that he weeps
like the bereft Earth Mother herself
no one will hear him
no bitter herb can heal him
not even angelica manzanilla
or rue.
Although she was born and raised in Rochester, New York, Laura (Lori) D. Nolasco is often asked where she is "originally from." She has lived in Paris, France, and traveled to the Middle East as well as the Dominican Republic. In 1995, she earned a Doctoral degree in Comparative Literature from the Sorbonne, and upon her return to her hometown, she acquired Spanish. Fluent in Italian and Arabic as well, she asserts, "culture rules my life to benefit others." Currently, she teaches English as a Second Language at the college level and is working toward becoming a cross-cultural trainer.
Since 2011, she has studied with baritone Derrick Smith at the Eastman Community School, thus reviving a long-cherished passion for vocal music. In doing so, she performs "Demeter's Dance," which occurs when a woman allows herself to "heed the call of Persephone lost."
In Demetrio's Scythe: a Suite of Elegies, which follows her first volume Ariadne of the Freezing Rains: a Cycle of Poems (FootHills 2010), she mourns the family of origin and seeks a new community through responses to music, nature, and the words of other poets.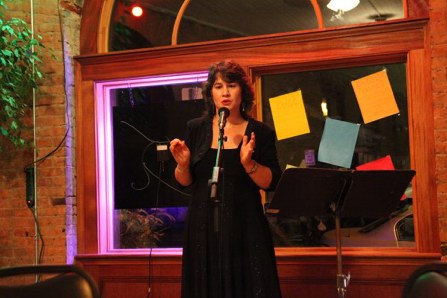 57
Demetrio's Scythe/ La Guadaña de Demetrio
is a 60 hand-sewn paperbook with spine - $16.00.
TO ORDER:
ON-LINE
From the US
From Canada
From Other Countries
****************************************************************
Ariana de las lluvias heladas
Laura D. Nolasco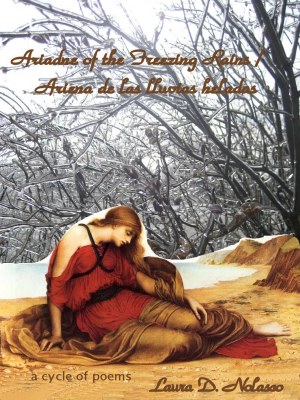 "Poet Muriel Rukeyser has said, 'What would happen if one woman told the truth about her life? The world would split open.' In Ariadne of the Freezing Rains, Laura D. Nolasco has done just that. Experience how an accomplished new poetic voice explores the intricacies of the human heart under assault, revealing how by the balm of language it begins to heal."
--Patricia Roth Schwartz, Planting Bulbs in a Time of War, and Other Poems (FootHills)
Lori Nolasco says "silence has never become me." Instead, she learned to speak, and speak ecstatically, in many languages: French, Spanish, Arabic, Italian, English. This book documents her intimate dance with the many cultures she has encountered and incorporated into her lexicon: Lebanese, Parisian, Dominican, urban American. An accomplished performance poet, Lori Nolasco here captures the energy of live performance while adding subtleties noticeable only in print (such as breaking words to follow a strict haiku form in "Everyone's Bonsai"). Full of music and sazón, these poems are brash and courageous, the poetic equivalent of "green fava beans and chicken liver covered in onions and minced garlic." As readers we are fortunate, indeed, that silence does not become her.
--John Roche, On Conesus and Topicalities (FootHills)
"In a high soprano voice, Laura D. Nolasco generates a topography of invisible genes, multicultural metaphors, and religious rumblings which culminate in arias of freedom, choice, and words which breathe oxygen into tired and oppressive stereotypes and traditions. She challenges women to nourish the natural instincts in their bones and experience the breath of the wild. Like Estes, her voice peaks in the branches of the bonsai tree, the wolves who run so fast that the desert shakes, and the blossoms yet to bloom in the sunlight of themselves."
--Dee Hogan, creator and coordinator of Write the
Night Away, an interactive creative writing workshop.
From the book:
¡Ay Mami! I Miss the Snow
for Chacha
¡Ay Mami! I miss the snow.
You say this is where I was born
but I remember evergreens.
They try to make me feel better
by showing me how the mangoes and guavas
fall right from the trees
and they let me pick the oranges and lemons
and help make juice from cherries and pears
and star-shaped carambola
but ¡ay Mami! I miss the snow.
The kids back in Queens are jealous
because it's summer year round here
but this is no camp.
I always have to worry
about killing mosquitoes
and when the lights go out
in the middle of the afternoon
there's no campfire
or toasted marshmallows
and no one's ever heard of s'mores.
They try to make me feel better
by telling me this is where I was born,
in Higüey, the town
of the Little Virgin of Altagracia.
But she looks so sad
with her huge crown
that's so heavy
it tilts her head to the side
and her folded hands
that make an arch.
Her eyes are closed
so how can she see
the Baby Jesus?
¡Ay Mami! I miss the snow.
They try to make me feel better
by showing me the biggest nacimiento
I've ever seen
with shepherds and Wise Men and angels
that are two feet high.
But I miss the jingle bells
and candy canes and red-suited Santas.
It isn't Christmas with palm trees
and parrandas and merengue and maracas.
It isn't Christmas without snow.
Born Lori Jean Dovidio to an Italian American family, Lori D. Nolasco uses the pen name Laura, a derivative of her given name and a salute to her heritage. She has lived in Paris, France, where she earned her Doctoral degree in Comparative Literature. The mother of two Arab American children, she has now embraced the culture of Latin America. Like Robert Frost's wife Elinor, her husband Ramón is the "unspoken half" of everything she writes.
Experiencing different cultures was always a reward for performing well academically. At age ten, Laura D. Nolasco was taken to local Chinese and Japanese restaurants, where she learned to use chopsticks and became so mesmerized by the hibachi-style cooking that she spent the entire time watching instead of eating. Travel also became food for the soul when she was offered a trip to Toronto, Canada at age twelve.
Laura D. Nolasco has taught French and Multicultural/World Literature at various colleges in the Greater Rochester area. This book is her first attempt at appeasing what Clarissa Pinkola Estés calls la hambre del alma (starvation of the soul) through the spoken word.
Ariadne of the Freezing Rains is a 76 page hand-stitched paper book with spine - $16.00
TO ORDER ON-LINE
From the US
From Canada
From Other Countries