Kaye Newbury

The Way She Looks Now
Kaye C. Newbury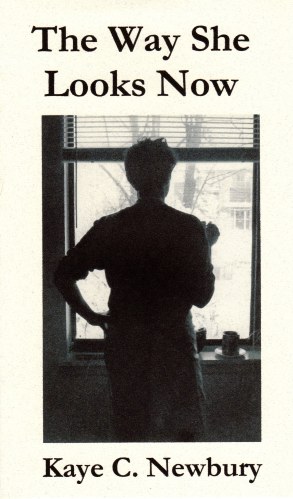 I owe the poems in this chap book to my sense of place - in my birth family as the youngest of ten children, loved but envious of my brothers' and sisters' greater age and ability to read; and to my simple, luxurious out-of-doors childhood in Pennsylvania's Susquehanna River valley. This is where I first began to look, first began to see, first began to read, first began to wonder.
From the book:
Isabelle and the Midgets
That summer, Isabelle, the French student
who loved chocolates, came to stay with us
Isabelle, who also loved wearing nothing
underneath her blue denim jacket.
I was hard pressed to come up with
something memorable for her
in our upstate community, until
the Chemung County Fair opened.
After examining all the livestock, including chickens
we bought bags of chocolate fudge
and went to watch midgets wrestle
on a small raised stage in the dusty arena
Barely touching the canvas
they threw their muscled bodies headlong
across the confined space with a clear sense
of purpose and what-the-hell-why-not energy
Two, then three, strong small men
grabbing and flipping,
bouncing, landing, springing back up,
sweaty smooth bodies shining
It was a performance that erased language and boredom.
I didn't want summer to end then.
I wanted those tough young men in bright green tights
the French girl in the wild-flower print skirt
and blue denim jacket to stay -
Forever out of place
Forever confident in their own skins.
Kaye Newbury is a graduate of Binghamton University, with a BA from Harpur College in English Literature and Rhetoric, and MA in Social Science from the School of Education and Human Development. In 2009, 2010, and 2011, She received DEC grants from the NYS Council on the Arts, administered by The ARTS Council of the Southern Finger Lakes, to develop "Poetry Posts", a collaborative community project that makes poetry accessible to everyone in 11 City of Elmira parks and Woodlawn Cemetery. The project is managed with her fellow poets, Martha Horton and Margaret Kasper Reed, under the name ARTiculation.
Since her retirement as a human services administrator, her volunteer activities include coordinating Poetry Posts, historic preservation advocacy, and political activism. Kaye lives in upstate New York with her husband. Together, they have a large family of adult children and grandchildren.
The Way She Looks Now
is a 20 page hand-sewn chapbook - $10.00.

TO ORDER:
ON-LINE
From the US
From Canada
From Other Countries