o b e e d ú i d ~

T e l l u r i c V o i c e s
o b e e d ú i d ~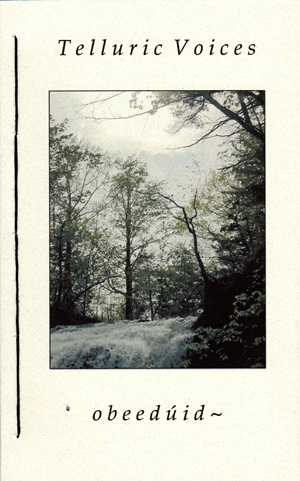 "Telluric Voices" is a cycle of 21 poems plus epilogue that follows the poet through the seasons over the course of one year in poetic time. It was inspired by the earth energy of his home in the Helderberg Mountains of New York State.
From the book:
Otàwâwîck nawan:
(Interior spiritual voice)
You came to this place
for the quiet
The sound of leaves
rolling across field
The glaring light
of morning
When geese honk
south overhead westerly
The ghostly whispering stream
that never pauses
The veils of mist
as light rain obscures the hills
The sounds that travel
in silence
In this held moment
This waiting
The thing that brought you here
is quiet
The quiet
of deep memory
The folding
into god.
obeedúid~ lives loudly in the sleepy little village of Clarksville N.Y. with his two children and poetically challenged pets.
9
T e l l u r i c V o i c e s is a 56 page hand-stitched paperbook with spine. $15.00
TO ORDER ON-LINE
From the US
From Canada
From Other Countries
*******************************************