Sheryl Noethe

Grey Dog Big Sky
Sheryl Noethe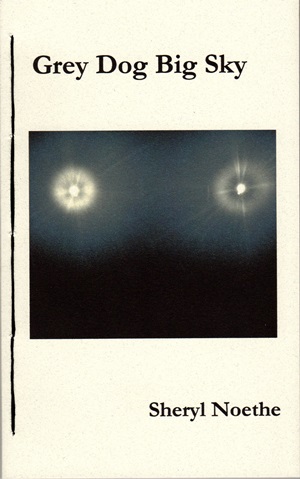 Montana Poets Series 2, #6
Craig Czury, Editor
Winner of the 2014 High Plains Book Award for Poetry!
Preface
How strenuous the struggle to recognize
The deepest inconceivable self
Sheryl Noethe is sitting in the dark at the kitchen table writing blindly, spurred by the antagonism of insomnia, armed with an opinion, an angle of vision.
Sheryl Noethe is riding a bus with her ear on your headrest.
Grey Dog Big Sky is Sheryl's personal landfill of shacks and trailer homes, some horses, the collections of those who can't part with useless objects, which serve for history...skeletons of cars, mice in the upholstery, beneath the hood pack rats have tunneled bright mazes of rodent cities, chewed wires, colorful plastic salvage, ribbons, ropes and string.
The flashes of light we might or might not see could indeed be simply outside of our senses.
Grey Dog Big Sky as praline cookie:
a taste Marcel Proust bit into, which
inspired his monumental novel,
Remembrance of Things Past.
The French title asks for more:
In Search of Lost Time.
Yet, where,
to find
lost time?
All she did was sit quietly at the window and stare off into the distance.
The look on the face of these poems will bring you to a stop.
Craig Czury, Editor, Montana Poets Series 2
Springville, Pa.
9/15/13
From the book:
Not Who He Was
For Aung San Suu Kyi
Every soldier is someone's child.
Orange-clad monks face rifles
with open arms in a country where
a nonviolent woman is imprisoned
in a simple house which looks out onto a lake.
When she steps outside, crowds
gather, and the army stands guard.
She hands a flower to a boy in uniform.
Her serene gaze suggests
the face of his mother, his sisters, alive.
Is it possible his father survived?
He drops his weapon, enchanted,
his face leans into hers, a pale lily,
pearlescent, numinous source of light.
He tries to bow but she reaches to stop him.
Hope has out-gunned the soldier.
Undone him, tipped his face to heaven.
He sees her like the lit heart of a burning
candle, white-hot eye of flame
floating at the center, he watches her
shimmer beside him, he feels warmed
in the darkness
there is something that he thought was dead
Inside.
He is not who he was, and more himself than ever.
Greyhound Bus Log
In the depot, waiting for the late bus, relationships form.
Temp workers scrub the walls with foul industrial chemicals.
From an overhead television the dead
return to hunt down and eat the living. The sounds
of screaming and bone crushing draw a small crowd
onto the uncomfortable wire chairs.
Between the poisoned air and our fascination with death
we are doped stupidly, mouths open, staring at the screen.
People walk aimlessly past garish vending machines with nothing you should eat.
Each trip there's the jovial person, the big mother with sage advice who remains jolly
despite circumstance but falls into a deep, shuddering sleep, twitching and grunting.
Always the withdrawn youth, runaways in hooded sweatshirts, ear pods, hands in pockets-
eyes cast down, skin pale and ashy, it is October
and a number
of young women are wearing slippers and flip-flops.
Their infants commodious as an extra suitcase,
blankets and bottles, diaper bags and duffels-
some of the mothers look as young as thirteen.
Except for the eyes. Mascara, exhaustion and tears
debt, despair and always, fear.
Some are on the run. Friendships strike up.
Most everyone climbs off the bus in Helena,
form circles around the flame of a lighter
stand and shiver, pace the station, kick small gravel
on the path.
When I am unable to jam my suitcase into the overhead,
a kid, behind dark wraparounds with quarter-sized bolts in his lobes,
reaches over me and with a push, jams it in.
Two people in the last row, complete strangers,
engage in passionate kissing, grappling to embrace through
jackets and blue jeans and backpacks and boots.
Even those missing teeth, or no teeth at all:
even those who are poorly clad, ill, in trouble, homeless, broke:
Everyone carries a cell phone to frown over
or plead into their lit screens; the only incident light.
We expose our secrets to our seatmates,
fall asleep, our heads on each other's shoulders.
That one miserable fool who is on every bus, loud, making noise,
threatening, drunk, stoned, sneaking drinks from a
paper bag, offering the bottle,
has finally fallen unconscious. Asleep, his hand
lies palm up and it is vulnerable as a child's at its soft center,
like the babies with their baby mothers,
who learn to be quiet and shy and uncertain of strangers,
even the handsome guy with nice eyes and a tender smile,
who might promise the world.
Just not the world a person would choose, had she the chance.
Bio
I was born in Minneapolis, began writing poetry at age 11 thanks to a single sentence a teacher gave me-she simply told me I would be an author and write books. That statement rewrote my life. After my first publication and award from the Academy of American Poets at the U of MN, I took my book, The Descent of Heaven Over the Lake, to New York City where I was hired by Teachers & Writers Collaborative and sent into Harlem and The South Bronx and Eastern New York to teach school children to love to write and to find their inner lives and put them into words on the page.
Eventually I left New York and came to the West-first Salmon, Idaho, on the River of No Return where I worked in every grade and held an after-school teacher's poetry class, while rafting the river and tipping the canoe, learning to drive a stick shift jeep and driving it off the highway into the side of a local bar because I hadn't quite grasped the down-shifting thing.
My thirteen years in Salmon resulted in great anecdotes and a teaching text, Poetry Everywhere. That was at the same time I won a National Endowment for the Arts in Literature.
One weekend a Salmon teacher drove me over the Lost Trail Pass into Missoula, Montana, where I met my husband at the infamous Luke's Bar. He was a brave firefighter, and my friends said only a man willing to walk into a burning building would marry me. My next collection was The Ghost Openings, a tribute to an old friend who blessed me early on with her wisdom. This collection won the Pacific Northwest Bookseller's Association for best poetry book and at the same time the William Stafford Prize for Poetry. I was awarded a fellowship
from the Montana Arts Council, and while co-founding The Missoula Writing Collaborative, a writer in residence program in over a dozen public schools, I put together a book called As Is, referring to both Zen Buddhism and thrift shopping.
I was chosen as Montana's Poet Laureate from 2011-2013, and traveled this great state on the Greyhound Bus visiting one-room schoolhouses, conferences, campuses, book festivals, and many schools. During this time I wrote my newest collection, Grey Dog Big Sky, which describes my many hours
and miles on the motor coach, the people I met, the dialogue I overheard, and my experiences with this state that treasures literature, connection, dialogue, and reading books. I live with my fireman and our rescue animals at the foot of Mt. Jumbo, worshipping nature and the imagination.
Sheryl Noethe
Sept. 19, 2013
Grey Dog Big Sky is a 92 page hand-stitched paper book with spine. $16.00
TO ORDER ON-LINE
From the US
From Canada
From Other Countries