Parenteau

Patron Emeritus
Chad Parenteau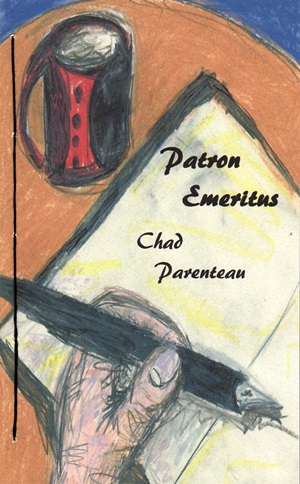 "I found America again" Chad Parenteau writes in his collection Patron Emeritus, but it is not the America that we are used to seeing in literature. Parenteau writes poems about work, traveling for work, family, relationships, commuting. Parenteau's careful observation elevates the familiar lives we all live, what we thought was just average drudgery, to poetry.
Valerie Loveland, author of Reanimated, Somehow
Chad Parenteau's Patron Emeritus gives us the poet and the poet's life that one will never find in textbooks or in oddly romantic notions of just what a poet is. The entire arc of his poetry collection reflects this Stone Soup host's crazy quilt life, from hosting readings, dealing with other poets, keeping connection to family and lovers, and working at jobs not poetry-connected. In terms of family, the poems about the poet's father are especially stunning and moving; in terms of the dysfunctional human family, several of the collection's cameo appearances reflect the current breakdown of family and sanity in America. The poet Parenteau is an Emeritus of the coffee house of existence outside any ivy tower; the wry and fearless honesty of his poems bear witness to that. A book for hard times.
Susan Deer Cloud, author of The Last Ceremony,
editor of I Was Indian Volumes I and II
From the book:
Manifesto
Stone Soup stirrers
introvert day
extrovert by night.
Cantab body slammers
extrovert stay
introvert mic.
I strafe both sides
one-way streets
run down
running
crop circles
slim pickings.
Committees agree:
I do my best work
when in committee
belonging still
action item:
Status
inactive.
Bound
I found America again
in the Hawaiian Hilton
entrepreneur ex-doctor
moving between dining tables
between last call, coffee
yells to the Hawaiian duo
to play more Eagles' tunes
missing perfect place
in my Pago Pago locale
its empty bar
looping "Hotel California"
re
booting song's middle
each time
until closing
Chad Parenteau was born in Woonsocket, Rhode Island and raised in Bellingham, Massachusetts. He currently lives and works in Boston, Massachusetts. Parenteau graduated from Framingham State College (now Framingham State University) and received an MFA in Creative Writing from Emerson College. His work has been published in Amethyst Arsenic, Shampoo, Wilderness House Literary Review, The Scrambler, and Salon. His chapbook Discarded: Poems for My Apartments was published by Èervená Barva Press, In 2012, Parenteau was featured in the anthologies The Triumph of Poverty and Sounds of Wind: New American Lyrics (where his work was printed in both English and Albanian). In addition to being the current host and organizer of the long-running Stone Soup Poetry reading series, he is the founder and editor of its online journal Spoonful.
Patron Emeritus is a 72 page hand-stitched paper book with spine. $16.00
TO ORDER ON-LINE
From the US
From Canada
From Other Countries